Yesterday I ran into my friend Bill at the coffee shop. Bill loves the Yankees -- and it shows, right down to his Yankee embossed briefs, designer license plate "YankDad1" and his fluctuating moods on game day.
Ever eager to strike up a chat, I blurted out, "Hey Bill, how 'bout them Yankees?" I was struck by his silent stare. Apparently they didn't do so well this year.
Though I don't follow many sports, I know they all have their own season. My brother's a football fanatic, so thanks to him I keep track of those statistics. Tennis, hockey, basketball -- each has a time and a season, though I couldn't tell you what they are and I wouldn't remember even if you told me.
But ask me about dogs! Now there's a sport to lift my metaphoric tail. When the cold winds of November start to blow, they herald one thing in my household -- Dog Show Season. Though I do not show my own dogs, all beloved rescues -- I enjoy following the Fabulous Four. Like any other true blue sports fan, I track the speculators, read up on the players -- in this case the dogs and their handlers -- and research the American Kennel Club's (the AKCs) new breeds. This year will introduce three to the show circuit: the Chinook, Rat Terrier and Portuguese Podengo Pequeno.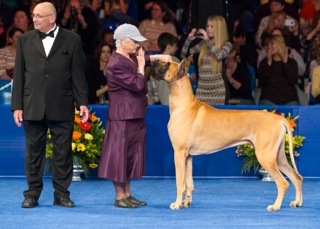 (National Dog Show, Philadelphia Kennel Club, 2012)
I'm sure many of you are wondering: "What is Dog Show Season? Is parading around the ring with a dog really considered a sport?"
Well, um... yes it is a sport. The Westminster Kennel Club holds it's annual event in February, is the second oldest sporting event in the USA, just a year behind the Kentucky Derby. The upcoming National Dog Show airs right after the Macy's Thanksgiving Day Parade on NBC and attracts over 20,000 million viewers. Crufts, England's gala, boasts the record number of attendees and contestants (combine numbers reaching nearly 200,000). And the Eukanuba/AKC Dog Show represents not one, but three competitive sports: Obedience, Agility and Conformation.
When dog shows were first organized in the late 1800s, dog show gatherings attracted spectators who needed dogs to aid in their livelihood or sport. Dog breeds, often named for their place of origin (e.g. Samoyeds, German Shepherd Dogs) or for the person who spearheaded their creation (Doberman Pinscher), were genetically engineered through selective breeding to fulfill various evolutionary roles from guarding property to carting goods. As our species multiplied and dispersed worldwide, more dog breeds were developed to fulfill our various needs. In Africa they developed breeds to hunt lions, in Scotland dogs were needed to herd sheep, and in the Northern Hemisphere dogs were used to pull sleds, rescue the stranded, and track bears and wolves.
The original purpose of a dog show was to consider each breed individually, and choose a winner -- both a male and a female -- whose form, personality and mobility most closely met the breed's ideal, or standard. Though it may sound confusing, it's meticulously organized, and for dog people -- breeders and breed advocates -- a dog show goes far beyond the sparkle and fluff of a show ring. For them, the purpose is to choose breeding stock.
Fast-forward to today. The purpose of pet ownership has shifted from a utilitarian purpose to companionship, hobby, or breeding for profit. Dog shows have also shifted their focus to include other profitable endeavors such as sponsorships and advertising dollars, to attracting mass spectators and retail involvement.
While dog shows used to be more relaxed affairs where only interested parties gathered, they're now phenomenal extravaganzas for pet lovers! Shows not only attract dogs and spectators but they attract publicity and media as well as tradespeople who rent booths and spread their creative wares. A show isn't just a show anymore...it's a day to multi-day long event where lay people and professionals alike can immerse themselves in the wondrous world of dogs.
Throughout the year various specialty shows and events take place around the globe, but fall is the season that the winners take to the mats. The Fabulous Four, which run from Thanksgiving through early March, are where the champions -- or the dogs who dream of that title -- meet to strut their stuff I leave you with the days and the highlights of each show. Mark your calendar!
National Dog Show- The Philadelphia Kennel Club dog show, sponsored by Purina, airs Thanksgiving Day directly following the Macy's Day Parade on NBC from 12-2P.M. This show is the most watched show with over 20 million viewers worldwide. Listen up and you might recognize the emcee's voice, John O'Hurley from Seinfeld fame, though he's more proud of his dogs and kids, and the books he writes about their lives together. At his side is the ever friendly, and most recognizable face of the American Kennel Club, David Frei, himself a respected announcer. The two pair up to take their viewers on a wonderful tour of the 190 different dog breeds as well as to promote the new affiliation combining therapy dog recognition with fundraising for the Philadelphia's Ronald MacDonald House. They've proudly raised over $30,000 so far!
The Westminster Kennel Club Dog Show- The American Kennel Club and Purina sponsored Westminster Dog Show holds the title as the second oldest sporting event in our country's history. Initially held in 1877 showcasing gun dogs, the 138th annual event will invite 190 different breeds to compete and attract the world's attention. A two day event televised on USA and cNBC held in NYC February 10-11th 2014, Westminster has expanded from a purely confirmation contest between breeds to an event that supports and encourages various interactions between dogs and their people. With David Frei as the leading emcee you'll be taken behind the scenes, and also introduced to the adventures of other dog sports and hobbies. Discover Agility, Flyball and other sporting activities as well as David Frei's own passion -- "Angels on the Leash", his foundation supporting charitable outreach through using dogs in therapeutic environments. This year will highlight the first annual Master Agility Championship and the Junior Showmanship contest for handlers between the age of 9-18, as well.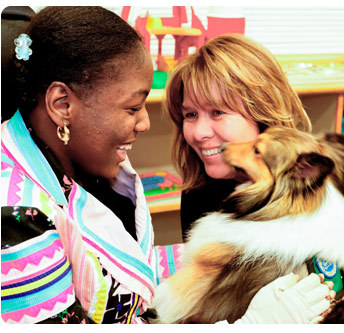 (Angel on a Leash)
Crufts -- This show held in England has been named by the Guinness Book of World Records to be the largest show in the world -- a four day show that includes contests for Confirmation, Agility, Flyball, Freestyle (or Heelwork to music), Young Kennel Club competition in all events, and Junior handling. It attracts over 28,000 dogs and 160,000 spectators to Birmingham, England where the event takes place, next on March 6th-9th 2014. Condemned by the BBC in 2008 for questionable breeding and handling practices that compromised a dog's health, the show is now televised on More4 station, although it has claimed to address these questionable issues.
Eukanuba/AKC National Dog Show - Another show joint sponsored by the American Kennel Club and Eukanuba Pet Food company, this one invites it's contestants from a pool of champions, including all breeds recognized by the AKC. With contestants numbering in the 3000 range, it is considered one of America's premier dog shows. Unlike the other events, the dates and location of the show varies from year to year. This year's event takes place on December 14th and 15th in Orlando, Florida.
So here's to the Yankees, toss a football for me and go out there and swing your racket. You won't find me on the sidelines! I'll be hugging my own doggies couch-side, raising my tail and howling to the wind...let the show begin!