I bought a new car not too long ago. This may not excite you, but as my first "new" car in a lifetime, it was big news to those who knew me. I've long touted that cars are dangerous, depreciating hunks of metal; evil necessities. When driving I use every precaution, from seat belts to extra mirrors, so I can carefully monitor my passengers and surroundings. My motto? "Two hands on the wheels, two eyes on the road, and stay seated until the ignition's off."
To offset my perpetual pavement paranoia, the last car I bought was well researched and within my budget. The "Wave" was a pre-owned cheerful blue 2004 Subaru wagon. She brought home two kids and countless pets, dragged tin cans on my wedding day and transported us all around the fifty states. It became a family obsession to get her to 300,000 miles--but alas, it was not meant to be. With Al, our trusted mechanic, staring up into her underbelly, we watched... we hoped... we crossed our fingers, but the news was bad: the converter had failed. At 282,000 miles, we were forced to put her down.
As my family has grown in the last decade, I decided it was time for a mini-van. I strode into Honda, a dog at my side and within the hour had purchased my first new vehicle ever, a 2014 Odyssey.
Cars have changed a lot in the last decade, and I learned the hard way that driving a mini-van is nothing like driving a wagon. As I approached the first traffic light, I hit the break petal a little too hard. My dog Balderdash--himself adjusting to the new sensory experience - slammed into my seat with unexpected force and fell to the floor. My heart clenched as I steadied Balder with my voice. At the next traffic light, bang--it happened again. I called Balder into the front, settled him on the floor below the passenger seat, and drove home as nimbly as a duck on ice.
Here was a problem I hadn't foreseen. How was I going to transport my pets safely in the mini-van? I'd bought a safety gate for the back of the wagon, decorated this cargo area with plush cushions and chew toys, yet this system had not been full proof. I remember an incident in which the gate crashed forward in a fender bender.
What was the solution? With four dogs, two kids, and an active lifestyle, I needed a safe and trusted way to secure the dogs when I drove. I'd seen pet harnesses at the trade shows. There are a dozen on the market, but many of them seem either too flimsy or too complicated to use. I purchased one and tried to fit it to Hootenanny, the most equipment tolerant of my brood. After adjusting the straps, I directed her to the car, anticipating her signature enthusiasm. Instead she looked up as if to say, "You expect me to move in this thing?"
As a mom, I instinctively look for safety ratings before making purchases that concern my children's security. Several regulatory agencies exist: the CPSC and the ACMI are but two.
The pet industry has no such equivalent--or so I thought.
Three days after my automotive purchase, I received a press release in my inbox. I receive a lot of press releases, and I am sorry I don't have a staff member to respond to each one of them.
This one, however, contained a few buzz words in the subject line - namely "Subaru", "Crash Testing" and "Center for Pet Safety."
My mouse hovered over the email blast. I was intrigued.
What began as curiosity has resulted in a life altering way of thinking about my pets' safety in the car and beyond. In the introductory email, I learned that although the pet industry now tops 55 billion dollars, there is no agency to oversee product marketing and safety. Anyone can say his or her product is safe, non-destructible, and crash-tested without there being a standard for that terminology.
I spent the next several hours combing over a 17 page Center for Pet Safety (CPS) report that detailed an effort to test the safety and effectiveness of automotive harnesses used for pets. Though a fledgling 501(c) 3 non-for-profit, research and advocacy organization CPS strives to be the agency that insures consumer safety, and sets the standards and regulates the marketing claims of all companion animal products. One of their first objectives was to evaluate and rank harnesses, set a standard for future testing, and provide feedback to manufacturers, which could then be used to improve their products.
What role did Subaru play in this study, I wondered, and what was their motivation? To find out, I phoned the contact number at the bottom of the press release and set up two appointments: one with the founder of CPS, Lindsey Wolko, and another with a representative at Subaru."
On a personal note, my personality is best compared to a Border Collie/Golden Retriever cross. I routinely startle people with my enthusiasm and focus. Once you get to know me, however, you see it isn't feigned; it's simply who I am.
It's rare I meet someone with the same level of determination and spunk, but in 30 seconds I knew: Lindsey and I were "Sympatico!" My focus is on teaching dogs and training people; hers is developing a regulatory center to insure that manufacturers meet minimum safety standards, and thus the happiness and well-being of our beloved pets.
During our hour-long discussion I learned that an incident with her dog Maggie, an English Cocker Spaniel, motivated her to find a safety harness. She (like me) discovered that there was no agency overseeing the credibility of any pet products--harnesses, treats, toys, you name it. She was a woman on a mission.
In 2011 she funded a Pilot Study to determine the crashworthiness of safety harness products to determine which harnesses would effectively keep a dog grounded in the seat and/or allow for proper bodily rotation to prevent spinal injuries. The study was her first attempt to weed out products that would endanger the pet, the people in the vehicle or both, but it was limited in its scope due to lack of funding.
In 2013 she got a call from a representative at Subaru in what would be her first "big break." Subaru, who prides themselves in being a safety conscious and pet friendly automobile manufacturing company, was looking to verify the "crash-tested" safety claims for canine seat belt harnesses. What they discovered startled them: there was no independent industry oversight.
After some research, they unearthed the results of the CPS 2011 Crashworthiness study and contacted Lindsey Wolko to ask if she would expand the study using the same crash conditions and safety standards that the Federal Motor Vehicle Safety Standard (FMVSS) 213 uses for child safety seats. Subaru got involved not only in funding the study, but also in each part of the research from the creation of static dogs (small, medium and large dummy dogs properly weighed to stimulate live models) to the testing procedures run at MGA Research Corporation, a National Highway Traffic Safety Administration (NHTSA).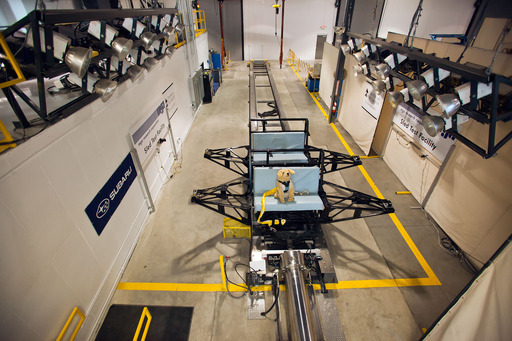 (credit: Subaru)
In the name of fair play, each manufacturer was notified of testing dates and was invited to send representation to witness the trials made on their individual brands. As Lindsey says so eloquently, "CPS is not instituted to award a "Pass" or "Fail." Our agency simply provides testing and results that both the consumer can judge from and the manufacturer can use to improve the safety and effectiveness of their products." http://www.youtube.com/watch?v=a8lWbTXFyys (credit: Subaru)
What was most startling to me in this report was the comparison of body weight to projectile force in a 30 MPH collision, a 1:20 ration. Collectively my four dogs weigh 224 pounds. In little more than a fender bender, the four of them would unleash 4480 pounds of pressure, which would go well beyond endangering their lives - it would threaten my kids' safety as well.
Since the report came out, many manufacturers have improved their products. I chose three front-runners to test on my pack. Now, when we travel, the fun part is getting situated. "Dogs?" Click! "Kids?" Click! "Grown ups?" Click! And zoom. We're off!