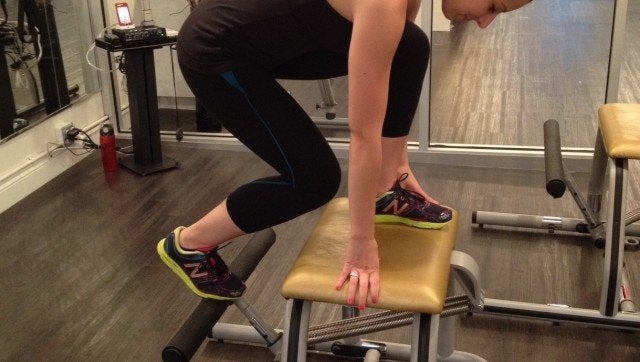 What We Tried: Chaise23 Cardio Chair
Where: Chaise23, New York City's Flatiron neighborhood
Where Else Is It Available: Chaise23 also has a studio in East Hampton, NY. Check your local Pilates studio for similar Pilates chair-based classes.
What We Did: A combination of resistance moves on the chair (which Whole Living so perfectly described as "a Reformer that's been squashed from a long rectangle into a square") like mountain climbers, the famed Pilates ab move the Hundred, triceps dips and more. We also performed resistance moves with bungees fastened to the ceiling, like squats and lunges, and combined them with high-energy, bouncy cardio moves.
For How Long: Classes are 55 minutes long.
How'd It Feel: Ah-mazing! The extent of my usual Pilates "practice" -- if you can even call it that -- is 30 minutes with a DVD in my living room. I finish with that wobbly-muscle feeling that signifies a good strength workout, but I'm rarely sweating, and for me, there's nothing more satisfying than a disgustingly good sweat. This class felt like the perfect blend of cardio and strength -- just when I thought I couldn't perform one more move on the chair, it was time to rotate back to the bungees.
Some of the bungee moves were a little hard to get the first time around. The instructor, Sandy, a former competitive cheerleader, she later told me, is far more coordinated than I. But she reassured me that it was fine when I punched with the wrong arm or kicked with the wrong leg; the important part was to keep moving.
I left with that wobbly muscle feeling and that cardio-drained feeling -- and still with a smile on my face.
The next day, I felt it in my abs and my shoulders especially, and my legs were a little tired, but not too sore.
What Fitness Level Is Required: This class is not for the faint of heart! After class, as I bashfully mopped up the sweat all over my chair and the surrounding floor, Sandy described it to me as "Pilates on steroids," and she wasn't exaggerating. The Reinvention Chair class offered at the studio, more focused on strength, is a seemingly less-sweaty option. But both Pilates fans looking for a change of pace and cardio-aholics who think typical Pilates isn't for them should give it a try.
What It Helps With: Cardio conditioning, balance and muscle strengthening. Pilates in general is very core-focused, so you'll definitely work your abs. The bungees and resistance pedal on the chair help bring arm and leg muscles into the mix.
What's It Cost: An intro class costs $16, and single classes are $30 after that, but the studio offers all kinds of package deals and unlimited memberships that cut down on the average price per class.
Would We Go Back: Definitely!
Check out the photos of Chaise23 in the slideshow below, then tell us in the comments if you've ever tried a Pilates chair class!
PHOTO GALLERY
We Tried It: Chaise23