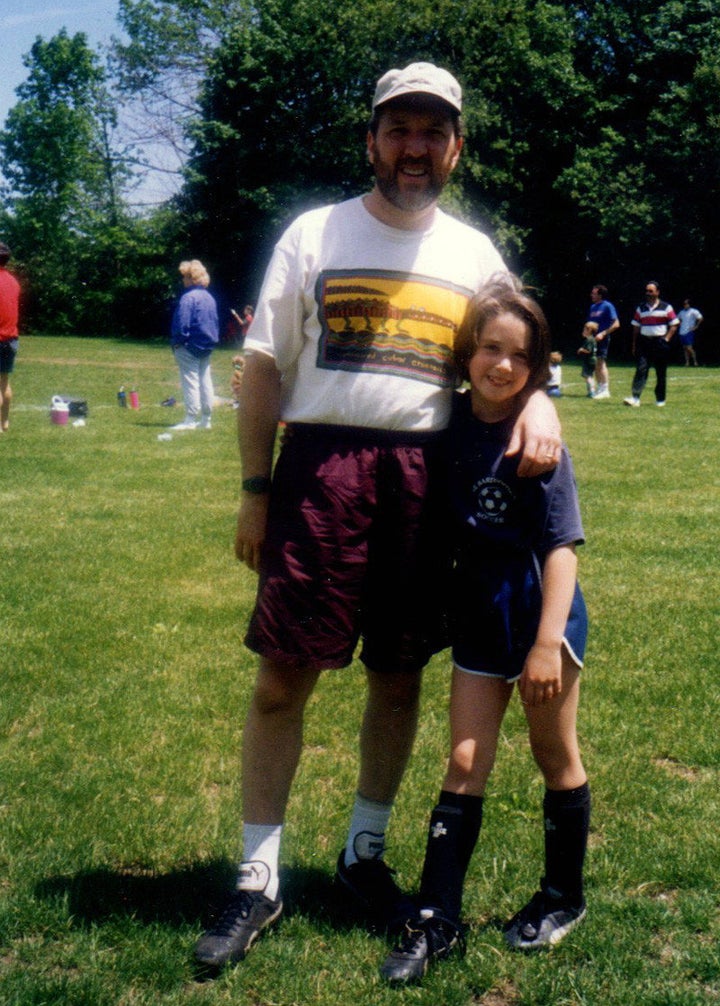 If my grandfather had his way, my brother, Jeremy, never would have been a captain of Northeastern University's division I soccer team. He would be a catcher. My cousin, a rising high school senior who excels in every sport she tries, would drop everything for softball. And somewhere along the line, I would have at least learned how to throw.
But his short minor league baseball career and steadfast Yankees loyalty (despite living in Massachusetts) didn't trickle down the family tree exactly the way he hoped. He's never said so, but I can only imagine he finds my father responsible for derailing his plan for a Klein family baseball dynasty.
I don't know exactly how or why Dad fell in love with soccer growing up in a baseball family, but I know exactly how I did. He tried to introduce my brother and me to a range of physical outlets. My brother picked up basketball along the way and dabbled in baseball for a while. But, because of Dad's own infectious passion for the game, soccer resonated most with both Jeremy and me. From then on, I notoriously refused to do anything but kick, so the story goes.
Whether he meant to or not, Dad instilled in us a lifelong love of using our bodies and a deep appreciation for all that they can do. I played in my first organized league at age 7 or 8 (when this photo was taken). Jeremy started at 4. And, nearly 20 years later, we both still play.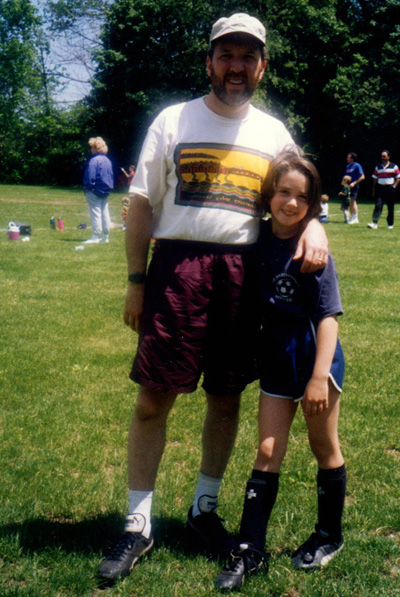 Yep, we're a soccer family, in pretty much every stereotypical way you can imagine, except that neither of my parents ever drove a minivan. It's what we do. When friends were escaping for long weekends at the beach, we were playing soccer. We've planned entire family vacations around out-of-state tournaments. The name brands in our closets are Adidas and Nike. My brother and I each worked a couple of summers at the soccer store in our hometown. To extend times between laundry loads, we have about as many pairs of soccer socks as normal people have underwear.
My dad coached every team I was on until high school. He was constantly pushing me to run harder, think faster, make my passes crisper -- advice that was always spot on, even when I didn't want to listen. He recruited experienced players to guest coach for a practice. He sacrificed endless hours in a car packed with sweaty girls begging to turn the radio up.
Dad also made sure to show me that women can excel at soccer just as well as men. When we watched women's games on TV, he'd still sit on the edge of his seat, eyes wide in excitement. During the 1999 Women's World Cup, we baked in the June sun through a double-header at Foxborough Stadium. I still have the T-shirt to prove it.
When he was no longer my coach, he dutifully took over the role of my biggest fan. He was always on the sideline, holding the video camera or the water bottle. He continued to offer playmaking advice, and patiently explained how to exploit my strengths and manage my weaknesses on the field. He picked me up off the ground the day I collapsed from dehydration.
This spring, I joined a full-field, 11-on-11 women's team here in New York City. I had only played on recreational coed teams for the past seven years, and the soccer focus of the family had long since turned to my brother. But every Sunday, my phone would light up with a text from Dad, asking how the game went, offering encouragement and empathizing over how much more difficult it is to play for 90 minutes than it was when we were 18.
It's been a while since we've taken a ball and our cleats and escaped to the nearest field together. But recently, while visiting my parents, Dad and I were waiting around in the driveway for something and I instinctively grabbed a ball from the garage. I didn't have to ask, I just passed it to him. It's what we do.
Of course, I'm not the only child who has been coached by a parent, and many other children have had other opportunities to bond with parents over physical fitness. Maybe you hike with your dad or run road races or do yoga or lift weights together. This Father's Day, we're celebrating all dads, but with a special shout out to the fathers who keep us fit. Tell us about your fit dad -- leave a comment, email HealthyLiving@huffingtonpost.com or tweet us @HealthyLiving. We'd love to see pictures! And when Father's Day gets here, we'll share some of your stories.
For more by Sarah Klein, click here.
For more on fitness and exercise, click here.