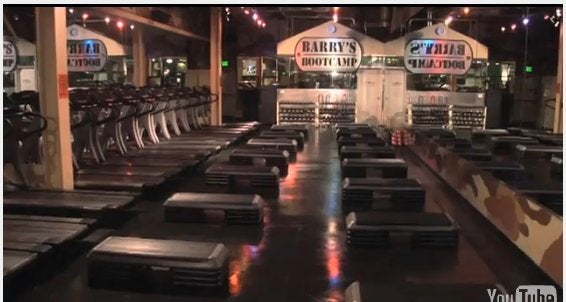 With the abundance of bootcamp-style workouts here in New York City, and a roommate smack-dab in the middle of a love affair with the high-intensity, push-up-till-you-drop regimen, it was becoming high time for me to try one.
Which is why I jumped at the opportunity to take a class at Barry's Bootcamp, a Los Angeles-born studio that opened its first outpost in New York this June. Hollywood hardbodies like Kim Kardashian have been fans for years, and now New York-based stars like Amanda Seyfried are hopping on the bandwagon.
I was hoping for a celebrity sighting, and imagining a drill sergeant standing over me making me sweat until I cried, bled or fainted.
I showed up for the Friday evening full-body class with celebrity trainer Joey Gonzalez, an instructor who also happens to be the chief operating officer of Barry's Bootcamp. While his muscles are certainly intimidating, his demeanor is far from that of a drill sergeant. He kindly explained the basic premise to me: a few minutes on a treadmill, a few minutes working with weights. As the other bootcampees filed in, he dimmed the lights and pumped up the jams.
There's certainly no time to get bored. Each interval is only five or six minutes, and within each, you're going through two or three different activities. On the treadmills, we ran 30- to 90-second sprints or cranked up the incline for up to two minutes. On the floor, we did different variations of lunges, push ups, planks, triceps presses and biceps curls.
As one of those weirdos who actually loves to run, I could hold my own during the treadmill portions and even felt comfortable pushing myself. I got a little too confident, though, when it came to the floor exercises with weights. For triceps exercises, for instance, Joey suggested women pick up two 10-to-12 pound dumbbells. Let's just say I'm pretty sure I should have grabbed two eights. As you may know, when your weights are too heavy, you compromise form and risk injury. I watched myself in the mirror struggling to finish my reps, questioning why form wasn't a higher priority.
One possible reason is that Barry didn't necessarily have a background in fitness or exercise. Joey himself wanted to be an actor. While nothing about the class seemed particularly unsafe, I can't remember the last time I was this sore after a workout, let alone three days later.
That said, I had a complete blast. At the end of class, my legs and arms were shaking from exertion, I was drenched from head to toe in sweat and I had that unrivalled feeling of a runner's high, like I had really accomplished something. For those 60 minutes, nothing else in the world existed -- it's just not possible to work your body that hard and still think like a normal person. Joey said he hears that a lot -- especially from the Type A personalities who are typically drawn to a Barry's Bootcamp class, he said.
Without other bootcamp experiences to compare it to, it's hard to say why you might pick Barry's instead of any number of other studios in New York City. I'll have to try a few others before I decide if I'd go back. Although at $32 a class, price is certainly a deterrent. (Price per class drops the more classes you buy, so, for example, 50 classes will only set you back $25 per class, etc. Monthly membership prices vary by location.)
"New Yorkers know what works," Joey told me, when I asked about how the classes were catching on in the Big Apple. "And they're willing to pay for it." In dollars and in pain, no doubt.