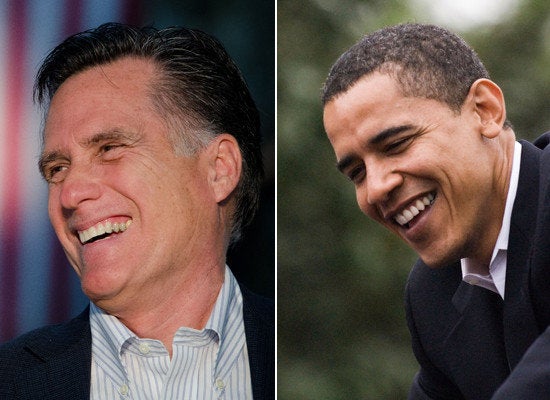 As the countdown to November 6th approaches, the competition between Barack Obama and Mitt Romney is heating up in a big way. Over the past week, we've listened to their wives tell their unique love stories during the national conventions. Ann Romney gave an impassioned speech at the Republic National Convention where she discussed her relationship with Mitt and their love story -- all with the aim of revealing a softer, more personal side of him. Ann started her speech by saying, "Tonight I want to talk to you about love. I want to talk to you about the deep and abiding love I have for a man I met at a dance many years ago."
This week, Michelle Obama followed suit at the Democratic National Convention. She delivered a rousing speech focused on the role model Barack is for their daughters and the love he has for his family and his country. Michelle explained, "I love my husband even more than I did four years ago...even more than I did 23 years ago when we first met."
But, both women left out the story of their marriage proposal.
Since Mitt Romney and Barack Obama have been pitted against each other on nearly every possible issue, it's only fair to evaluate who did a better job of popping the question. As The Proposal Planner, I'm an expert on marriage proposals, having designed and planned memorable moments for lucky couples around the globe and I know what it takes to pull off a dream marriage proposal.
When it comes to matters of the heart and the way they popped the question -- who is the big winner: Romney or Obama? Let's see how they stack up when it comes to three key elements to a great marriage proposal: romance, creativity and the element of surprise.
Round 1: Romance. One of the core elements of a great marriage proposal is romance. Proposals are inherently romantic and romance can come in many shapes and sizes -- every couple is different and The Romneys and Obamas are no exception. Mitt invited 16-year-old Ann as his date to senior prom. The couple took a break from dancing and stepped outside for some air and Mitt popped the question -- no ring, no plan, just two kids in love. He definitely scores big points for being so head-over-heels for Ann that he proposed spontaneously after only two months of dating. She said "yes," but they kept their engagement under wraps. Mitt re-proposed four years later on a car ride home from the airport. Although less romantic than their original proposal, Ann again said "yes" and they were married shortly after.
Under the decoy of an evening to celebrate finishing his bar exam, Barack took Michelle out to a romantic candlelit dinner. He slipped the engagement ring to the Maitre'D at the start of the meal and when the waiter served the dessert course, Michelle was shocked to discover a beautiful diamond ring. Barack asked Michelle to marry him right then and there. Although it's not clear whether he got down on one knee, he definitely scores points for the careful thought and planning that went into the proposal.
Winner: ROMNEY. Sorry Barack, although your proposal certainly includes many romantic elements, this round goes to Mitt for his fairytale-like spontaneity.
Round 2: Creativity. When it comes to marriage proposals, personalization is paramount and creativity counts. Unfortunately, both of our candidates missed the boat on personalization. Based on the information I've unsurfaced about their engagement stories, neither proposal included any personal elements or inspiration from their unique love story. To be fair, Mitt popped the question in the 1960s and Barack in the 1980s -- long before creative, personal marriage proposal stories came on the scene. Neither Barack nor Mitt had even heard of a flash mob at the time they were proposing, much less considered incorporating it into their marriage proposal. Taking this into account, Mitt's proposals -- both of them -- lacked in creativity. Barack's proposal to Michelle, though predictable by today's standards, was certainly considered creative back in the 1980s. Like any man about to propose, he likely saved up money, researched different styles and jewelers and, after much thought, selected a diamond ring for Michelle. Since Romney proposed without a ring, Obama gets extra credit for hand-picking an engagement ring for Michelle.
Winner: OBAMA. While both candidates performed poorly in this area overall, I have to give this round to Obama for orchestrating the entire proposal and for personally selecting engagement ring.
Round 3: Element of Surprise. Keeping a marriage proposal a surprise until you pop the question is critical to a dream engagement, and it's often the hardest part of proposing. If your future-fiancᅢᄅe knows the proposal is coming, it takes away from the big reveal moment and all of the emotions that come with it. Luckily, both of our presidential candidates earned an A+ in this area. Mitt's proposal to Ann was likely as much of a surprise to him as it was to her! Since they had only been dating for two months at the time and he popped the question in such a spontaneous way, chances are that Ann was truly surprised.
But, when Michelle recounts the story of their engagement, she confesses "...the waiter came over with the dessert and a tray. And there was the ring. And I was completely shocked." Thanks to his careful planning, Barack planned a decoy dinner, managed to get the ring to the waiter without Michelle suspecting and completely caught her by surprise. The couple had previously discussed marriage, but never with any conclusions. When Barack proposed, Michelle wasn't expecting it at all because of his carefully crafted decoy story. This round is a close call since both candidates' marriage proposals included the element of surprise.
Winner: OBAMA. While Mitt's proposal was spontaneous and surprising, I have to award this round to Barack since his planning and careful thought resulted in a truly surprise marriage proposal.
So, which candidate wins this competition? Obama's marriage proposal scores low on romance but high on creativity and the element of surprise, while Romney's proposal was romantic and surprising, but not creative.
Overall Winner: OBAMA. Ultimately, the most important part of a marriage proposal is that she says "yes!" and both men accomplished this. We won't find out which candidate wins the presidency until November, but in the marriage proposal debate, Obama is the victor.
Sarah Pease, The Proposal Planner is the foremost expert on marriage proposals and is the pioneer of Marriage Proposal Planning. Sarah is the founder of Brilliant Event Planning and Proposal Ideas, and has designed and produced dream engagements for countless lucky couples from across the world.