With New York's Archbishop Timothy Dolan's elevation to Cardinal, Catholics and many who live alongside Catholics are hoping that the good works of the Church will grow. During the season of Lent, when Catholics deepen their connection with Jesus, and this lunar month when Muslims celebrate Prophet Muhammad's birth, my own wish, as an American Muslim and a New Yorker, is that intergroup relations between Catholics and Muslims will deepen.
Written by leading Muslim scholars around the world to their Christian counterparts, A Common Word between Us and You, offers a way forward, focused on themes of loving God and loving your neighbor. It is necessary that Muslim and Catholic leaders of Dolan's stature actively endorse and encourage such interfaith dialogue to permeate from scholars to the grassroots. Initiatives deserving special support are those which incorporate dialogue as well as opportunities to live out shared social justice values. By helping people who face poverty and other social and economic challenges, these collaborative projects can help reinforce individual faithfulness, create mutual empathy and also offer something bigger and beneficial to wider society. There is good reason to believe that we may be moving in that direction in New York City, since Archbishop Dolan has already stated his desire to build longer-term relationships with the City's Muslim community.
Among the very good works of the 400 parishes and 200 Catholic schools in the Archdiocese has been the "Feeding Your Neighbors" campaign, whereby generous Catholics have donated more than 500,000 meals for needy New Yorkers. This abundance of food is in turn being used to stock the shelves of Catholic Church pantries. Non-Catholic institutions are also benefiting. Recently, Monsignor Sullivan, the Executive Director of Catholic Charities of the Archdiocese of New York supervised the transfer of 2,500 pounds of food to the Community Food Pantry at Highbridge, run by the Muslim Women's Institute for Research and Development. The food was collected by seven Bronx parishes to help needy New Yorkers; the Highbridge Community Pantry serves at least 5,000 individuals a month, many of whom also have families. Highbridge is one of the poorest neighborhoods of New York City and the nation as a whole.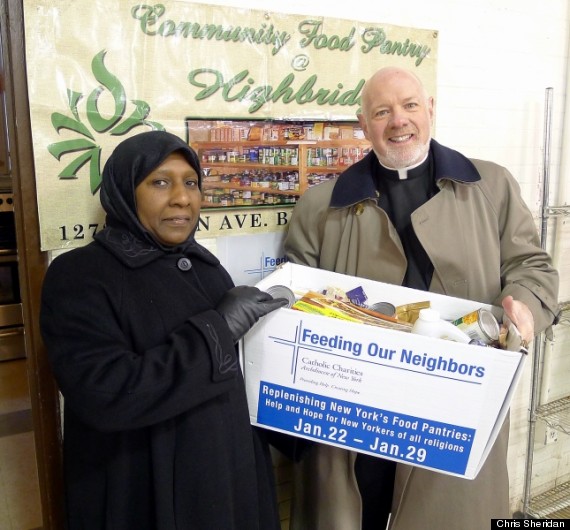 (Photo: Msgr. Sullivan, Catholic Charities of the Archdiocese of NY with Dr. Amatullah, Muslim Women's Institute)
The relationship between Catholic Charities and Muslim Women's Institute has evolved over two years, as part of a social service partnership program run by the Interfaith Center of New York and funded by the GHR Foundation. The initiative involves collaborations between pantries in the Bronx, mosques and parishes in Harlem and youth programs in Staten Island. Last year, the Mosque of Islamic Brotherhood in Harlem conducted a community food collection among congregants and donated the proceeds to a pantry at All Saints Church. Teens from the Staten Island Catholic Youth Organization and Miraj Islamic School conducted a joint food drive and together served food at a local soup kitchen.
The rationale behind this partnership is that both Islam and Catholicism share a deep commitment to service, and Catholics and Muslims can benefit the wider society by working together. Tom Price, the senior communications manager with Catholic Relief Services harkened back to Pope Benedict XVI's 2005 encyclical "Deus Caritas Est," wherein he stated that charity is for the Catholic Church "a part of her nature, an indispensable expression of her very being." Similarly, Islam and Muslim institutions share a central commitment to caring for those in need, and Muslims are obligated as part of their ritual worship to give zakat, or charity. One of the favored sayings of Prophet Muhammad is, "God is generous and He loves generosity."
In a city and nation that has been challenged by intergroup relations, particularly since the disaster of 9/11 and resulting fear of Islam, this partnership has brought together like-minded Catholics and Muslims who are social-service oriented. It has shown that even in fragile conditions, it is possible for people to work together to serve a larger cause. This is not to say that very serious challenges such as the rights of Christians as minorities in parts of the world with Muslim majorities or Muslims' rights as minorities in non-Muslim contexts should be ignored. Securing civil rights and human rights is an ongoing process in Muslim countries, and also even in nations such as the United States where democracy is normative. Catholics and Muslims actually share this experience of marginalization, particularly in the American context, and it can create common ground for the two communities to stand together, as noted by Dolan himself. We can also be very grounded in Catholicism's and Islam's shared call to generosity and caring for humanity.