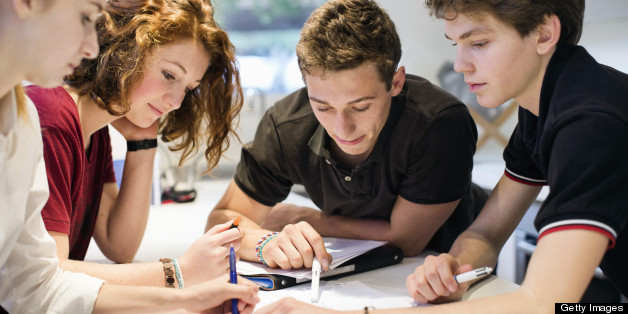 While walking through the crowded New York City streets, we couldn't help but notice the vibrancy and the intense personality of the city shining through the rainy Wednesday morning. As we sat in a small cafe before our adventure, our teacher and mentor, Rahilla Zafar, described the numerous stops we would make throughout our day. Our excitement grew as we inched closer to our first destination: General Assembly, for a private interview. General Assembly is a global campus that many entrepreneurs work out of and utilize for its creativity and collaborative qualities. It offers classes in technology, business, and design.
Early that morning on the train to New York City, we tried to imagine what our day would be like. Firstly, we thought it would be fun and exciting no matter what, because it would be nothing like we had experienced before. However, we had a few preconceived notions: we envisioned the people we'd meet to be so mature and successful that we would not be able to communicate on the same level. We thought this because we suspected the people would have valuable advice to offer, but would we have anything relatable or in common with them? Though we were accurate about their wisdom for entrepreneurship, the rest of these ideas were immediately discarded when we stepped foot into General Assembly.
As we entered the modern and open loft, all of our preconceived notions began to change. What we expected to be a competitive atmosphere of entrepreneurs was really a warm place catalyzing the spread of ideas and innovations of many passionate people. After we snapped a couple of pictures of the campus, including the magnificent life-size sketch of Andy Warhol, Rahilla took us to a reserved conference room for our private interview. She had set up an interview with an old friend of hers, Anastasia Roumelioti. To prepare, we did a little research about Anastasia and her company and compiled a list of questions early that morning. However, no online bio or website could personify Anastasia's charisma and intelligence in the way that meeting her did.
Anastasia Roumelioti, originally from Greece, graduated class of 2012 from Wharton Business School at Penn. She found her inspiration at her former job at Giorgio Armani. Interestingly, one of Armani's designs for a dog tuxedo gave her the idea to start her own business, Lady and Lara, for high-end pet accessories. We had a long conversation; it began with how she started her business and ended with her knowledgeable opinion of Greek men! Meeting her truly shaped our day and altered the judgments that we had made on the train. Hearing Anastasia's story from start to finish about her business was inspiring; we hope her passion and persistence will be contagious for us in the future.  
After the interview, we headed over to The Huffington Post headquarters for a tour and private women's power networking lunch. One would think that a table of young, smart, and attractive women would be gossiping about the latest Louis Vuitton shoes or how gorgeous Channing Tatum is, but it was strictly business. By business, we mean a structured meeting during which proactive women discuss their passion for their careers and their genuine interest in helping each other better their work. They call themselves a "tribe" -- a symbol of their promise to genuinely support each other, no matter what. We noticed they have an unending trust and accepting attitude toward everything they share with one another, but we found their drive in conversation to be the most special. Witnessing women who are open about their failures and accepting toward advice and criticism was truly refreshing.
At the end of the day, we came out with five pointers one would need to flourish in the entrepreneurial world.
1. Be optimistic to the point of foolishness. One of our interview questions for Anastasia was, "What about your personality has benefitted the process of starting your own business?" Without hesitation, she replied, "Oh my God... I'll tell you the number one, which is I am optimistic to the point where people think I'm a fool. I constantly think that things will go well, no matter what, things will go well. This is an amazing driving force. Christopher Columbus... if he wasn't optimistic, he would have never done the journey that he did. The first astronaut ... if he was thinking for one second maybe the spaceship will explode, he would have never gotten there."
The final point she made was, "Pessimistic people are too risk averse to embark onto an entrepreneurial journey." From listening to her story and experiences, we can say her opinion is valid, seriously. So -- take this advice: be optimistic and find the positives in all situations to improve your outlook.
2. Never sell yourself short. This is a habit among many of us. Remember that you are capable of more than you think. Be ambitious and go after your goal even if it scares you. During our interview, we asked Anastasia what she was like in high school, and if back then she could ever imagine where she is now. We did not expect Anastasia's response. She replied by saying she was shy and never imagined she could accomplish something so big at such a young age. It is easy to sell yourself short. Not aware of the endless things you are capable of doing, one immediately thinks, "I can't do that, it would never happen."
However, it can happen; it isn't until you overcome something you never thought you could that you see your true potential. Life is a variable. It can take you in many unforeseeable directions so you must keep yourself open to new things.
3. Have the tribe. Create a support group within your workplace, school, or even a close group of friends. Use your tribe to exchange ideas, give advice and, most importantly, to help each other out in times of need. One of the female entrepreneurs at the luncheon expressed her stress and near failure with the opening of her art gallery business. Surrounding her, the women at the table listened, donated their advice, and shared their own low points in their work. Subsequently, a couple of the women offered to refer a person whom they knew well and could help their project or form a stable connection for each other's future work endeavors. The fact that these women could show weakness and failure, but gain relief as a result, is rare. However, rare does not mean impossible; we should all work toward finding our tribe and maintaining its qualities in our lives.
4. Surround yourself with successful people. This relates to the common phrase, "You are the company you keep." If you surround yourself with people who want to do well and be successful, you, too, will develop that ambitious drive. This relates to the tribe; by meeting with strong, successful people who have experience with the good and the bad, you are being guided in the right direction. Build onto your relationships, reach out, and make the connection that could move you somewhere unexpected.
5. Impressive presentations make the difference. In our culture, we need to be blown away by something brand new and superior to really want it. It is the same way with ideas when you're an entrepreneur. An idea immediately seems dull if it has been done before or it is not that unique. But if it is presented or advertised in a way that makes it appear the best or the most interesting, it is a hit! The viewer cannot say no if they are amused by both your performance as the presenter and the overall image you paint for them. Always integrate confidence, distinction, and conviction into your plan.