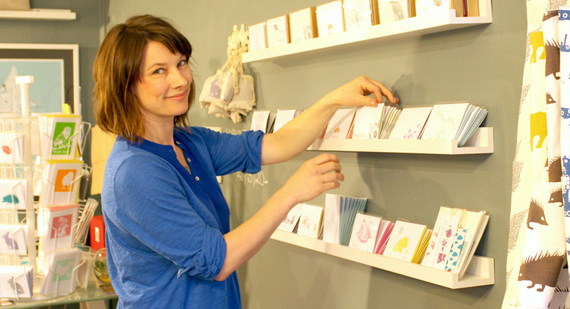 "You have an adorable shop," a customer calls out to Foxy & Winston owner Jane Buck on her way out the store's front door, while I look on from a perch in the back. I've been chatting away an afternoon here in Red Hook with Buck, who also designs the shop's eponymous line of fanciful textiles. Like any proper native Englander, she has served me a cup of tea, with which I'm beating back a winter chill that hasn't quite lifted
The customer is right (as customers always are), as becomes clear immediately upon laying eyes on the shop, but even her heartfelt praise doesn't quite capture the thing that makes Foxy & Winston such a treat to visit and shop from. It is adorable. But unlike so many adorable things, it is also sophisticated and clever.
Foxy & Winston (392 Van Brunt Street) features Buck's tote bags, table cloths, napkin sets and note cards, all screen-printed by hand, alongside a selection of goods from other small-batch makers, many of whom are personal friends. Despite her obvious talent, Buck has to be the least pretentious designer in New York City. Her open attitude, along with a cheeky sense of humor that bubbles up constantly, made her a joy to interview.
Head over to Strolby to hear more about Jane Buck, in her own words...