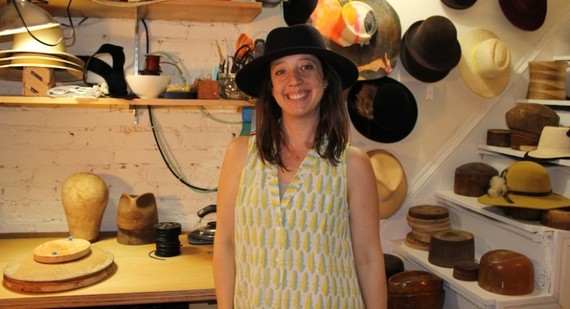 Brookes Boswell, a Brooklyn milliner who learned the craft during an apprenticeship with a classic New York hat-maker, finds inspiration for her elegant, handcrafted hats from a multitude of sources: "I look at a lot of vintage photos, street style photos, art, and other designer's work. I might be interested in the color palette of a random photograph or the textures on a handbag."
For her current Spring / Summer 2014 collection, Boswell found herself captivated by two sources: a series of photographs by Los Angeles-based photographer Uta Barth, and forsythia blooms. "The photos featured a bare tree viewed from the ground looking up into the sky. And forsythias are a shockingly vibrant, acid yellow color. So I wanted to create a collection that was about structure and texture using natural straw and black felt with some crazy, bright yellow accents to throw things off a bit."
We visited Boswell's Vinegar Hill studio recently, where she took us through her hat-making process.
Head over to Strolby to go behind the scenes as Brookes Boswell crafts her hats.