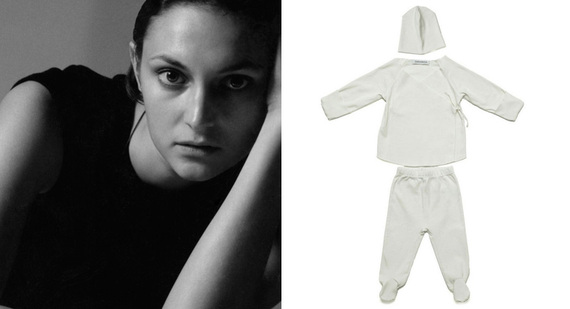 Kasia Pysiak's new line of children's apparel is everything kids clothes usually aren't: subtle, durable, and minimalist. It's a counterintuitive, no-frills approach to letting kids shine that we find so refreshing. We checked in with Pysiak this week to learn about her inspiration, working in Brooklyn, and where the name Zaikamoya comes from...
What inspired you to start this line?
After the birth of my son, Liev, I was inspired to create a children's clothing line that combined a minimalist aesthetic with comfort and quality. I wanted a look that is stylish and simple, sophisticated but understated.
Zaikamoya means "my little bunny" in Russian. What's the significance of that?
Zaikamoya is what I call Liev. It's his nickname.
What was the most challenging part of getting Zaikamoya off the ground?
Finding a way to produce high quality garments in small, boutique lines while keeping the price reasonable. It's a challenge I'm still dealing with on daily basis.
Where do you find inspiration for your designs?
A lot of my inspirations comes from vintage illustrations of children's fables; heroes are bundled in soft layers of traditional clothing. That sense of effortless warmth, shelter and versatile wearability are the main elements of Zaikamoya design.
The sources of my inspiration are endless; travel, the everyday of the street, movies and art. For colors I look to nature. You can often spot me in Brooklyn Botanical Garden with my Pantone book trying to match a color to a leaf or a flower.
Tell us about working in Brooklyn. What's a typical day like?
Brooklyn is my oasis. I moved here about two years ago from the Lower East Side of Manhattan and I'm so happy I made the change. I feel so lucky to live on tree-lined streets with historical brownstones all around. Even though most days I'm in Manhattan checking on production and samples or searching for fabric, most of the creative process happens in my studio in Prospect Heights. I look out the window and see children running at Underhill Playground, or I can walk to Propsect Park or the Botanical Gardens.
What are some of your other favorite Brooklyn spots?
Vanderbilt Green Market-a tiny but amazing health food store with an organic juice bar; Passage de la Fleur-a biodynamic, organic wine shop. I love the backyard of Le Gamin for a glass of wine and some mussels, and Chuko for ramen. Blue Marble for ice-cream and every Saturday I go to the Grand Army Plaza Farmers Market.