Almost every parent faces the 4-o'clock question -- what am I going to feed my kids tonight? If you have picky eaters, aka almost every toddler, the quandary becomes even more challenging.
The dads behind The Restaurant at Meadowood, one of only 12 restaurants in the United States to have earned three Michelin stars, face the same issue, but along with their wives, have a few tried-and-true techniques that got their toddlers eating fairly sophisticated foods (think chili-spiked Bolognese and mushrooms) in no time.
Chef Christopher Kostow and his wife, Martina, used tofu as a gateway meat for daughter Daisy, 22 months. Restaurant director Nathaniel Dorn and his wife, dietitian Tawnya, have a few brilliant hacks that allow son Kaiden, 3, to eat yogurt and bananas without the goopy mess. Here, the Kostow and Dorn families share 10 easy recommendations that work for them.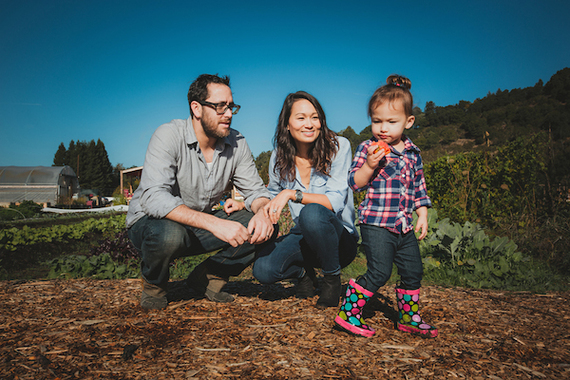 1. Avoid the reward system.
"We'll put everything in front of him at one time, including dessert (which is usually fruit) so that we're never rewarding him with dessert. That way we're also never forcing him to eat," Nathaniel Dorn says. "If he's hungry, he'll eat."
2. Try tofu as a gateway meat.
"It's easy to prepare, super healthy, and easy to eat without teeth," Christopher Kostow says. Daisy was eating tofu by the age of one, and now she loves ground meat as well. "We eat meat almost every day," Martina Kostow says.
3. Plan ahead.
Tawnya Dorn writes out a five-day dinner plan for each week on a whiteboard in the kitchen. "I hate going to the store 20 times per week, and this doesn't completely eliminate extra trips, but it really helps. I'd say we follow it about 80 percent," she says.
4. Steam vegetables ahead.
"We have different steamed vegetables every night, and they go so easily into mac and cheese or anything else I'm making," Martina says.
5. Try adult utensils.
"We found out that he does better with adult silverware. His baby spoons aren't deep -- they don't have the well that an adult spoon does -- and it's more rewarding when he actually gets the food. So we'll use an adult teaspoon and a small fork for him," Nathaniel says. "We focus on using them at dinner, when we're there to watch and when we have more time as a family to kind of hang out."
6. Mix up favorites to avoid palate fatigue.
"Kids get tired of foods in the same way that we do, so when they start pushing it away, it's not necessarily because they don't like the food, it's because you've incorporated that food too many times into their diet over the course of a certain time," Martina says. "So now I try to vary what I give her a little more."
7. Experiment with seasonings.
Varying the flavors of favorite foods can also help avoid palate fatigue. Martina will start with garlic, then add a little pepper. "Daisy will go 'oh spicy,' and then a little while later, things that seemed spicy before don't seem spicy anymore," she says.
8. Model food behaviors.
"We all get into our own vibe with our food habits, and then we have kids and forget that those might not be the healthiest ways to deal with food around them. We'll drink a soda in front of our kids while telling them that they can't have it. As a dietitian, that's when I see kids start to sneak food," Tawnya says. She's all for treats, but recommends aiming for 85 percent healthy foods in the house.
9. Let him be messy.
"Cleaning up makes kids more picky eaters," Tawnya says. "It really does. Or it makes them really finicky about their food. If you're constantly cleaning them off, they don't enjoy their food as much as they would if they're able to eat it and not even think about it. Whenever Kaiden was on my watch, he'd have food all over his head and face, so I had to train Nate a little bit to let him be messy."
10. Forage -- by looking, not touching.
"We took her foraging for the first time last week. She's basically just going for a walk. I don't expect her to find anything and I don't want her suddenly touching mushrooms, but for her, just getting out into the woods is fun. It was really fun until she pooped her pants," says Christopher. "She was a trooper, though, and now she knows what a mushroom is."
Both Kostow and Dorn have also come up with a few hacks to make sure healthy foods go down without a hassle. Kostow embeds blueberry treats in peanut butter to get fruit and protein into Daisy: "Really all she wants to eat in the morning is berries. So this morning when I wanted her to eat some bread and peanut butter, I just decorated a slice with with berries and then closed it on itself, so she couldn't even open it. Then she had to eat the whole thing," he says.
Dorn focuses a bit more on cleanliness, as one might expect of an award-winning restaurant director. Here's his hack for a yogurt milkshake: "I'll shake a container of yogurt until it's liquefied, and put a straw through the foil lid and tape it down. So instead of sitting there and spooning it, he can walk around with it like it's a milkshake," Nathaniel says. (Says Tawyna, "It's awesome.")
Dorn also builds a banana handle to cut down on sticky toddler hands. "The banana goo always gets all over them. But I'll peel a banana two thirds of the way down and then cut off the edges of the peels so there's a small peel handle, with the rest of the banana sticking out," he says.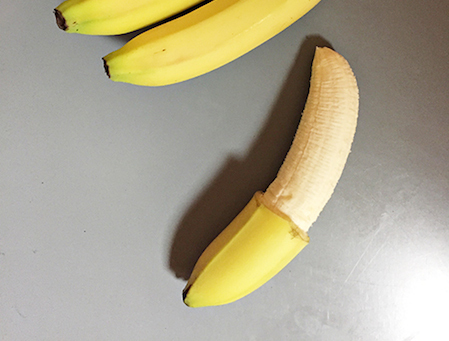 The full post can be found on Parentage.