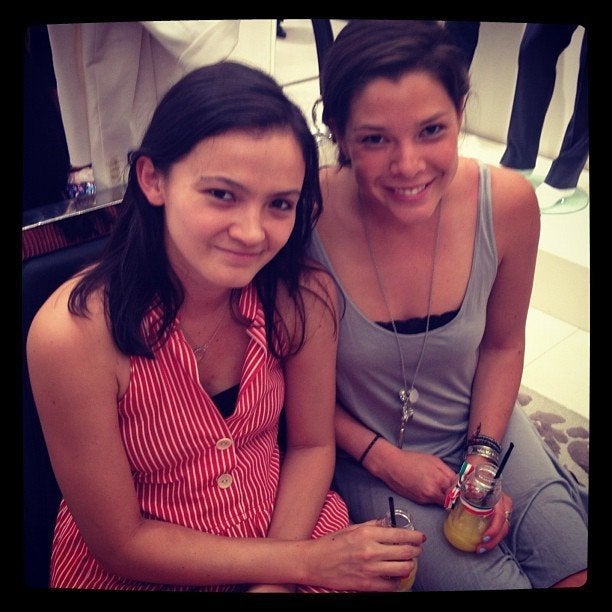 My first "Fashion's Night Out"
Or is it "Fashion night out?" I have no idea because I am by no means a fashion expert. Or a fashionista. Or someone who knows really anything about fashion. I played sports in college (and for some reason the two don't go hand-in-hand), I shop at H&M, and I just found out yesterday that Scoop is, in fact, not an upscale ice-cream store. So when my roommate told me we'd be going to "Fashion's Night Out," I had no idea what to expect. Or what to wear. After she reassured me that my jersey dress and sandals were a cute outfit, we hit the town for a night out in the NYC's Meatpacking District. When we exited the subway, we were met by hundreds and hundreds of well-dressed, ok-dressed, badly-dressed, and what-the-????-dressed women who seemed to catwalk the streets in their impressive heels and unpleasant stares. Why were they so serious? And angry? The first store we hit was Ports 1961, which was showcasing some pieces by recent Parson's grads. I felt pretty awkward standing around that museum-type space because I had no idea what to do with myself. I reached out to touch some sort of fur hat on display and immediately recoiled, looking around to see if anyone else was touching the clothes. No one else was touching the clothes. No one else was even looking at the clothes. What was this strange event about anyway?
As we left Ports and wandered the streets, I began feeling increasingly uncomfortable because it seemed every single person I passed was giving me the ol' up-and-down look. To be fair, I was doing the same, but I suddenly felt very self-conscious about my outfit. Should I have gone with the heels? Hair up? Maybe I should have just worn the maxi. Every pair of eyes was scanning the nearby meat, sizing people up by what they were wearing. It seemed that this was an event less about the designers, and more about the wearers. At Diane Von Furstenburg, hardly anyone was looking at the pieces, but seemed more than keen to wait in an overheated room in an ambiguous line to some party or something that didn't seem to start or finish anywhere. "Wait, what are we waiting for?" I heard. "I think there's some sort of event back there." To our better judgment, we left DVF after spending a few ridiculous moments in line as well, without ever finding out what we were waiting for.
Our next stop was Moschino (Moe-Skee-No, not Mo-sheen-oh, as I had thought). After a couple of alcoholic orange juice drinks in plastic branded honey bear jars, I was able to look around me and see FNO in a different way. I began to notice more and more people like me, awkward and self-conscious, which made me feel more confident and relaxed. I noticed some people actually smiling, laughing and enjoying the party, just as a regular party and not as an elitist event. Just like so many of the thin-lipped bitchy girls I had encountered throughout the night, I had been taking this event way too seriously. No one has the perfect FNO outfit, no one doesn't have the perfect FNO outfit, and most importantly, who even cares? Well, some people certainly do, but I met more and more people who definitely did not. People all around me were just chilling, having a good time, talking about whatever. Even a 50-something year old woman was borderline blackout, and I respected her more for it.
As we were leaving Moschino we heard Caitlin Moe, the electric violinist, was performing. Obviously we stayed for her incredible three songs, and I felt even more okay with this strange event. FNO began to seem less and less about clothes and more and more about just having a good time and, of course, running into random celebrities. This notion was validated even more by the Supreme after party at Westway where the beer and Jameson were free flowing, and the music -- by surprise guest Three 6 Mafia- amazing. Even the fog machine echoed this notion, enveloping and disguising everyone's clothes in the club, squashing anyone's chances to critique, or even care. I danced up a storm in my plain jersey dress, sipped on my whiskey on the rocks and had great banter with my two fashionable friends, eventually leaving the club at a modest, I-have-to-work-tomorrow 1:30am. When I got home and snuggled into my men's boxer shorts and college athletic tee, I genuinely thought, "What a strange and awesome night." I felt truly happy and excited to be part of this event I had heard absolutely nothing about, and couldn't wait for my next taste.
Want more? Take a peek at the photos below to see the celebrities who attended Fashion's Night Out this year and be sure to check out Stylelist on Twitter, Facebook, Tumblr and Pinterest.
PHOTO GALLERY
FNO 2012 Celebrities