If you have any doubt about whether manufacturing has become cool again, just take a look at the Detroit auto show.
Ford Motor Co. has installed a section of an actual moving assembly line, controlled by Siemens software and featuring Comau robots, on the show floor.
It's a display that is spot on when it comes to highlighting the high quality and innovation that goes not just into designing and engineering a vehicle -- but in making and assembly the parts that make up a vehicle.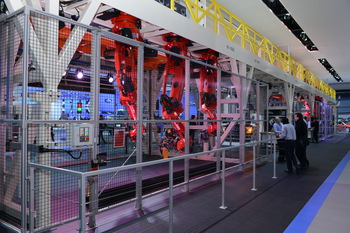 And you can bet Ford wouldn't have put the line up in the middle of its auto show display if making things weren't cool again.
Also Wednesday, President Obama will be in Raleigh, NC, to promote the latest manufacturing innovation institute, part of his vision for a National Network for Manufacturing Innovation.
The network is supported by a report released in 2012, Capturing Domestic Competitive Advantage in Advanced Manufacturing. In his State of the Union, Obama pledged $200 million to investing in three such institutes.
As part of his announcement, Obama is slated to tour Valcon, a firm that makes electronics and give a speech and North Carolina State University, where he is expected to say the school will lead a group of 18 businesses and six universities in establishing the latest institute.
The first and pilot manufacturing innovation institute in Youngstown, Ohio, initially known as the National Additive Manufacturing Innovation Institute, or NAMII, has now been renamed "America Makes."
SME had a critical role in getting that effort, which is focused on additive manufacturing, commonly known as 3D printing, off the ground, and is providing some support to the manufacturing institutes.
So how did manufacturing get cool again?
You can thank free trade, the Great Recession, and the steep loss of manufacturing jobs for teaching Americans a hard lesson in the value of manufacturing. But there's also been a turnabout among some of the nation's supposed thought leaders on the real value of manufacturing, in keeping America a leader in innovation.
But it always comes back to jobs, and there's no better way to grow lots of jobs very quickly then to grow manufacturing. Although advanced manufacturing uses more automation, and less people, it still requires plenty of skilled people to program robots and keep all the other gears of production churning. And then there's the strong multiplier effect.
So, thanks to growth in energy-related and automotive manufacturing in recent years, we've seen some growth in manufacturing jobs and a lot of brush-off benefits. About 12 million people are employed directly in manufacturing today (this excludes, problematically, the millions of indirect manufacturing support jobs, where individuals don't work directly in factories). That is up from 11.5 million during the height of the Great Recession.
With the energy sector booming, the auto industry still enjoying healthy organic growth and commercial airplanes being built at breakneck speed -- and lots of manufacturing returning to North America, thanks to advanced tools that level the labor playing field -- these are good times for manufacturing.