Manufacturing education is, indeed, in crisis.
When manufacturers have hundreds of thousands available jobs and nobody to fill them, during a period of high unemployment, the crisis is obvious. There's just not enough people to get the job done.
At the International Manufacturing Technology Show in Chicago this fall, the Society of Manufacturing Engineers released a white paper outlining the severity of the manufacturing education problem and outlining key solutions.
It can't be stated enough: Resolving this problem is critical to rebuilding the economy, preserving the security of the United States and solving our nation's nagging unemployment problems.
All the initiatives outlined in "Workforce Imperative: A Manufacturing Engineering Strategy," such as boosting Science, Technology, Engineering and Mathematics (STEM) education and integrating manufacturing into all STEM topics, are solid ones.
But manufacturing's very serious image problem cannot be overlooked. That's why Job. No. 1 in the report is attracting students into manufacturing by addressing the image problems in manufacturing.
Students are smart and practical. Just as good consumers flock to deals, students gravitate to career paths where employment opportunities are plentiful, such as nursing -- even if they may not perceive the jobs as all that enticing. They educate themselves, after all, so they can secure jobs to support themselves and a family.
But despite ample opportunities in areas of manufacturing that are creative and high-tech, students are staying away. Manufacturers need to do some real soul searching about why that is.
As a kid who watched the steel industry collapse in Western New York and, as a reporter, covered the collapse of the US auto industry during the past decade, I think I have some ideas. I was reviewing a graph of U.S. manufacturing employment this morning, and all those spikes and plummets may bear out the real reason it's been difficult to attract students despite the available jobs.
Workers, both white collar and blue collar, don't just want jobs -- they want stable jobs. Nobody wants to work on a roller coaster of uncertainty. And they certainly don't want to invest time and money in an education for a job that may be here today and gone tomorrow.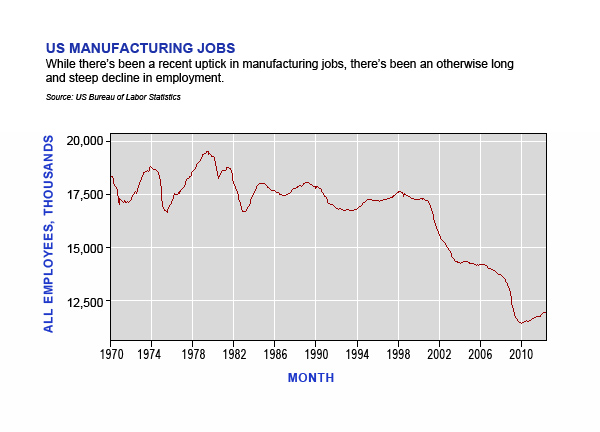 But many people do view working in the manufacturing industry as unstable. U.S. manufacturing employment peaked in 1975, with 19.5 million workers, and it's mostly been a grueling ride downhill since then. Today, just shy of 12 million people work in the sector. That's a lot of heartache for the 7.5 million workers who lost jobs during the past four decades.
It's difficult to imagine anybody who doesn't know somebody who lost a manufacturing job. And that may be the real challenge for manufacturers trying to attract new workers as the sector begins expanding again.
Today, a lot of good work is being done industry-wide to outline the new face of manufacturing - what many of us call "advanced manufacturing" these days. The new advanced manufacturing sector is clean (not rusty), high-tech and creative. And all of that is enticing.
But we in the industry also need to prove that the manufacturing sector is a stable place to build a long-lasting, reliable career.
Before students invest in an expensive education, they want to know they aren't going to end up in the unemployment lines the next time there's a downturn. While few jobs can make that promise, especially these days, manufacturing is going to have to try if it's going to win over a new generation ready to build a new advanced manufacturing sector.
This post was previously published on Manufacturing Engineering Media, a publication of the Society of Manufacturing Engineers.