I love the paint on his belt almost as much as I love his food. I'm speaking of the one and only Michael Chow, the genius restaurateur behind Mr. Chow, the high-end Chinese restaurant chain.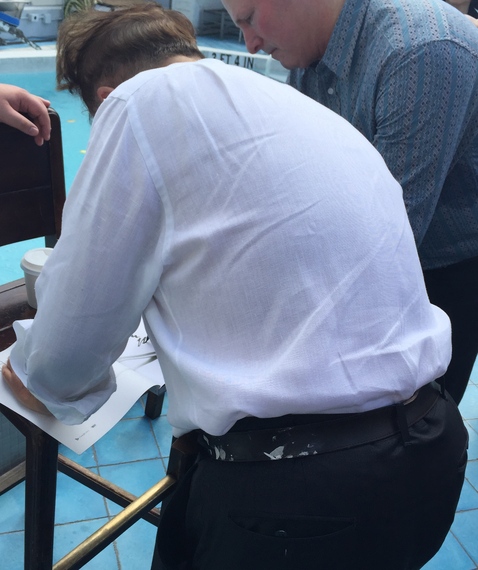 He's talented. He's funny. And boy can that man drop a lot of "motherf***ers" in a short time, all humorously timed in conversation. After a great morning with him, I'll take whatever he's serving up. In this case, it's art not food. Who knew? Apparently not me.
This spry 73-year-old studied art in the 1950s at Saint Martin's School of Art, 12 years before he opened the first Mr. Chow's in London. He's featured in the current issue of Surface magazine, where you can find not only a fascinating Q&A, but pictures of his artwork. "My paintings are collages. My life is collages," he says. More to the point he professes, "my paintings are expressionist, like my father."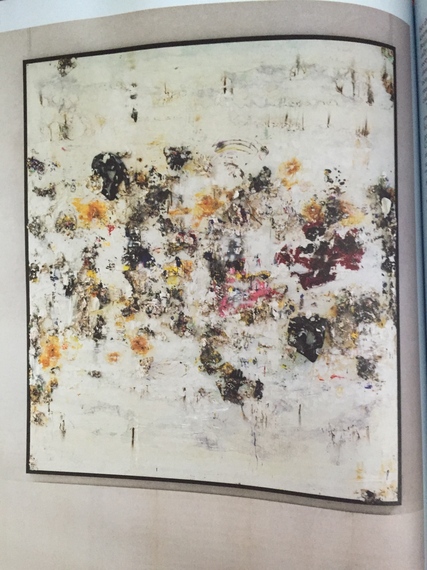 His love of art is shared by one of his closest friends, and the man he calls "one of the greatest living painters of our time," Julian Schnabel. Both have been featured in Surface magazine and have a devoted friendship and fascinating dynamic. Chow calls Schnabel a Renaissance man, although the compliment was actually bestowed onto him by President Obama. Schnabel replies, "The idea of being a Renaissance man is bullshit. It's a nice compliment, but it's meaningless." Chow interrupts him and sternly says, "I disagree, he's 100 percent a renaissance man. Why do I say that? That motherf***er can do everything... music, film, art." These guys can go at it in a way that only two geniuses with amazing mutual respect can do.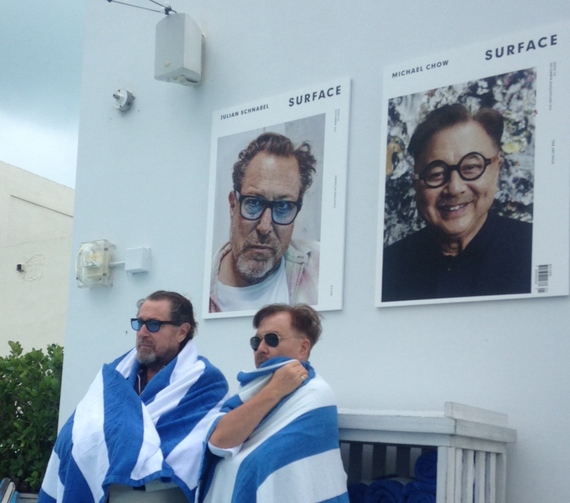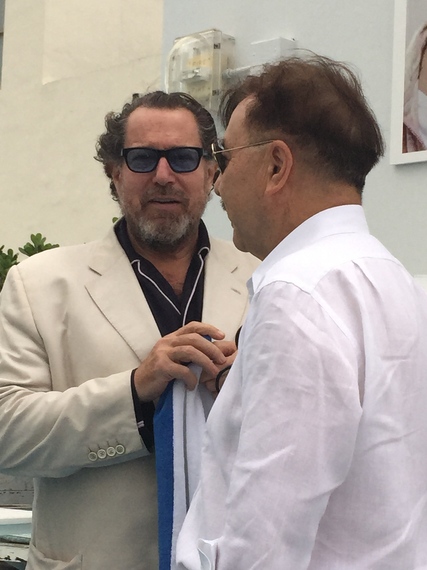 But my favorite takeaway was when he taught us how to look at a painting. "There are two ways to look at a painting," he schools our group.
"One is far away. When you first see it, it has to do something to you." The far away view is "the bang," the first impression.
"Two, is when you get close." Something magical happens, he says, "if the painting doesn't change when you get up close to it, then it's not any good."
Thank you for that, Mr. Chow.
I just love a soul who pursues what they're truly passionate about. So after hearing him talk and cracking up, I pulled him aside and told him that I laughed a little every time he dropped the f-bomb. (I actually said it more eloquently than that).
He looked me in the eye and then said, "Oh really... what are you doing after?"