I pledge allegiance to the flag and to OneRepublic under God... and by God I mean Ryan Tedder. Yea, I kind of think he's great. Let's be honest, not only does he front his own band singing hits like "Counting Stars" and " Love Runs Out," he's written songs like "XO" for Beyonce and "Love Don't Die" for the Fray.
I'm that girl who flew to Vegas for less than 24 hours when my friend said he had a private concert I couldn't pass up. He was right, he usually is about those sorts of things. Then to totally turn me into a teenage girl, I got to chat with the band and take a picture where I decided to pose like I was their newest member. Seriously, what was I thinking?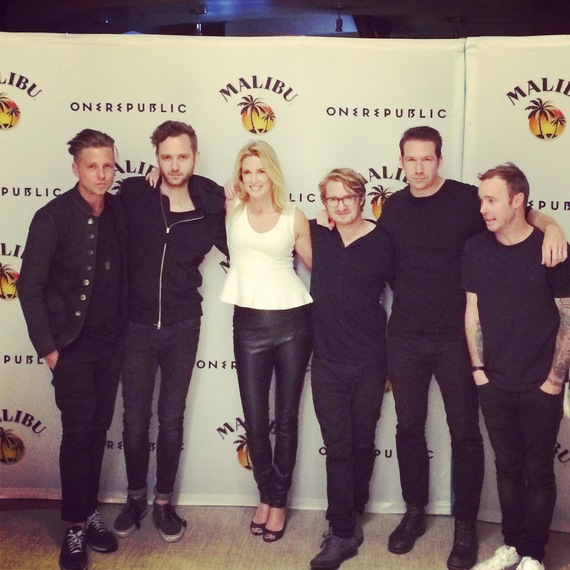 Here's what I found out that night:
Keeping it Real: Ryan still calls Colorado home, now with his wife and kids. True to his roots going back to the day when his band was called just "Republic." When I asked him about those "Republic" days, he said... "you know about that?" I was either really cool, or a bit of a stalker.
Steak vs. Sizzle: A good front man needs to be a marketing and publicity machine for the band, that's the sizzle. Ryan is more the steak. Maybe that's why when I told people I was going to a OneRepublic concert, half the people heard One Direction. He was nice, but reserved. This is a guy who loves the music, not the dog and pony show that comes with it.
Work Hard: These guys played nice with all the "special" people brought in. Then they played their hearts out as part of a sponsored deal, where Ryan even asked someone in the audience to bring him a Malibu drink giving a nice little shout out to the sponsor writing the check that night. After the show Ryan jetted off on a nearly 6 hour flight to the East Coast soon to be followed by a European tour. They know how to play the game, keep it fresh and make it look easy.
Behind the Scenes Guys Really Count: I spent most of the concert talking with OneRepublic's agent who works on their partnership deals. Kevin's a cool cat. But more so, there's a reason he's worked for a top agency for nearly 12 years. He knows how to manage expectations between the talent and the company, and that's one of the biggest factors in creating a successful collaboration. For the record, OneRepublic is one of the easier music talents to work with. I was happy to hear that.
At the end of the day, I'll put my right hand over my heart hoping these guys stay indivisible, with liberty and justice for all.