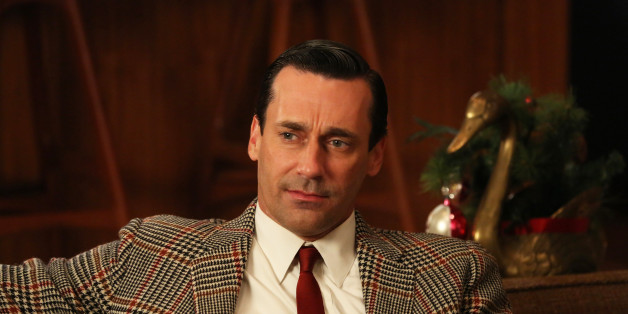 Because of the final season intermission, the ending of "Mad Men" seemed like a very long goodbye. However, it was worth the angst, as we watched and wondered about the fate of those we have followed for 92 episodes. The ending had both depth and authenticity, with just the right sprinkling of heart and nostalgia. True, the wind-up was not as riveting as "Breaking Bad" or as spell binding as "Six Feet Under." But promises were not broken as they had been after the first season of "The Killing" (when we endured endless rain to learn who murdered teenager Rosie Larsen and then were not told, a very bad move!). And we were not left baffled at the diner, as we were as we said goodbye to the Sopranos without knowing if they lived or died. Plus, for those who are nostalgia lovers, has there been a more pathetic ending to an excellent series than the one we experiened for "St. Elsewhere" (1982-1988), where writing had been highly intelligent if not brilliant.
This is quite the "farewell week" in TV land. In a couple of days we will also say our final goodnight to Dave Letterman, whose first Late Show began in the summer of 1993. To also pay tribute to Dave, in Letterman fashion, here are the 10 top reasons why "Mad Men left us satisfied and smiling, as well as misty-eyed. Please note: The reasons are not in the order of importance. At first, I tried to list in this way, but the "Mad Men" ensemble is far too talented to rate. Each cast member gave his and her all during every moment of the years spent with them. Also, if you have not seen the last episode read no more!
Reason Number 10: All About Peggy: Our consummate professional got her day, as well as her nights! Pete gave her a tender goodbye, one that helped her heal from his seduction, and her decisions regarding her subsequent pregnancy. Don heard her deep respect and love for him. And finally, the sexual tension between Stan Rizzo and Peggy finally ended as they each faced they were in love. Peggy and Stan will rise together in a dog-eat-dog setting, where we had the joy of seeing Peggy face a bitch, call her bluff, and keep her desired account. Yep, as said last week, that woman who loves well and deeply, can also use those skates to cut. Cut she did, and cut she will.
Reason Number 9: All about Joan: Our gorgeous Joan saw that the guy she thought she loved would milk her dry. She realized that she did not want to spend creative years going from beach to beach, and country to country using drugs and going to pot, as she is forced to choose between the needs of two children in her life, her son and her lover. With the handwriting on the wall, Joan begins a firm she will lead, with her collegial relationships in tact. Plus Roger comes through for their son, allowing her to take this risk with a financial cushion in place. Joan had been the support for so many professional risks to help others, but this one was for her. Could you feel the "Go Girl" shouts in living rooms, family rooms, bedrooms and bars all over America?
Reason Number 8: All about Roger: Roger did what was right in protecting his son and Joan, whom he will always love. But now we see firsthand that he has a woman, Marie Calvet, yep, Megan's enticing mom, who can dish it out as well as he can. A perfect match!!
Reason Number 7: About our Betty: She is going to have the life ending she has chosen, one without hoopla and drama. Don will show the respect his Birdie has asked him for re planning for the children. She well knows that husband Harry Francis does not have the strength to cope with what must be handled, but there is Sally (a WOW -- more about that later). Betty has grown enormously, and her emotional growth as a woman makes her even more beautiful. No make-up for Betty as we say goodbye to her in her kitchen, relaxing with her newspaper and yes, her cigarette (her way!) as Sally does the dishes.
Reason Number 6: And then, there is Pete: Off he goes with Trudy and their daughter to the perfect world for them. Pete has grown up, and his tenderness toward Peggy, and his respect for her, is as lovely as his pride in and love for his family. Both Pete and Trudy know they will build a far more meaningful life than either Pete's or Trudy's parents, and they are rightfully, glowingly proud.
Reason Number 5: We must not overlook Stan Rizzo! He showed that quiet, low keyed guys can get the girl, and his wisdom and reliability will be the wind beneath Peggy's sails and sales! In their conversations, Peggy sees that Stan has been right about everything, including his assurances that Don is a survivor who will return, marketing genius in tact.
Reason Number 4: A toast to Sally! We have watched Sally grow up before our very eyes, from a daring little girl with a dear lisp, to an understandably rebellious teen ager, to an older sister and daughter who will meet her responsibilities with courage, with sadness, but without self-pity. All families have pain and difficulty to face, Sally has weathered hers and will live up to the confidence her mother has placed in her. As Betty has assured her, Sally will move forward to have an adventurous and fulfilling life.
Reason Number 3: Our Don transitioned us from the '60s to the '70s with an ultimate road trip, ala "Easy Rider," without the motor cycle. He faced his inner demons and realized finally that the only one he could rescue is himself. Amidst the beauty of Big Sur, finding his potential at Esalen, we see Don meet a man who felt professionally inept, invisible and unloved. We watch as Don identifies with this expressed pain, yet also sees his difference. Despite all, Don recognizes and accepts his inner gift, one he is ready to put to use in a far more confident, mature way. The Esalen experience gives Don the idea for the brilliant "world as one" coke add that, just as Stan Rizzo has predicted, Don will return to create. At the show's conclusion the smile we see on Don's face had nothing to do with a yearning to chill, experiment with drugs, and move to Frisco. The smile marked an act of creation, and with it, the acceptance of his professional genius and determination to stop the free fall and soar.
Reason Number 2: My former cocktail glass (I am sure) was in the closing shot: I have been writing about this series with regularity, but have forgotten to tell you that the cocktail glasses in Don's bar (the ones with the silver rims) had to have one been mine. About a year before the series began, I took one dozen glasses in perfect condition to a Philadelphia thrift ship because I was tired of polishing their silver rims. I will never give up my belief that somehow, someway a member of the "Mad Men" set design team found them. Yes, imagine: My glasses!! In Don Draper's bar!!
Reason Number 1: Show Creator Matt Weiner: Thank you for seven seasons of brilliant character development, and a trip to the yesterdays that some of us lived through and some of us visited for the first time. Thank you for the pure perfection of the musical montage that began and ended our goodbyes, as we Remembered the lives of our Mad Men and Women. And thank you, thank you for sparing us (and your brilliant, devoted ensemble cast) Betty's funeral!