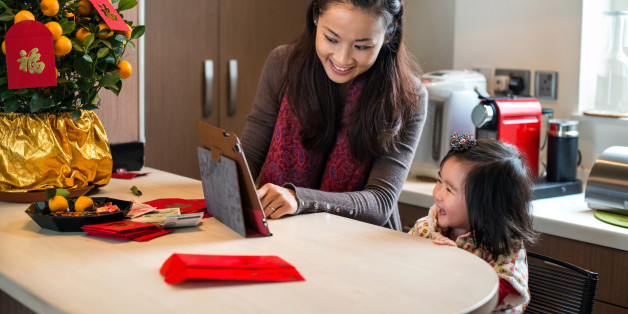 If the widespread attention to an emerging consumer audience by the biggest brands across North America represents a "coming-of-age" moment which validates that audience's contribution to business growth, then there is no question that Chinese consumers living in the U.S. and Canada have now "arrived." And, at no time during the year is this more evident than in the lead-up to the Chinese New Year, which begins today.
On the lunar calendar, the Chinese New Year is the prime holiday of the year -- analogous in importance and festivity to the Christmas holiday, which is much more widely celebrated across diverse populations. Chinese New Year is both a family and community holiday, rich with traditions that include special food, music, holiday performances and community events.
Family members, friend and business associates gather to share large meals and exchange gifts symbolizing fortune. According to tradition, Chinese give each other "red-envelopes" with "good-luck money" for the New Year. Before the New Year, homes get a thorough cleaning to sweep away evil spirits, and people often buy bright new clothing to wear on New Year's Day. Known as "Chun Jie" ("Spring Festival") in Mandarin, and "Sun Nin" ("New Year") in Cantonese, the Lunar New Year is represented by a cycle of 12 years, each denoted by a different animal zodiac. This coming year, the Year of the Horse, is the seventh animal in the cycle. Traditionally, New Year festivities commence 22 days prior to the New Year, and continue for 15 days afterwards. Large New Year parades in Chinese communities are annual traditions across the United States and Canada, and have become major events in top North American cities. For example, the San Francisco Chinese New Year Parade, which will take place this year on the evening of February 15 in the downtown Union Square area of the city, is often billed as the largest annual nighttime parade in the United States, and one of the largest single celebrations of Chinese New Year outside of Mainland China.
Just as no national marketer would miss the opportunity to extend greetings and/or special offers to consumers during the Christmas season, so too are a rapidly-expanding range of top brands now fully embracing Chinese consumers in the U.S. and Canada through dedicated in-culture, Chinese-language New Year marketing programs. In most cases, these brands are not merely seeking visibility during the Chinese New Year period. Rather, New Year marketing campaigns are often a a critical component within year-round dedicated multicultural programs that seek to drive brand usage and loyalty with Chinese consumers. From banks to insurance companies, telecommunications providers to major retailers, airlines to travel destinations, packaged food and beverage brands to apparel and accessories -- a wide range of marketers now recognize and understand the importance of Chinese consumers to their bottom-line businesses.
Such recognition and understanding is rooted in the uniquely attractive demographic characteristics of the Chinese population in North America (documented in the U.S. Census/American Community Survey and Statistics Canada):
Large, Fast-Growing and Geographically-Concentrated Population:
In the U.S., the Chinese population is the largest Asian population in the country -- totaling 3.7 million people, with a strong population growth of 38 percent between 2000 and 2010. Three metropolitan areas alone -- New York, Los Angeles and San Francisco -- contain just under half of all Chinese in the country.
In Canada, Chinese are one of the two largest "visible minority" populations in the country -- totaling 1.3 million, with correspondingly strong population growth of 29 percent between 2001 and 2011. Two metropolitan areas alone -- Toronto and Vancouver -- contain 71 percent of all Chinese in the country.
Educated and Affluent:
Chinese communities in North America demonstrate high levels of both educational attainment, and household affluence. For example, in the U.S., Chinese are almost twice as likely as all Americans to hold Bachelor's degrees, more than twice as likely as all Americans to hold advanced degrees (M.A. and beyond), and boast a median household income that exceeds that for all Americans by $15K.
Other Attractive Characteristics:
Compared to the total populations in North America, Chinese also tend to have larger families (often due to the presence of multiple generations under one roof), a higher percentage of married-couple families, and a higher percentage of married-couple families with children under the age of 18 at home -- again, all compelling demographics that attract a wide range of brand marketers.
However, beyond such "demographic goodies," there is also a growing body of product category and brand-specific research that points to clear business growth opportunities with Chinese consumers, as compared to other segments -- e.g. larger deposits in bank accounts and higher savings rates, predisposition to spend more money on new vehicle purchases, earlier-adoption of new technology products and services, higher frequency for international travel and per-trip spending...the list goes on.
A recent report published by Nielsen in 2013 titled "Signficant, Sophisticated, And Savvy - -The Asian American Consumer" documents such superlative statistics in describing Asian consumer behavior in many business categories within the United States. While the report aggregates data from a sampling of multiple Asian ethnic groups, the insights also reflect the behavior of Chinese -- the largest Asian population in the country. Such research has not only riveted the attention of major brands, but also explains why targeted marketing programs to the Chinese segment can often lead to business results that are disproportionately stronger than what marketers might otherwise expect when simply considering the absolute size of the Chinese target population.
The rich landscape of targeted, Chinese-language media channels that connect advertisers to Chinese consumers in North America are also driving more brands to take notice of the potential of this market. Most of these outlets have long histories in the U.S. and Canada, remain highly visible and influential within diverse Chinese communities and -- importantly for marketers -- can be utilized at lower cost compared to media that reaches other segments of consumers. At the beginning of each year, as the Lunar New Year approaches, Chinese media in North America experiences one of its most cluttered periods of advertising as local businesses within the Chinese community, and top national brands flock to acknowledge the holiday.
Below is just a small sampling of the of large volume of dedicated Chinese New Year-themed, Chinese-language advertising that has appeared in the targeted Chinese print media (both offline and e-editions) across the United States and Canada in the lead-up to this year's holiday. This sampling includes creative from a wide range of brands that was created by an equally wide range of advertising agencies (many of which are dedicated multicultural agencies specializing in reaching North American Asian consumers). Some of these ads embody holiday-themed graphics with simple greetings messages, while others include special promotional product or service offers in addition to good wishes for the holiday. For many of these brands, targeted print advertising is just one component of larger, integrated Chinese New Year campaigns that may also include broadcast (TV/radio) and digital components, as well as sponsorship of top Chinese community New Year events. Some of the many brands that market to Chinese during the Lunar New Year also have dedicated programs that reach the other two large Asian populations in North America for which the holiday is also important -- Vietnamese and Koreans.
Observed Within the Last Two Weeks in Chinese Media in the United States: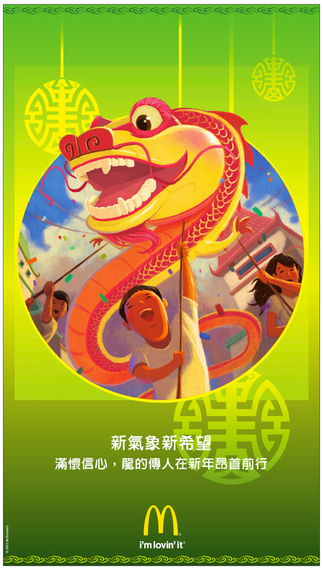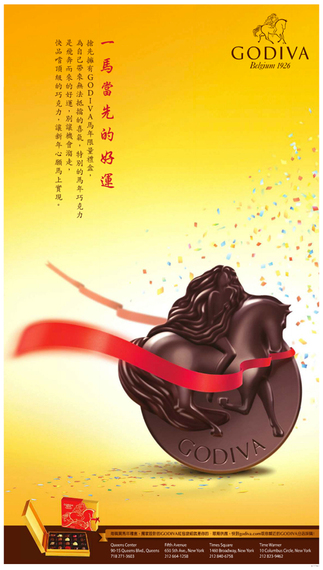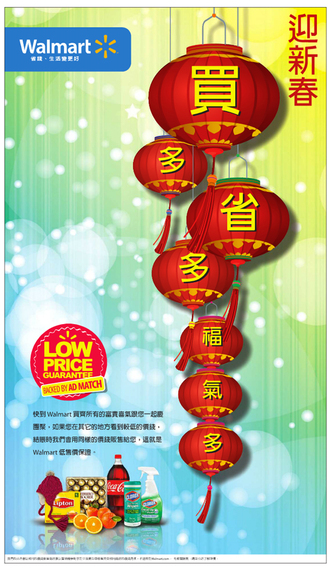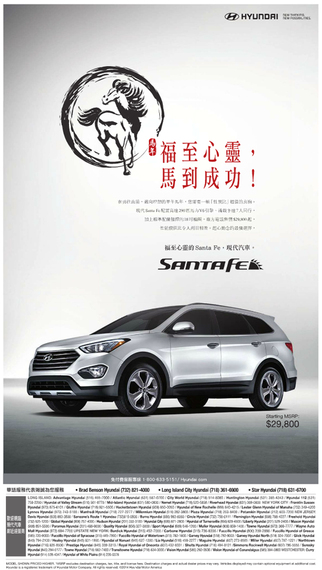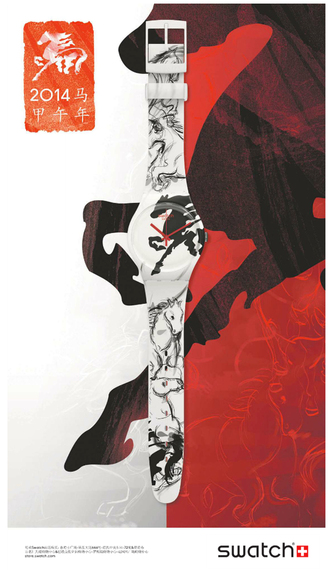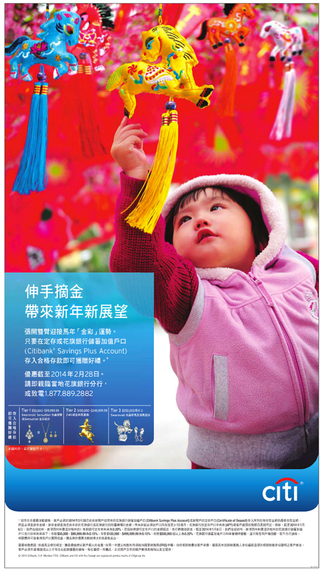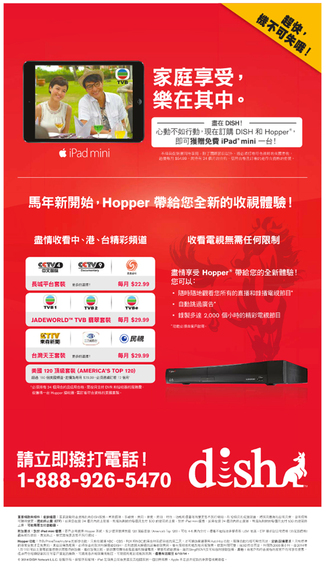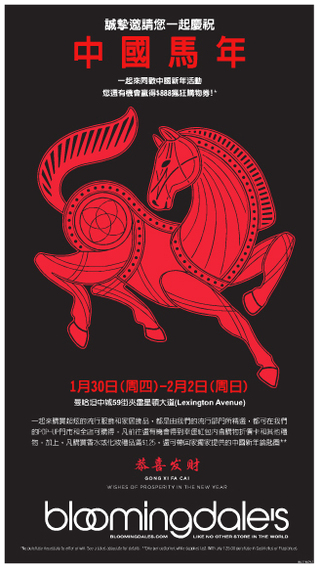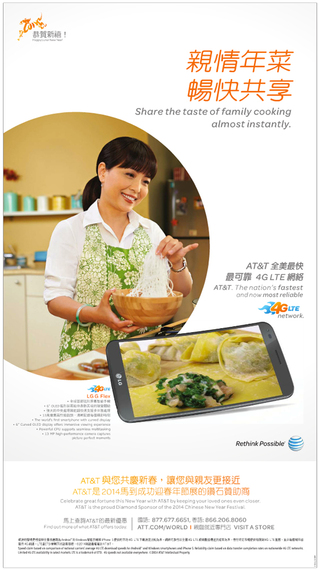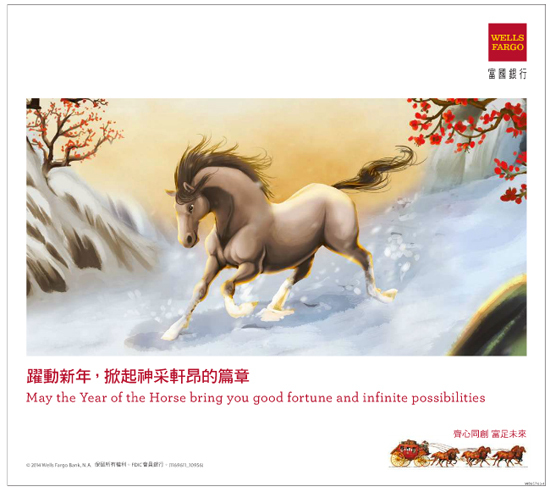 Observed Within the Last Two Weeks in the Chinese Media in Canada: