Earlier this year, comic book superstar artist Phil Jimenez teamed up with a little-known writer, but big time animal rights activist, Scott Lope for a special, best-selling, two-issue story in Marvel Comics' The Savage Wolverine series. Since then, as any keen observer can tell you, these crazy cool "Extinction Sucks" tees started popping up everywhere. I spoke to Mister Lope about his passion, what the campaign is about, where you can support the cause, and get one of these nifty tees.
What is the Exctinction Sucks campaign about and how did you get interested?

The Extinction Sucks campaign is basically an awareness campaign aimed at educating/informing the public about the ongoing massacre of elephants for their tusks (ivory) and rhinos for their horns. As an animal advocate it really scares me when people hear about the poaching crisis and simply shake their head and say oh that is terrible and never think any more of it.
I wanted a way to catch people's attention and truly understand the seriousness of what is happening... two of our most iconic animal species, that every kid knows and loves, are being wiped out FOREVER. So that was how the Extinction Sucks tees came to be, simply a way to start conversations about the meaning and to call it what it is in public, and that is extinction. I have worked pretty much my entire life being a voice for animals and I'm just stunned over the lack of understanding and awareness about this crisis. Elephants are pregnant for nearly two years and don't reach breeding age until they are over 10 years old... this is a population that once decimated will not be able to recover AND this is happening right now, not some future speculation; right now!
So I just wanted to make people aware of what was happening and that we have to act now if we hope to slow the slaughter down enough to save our elephants. So I guess the tees are walking billboards and I will also be able to donate some much needed funds to STTU (Specialized Tactical Training Unit), a volunteer based anti-poaching patrol in South Africa and The David Sheldrick Elephant Orphanage in Kenya. So I guess in a sense, I didn't really know what else to do to get people to understand that wild elephants are being killed at a rate of one every 15 minutes and very soon they will be extinct.
Was it your idea to have Phil draw those two issues of The Savage Wolverine?
Phil and I have been friends for years and we were always mutual fans of each others work and our paths eventually crossed when I was named Animal Planet Hero of the year and we have been best friends ever since. The Savage Wolverine story is my first venture in writing comics. Of course I'm definitely hoping for more!
So, yes, the idea for the comic was again an attempt to bring this information to the public and reach a new audience and as a life-long comic book geek, I really wanted to do a superhero story. Honestly it seems that nothing short of a Superman or Wolverine could actually stop the poachers, since it is far more than just the individuals who murder the animals, it is a real tangled web of corruption and nastiness. Phil was offered a story arc on Savage Wolverine and we knew that would be the perfect fit for a real look at the tragedy of the elephant/rhino massacre. We were able to address the poaching issue, tie in some incredible information about how elephants actually communicate, the graphic reality of how rhinos are killed just for their horns (which is composed of keratin, aka the substance of hair and toenails) and in the process tell a great Wolverine tale that spanned the characters history.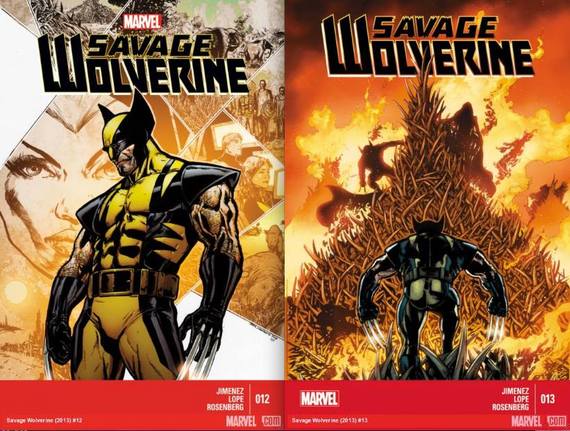 How can people help?
Aside from the obvious, don't ever buy ivory... right now it's all about awareness and understanding. A huge portion of the people buying ivory think that the tusks were shed like antlers and that the elephants were not harmed and that must change. We must really and truly make ivory socially unacceptable. We need to POLITELY write to the Thai, Chinese, and Vietnamese ambassadors and ask them to shut down their ivory carving factories before it is too late. We need to voice our opposition to elephant and rhino trophy hunting and really be leaders in protecting these irreplaceable animals and not the ones looking for an exception to the laws to kill them. And of course support the organizations like The David Sheldrick Wildlife Trust: A Haven for Elephants and Rhinos and STTU (Specialized Tactical Tracking Unit) that are on the front lines of this war against extinction. They are also the groups that benefit from the proceeds from the tee.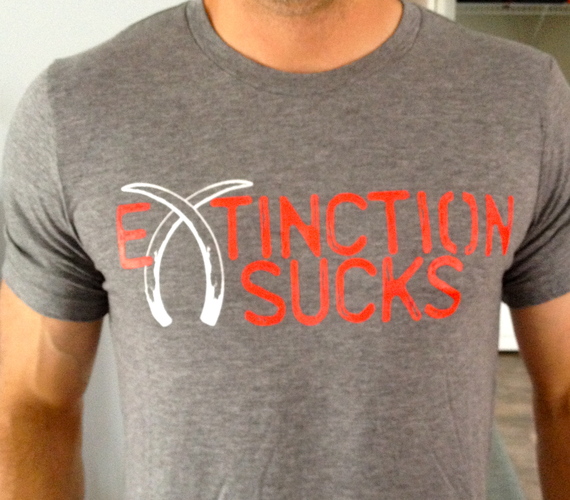 You can order the shirts and learn more about Scott here.