Geekscape, which started out as something akin to a Wayne's World-type program broadcast from Jonathan London's Los Angeles living room, has transformed into a fledgeling media empire with over 200,000 unique monthly visitors and growing. The Columbia film school graduate has earned his bonafides in the greater geek community and is also the creator of Super Action Man. I spoke to London from Ground Zero at Comic-Con International 2014 on its first day!
So Geekscape is celebrating its 8th anniversary this year, how did it begin and how did you grow it to its current state?
Geekscape started from a podcast in 2006 and like most podcasts developed into a website and community. We just released our first feature film so we've grown a bit since then.
But one of the first things I made sure to do when we built our site in 2006 was register for a booth at Comic Con! Back then the wait list for a booth was 4 years so I jumped on it and we became finally exhibitors in 2010! Now I hear the wait list is 3 times that long!
You're at Comic-Con, what's the event or panel you're looking forward to the most?
Really, just meeting and seeing everyone who comes by the booth. As an exhibitor, I don't get to venture out too often during the floor. As a comic book writer, I'm on one panel and a signing and that's about all I get to see! But I'm just happy to be here. It's such a fun and exciting place, regardless of how tiring it is!
What's been your favorite Comic-Con experience?
Having people you're a fan of sign at your booth is always my favorite. Charlie Adlard, the artist of The Walking Dead, did the poster for our film Doc of the Dead. Having him sign posters of the film with our director Alexandre Phillipe two years ago was a definite highlight. We also threw a party with Stan Lee and Comikaze that was pretty fun. Meeting and talking to Stan is a dream for any comic book fan.
Your worst?
I just love being here so there's nothing at SDCC that I would call the worst! That being said, the Monday after Comic Con is consistently the most exhausting day of my year. I'm a complete zombie... but it's worth it!
What's the best party to attend?
No party at SDCC is as good as dinner or walking around San Diego with friends and collaborators. The parties are usually crowded and the real fans are often on the outside looking in at the celebrities. The lobby of the Hyatt is where the comic industry hangs out each night and that's turned into a really great spot for catching up with friends and making news ones!
Where's the best place to stay?
The Marriott next to the convention center. It's right next door and it's really nice! That's become the brass ring for anybody looking for SDCC hotels each year!
Where can you see the best cosplay?
Definitely at the Comic Con Masquerade on Saturday night and the after party! The fans go all out on their costumes and on the dance floor. One of my writers once had sex with a girl in a Link costume under the bleachers at the Masquerade party... at least he claims it was a girl! It's pretty dark in there!
What do you think of the the slate of DCU TV shows being shown this year (i.e. Gotham, The Flash, Constantine?)
I've seen Flash and Constantine and they are awesome! As an Arrow fan, The Flash is so much fun and they're building the universe in a great way! And Constantine has some awesome Easter Eggs and great places to go! Gotham I'm excited about. I just haven't gotten my hands on it yet! But DC is definitely doing TV right!
Marvel or DC?
Both! And then read Image and Dark Horse and Lion Forge and IDW and Boom! and all of the other great publishers! It's such an awesome time to be a comic book fan! And of course... you should be reading my Miami Vice and Super Action Man comics!!
What's the one thing you would tell someone who thinks comics aren't cool?
That their concept of cool is either completely dated and misplaced or they just haven't found the right comic book yet! Get with it and don't give up! There's absolutely a comic book series for everyone, they just need to find the right one. My stepmom, who I never thought would read a comic, loved Paul Chadwick's Concrete and Jeff Lemire's Essex County. I got my wife to enjoy Preacher and The Walking Dead. So I guess don't give up and keep reading.
Which superhero is the biggest jerk?
Batman. By day he's a rich guy who finances and supports vigilantism and by night he's an violent fetishist who punches criminals in the face and then locks them in an asylum that they always escape from so he can just do it all over again. What. A. Jerk.
Who has the coolest costume? and the worst?
Spider-Man. He's the best comic book character of all time. The worst? Probably the yellow and blue 90s X-Men. What were all those pockets actually for? Did they ever use ANY of those pouches... EVER?!?
What's been your strangest Comic Con experience?
Hearing about the Link cosplay sex... but not by a lot. I have so many strange, interesting Comic Con stories! Everybody who comes down here does! It's such an interesting and great place to be!
If you were going to do Cosplay, who would you dress up as?
I'd have to ask Super Action Man... but that information may be classified.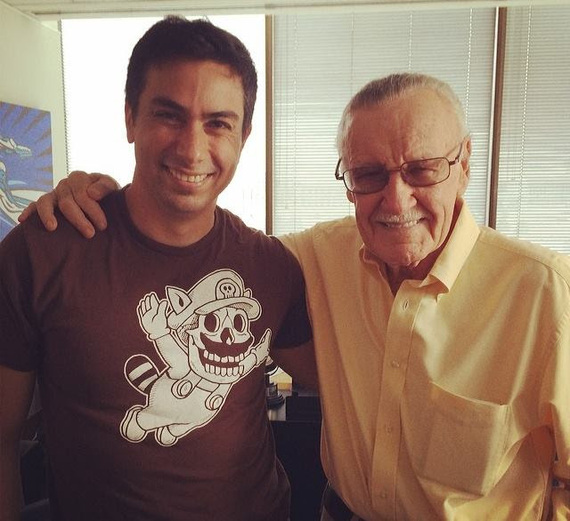 London with the legendary Stan Lee