Writer Mark Bailey and artist Edward Hemingway have teamed up again, this time for a look at the spirit soaked tales of Tinsel Town, called Of All The Gin Joints. No less than superstar comedian Chelsea Handler, says, "This book is like being at the best dinner party in the world... I was clearly born in the wrong era." Bailey pillaged the Hollywood vaults of history, starting with the frontier days of silent film through the psychedelic 1970s to dig up the true and often surprising stories of 70 actors, directors and screenwriters. The book is completed by Hemingway's stylized portraits. I spoke to the duo on the eve of the book's release.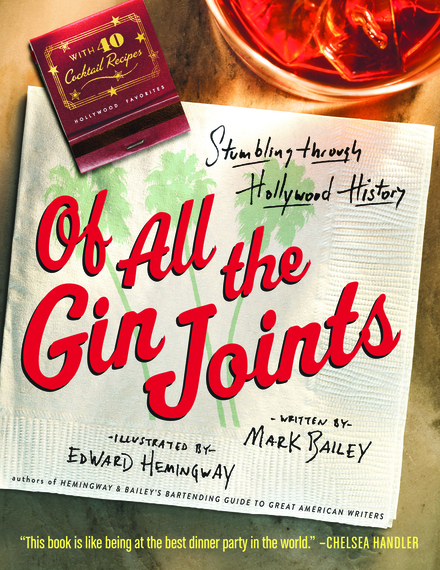 What made you guys wanna do this book?
Mark Bailey: Write what you know. Isn't that what they teach? I write and drink -- of course, I do other things too, but those two, for a time, were dominate interests. And so a few years ago, when Eddie had what I thought was a great idea -- to write a cocktail book on drinking writers -- I jumped on board. He, of course, was keen to illustrate.
We sold the proposal to Algonquin who were wonderful and pushed us to add more and more material -- not just recipes and quotes, but biographical details and anecdotes, etc.
The resulting book -- Hemingway & Bailey's Bartending Guide to Great American Writers -- came out in 2006. It was a lot of fun writing and researching, a lot of fun working with Eddie and testing the recipes. And readers seemed to really enjoy the book. So Algonquin was interested in exploring a follow-up.
Although I write books, I am primarily a screenwriter -- and trying to think of a potential follow-up that was similar in spirit, we landed on the idea of Hollywood. At the time we knew a bit about Tinseltown and drinking -- some of the legendary drinkers and legendary water-holes -- but over time we were more or less blown away by the stories we uncovered. Added to that, I moved from Brooklyn to LA during the course of the book and found writing it an interesting and fun way to explore the new city I was calling home.
Edward Hemingway: I will just add that it was really fun to hone our skills on this second drinking book. Everything about it is larger than the first book -- more characters, more stories, more illustrations, more outrageousness.
How did you guys start collaborating?
MB: Eddie and I were friends in New York and our work relationship grew out of that friendship. At the time we met I was writing a script set at a carnival and was fascinated by the old-time carny world. And Eddie, as it happened, was very interested in carnival art -- the banners that would advertise the live acts, the freak shows, the 10-in-1 shows and so on. So we connected on that right way.
But also, if you read the foreword of our first book, you will see how our collaboration was born -- two friends sitting on bar stools in the middle of a holiday party kicking around ideas.
EW: Mark and I have now done three books together (including the children's book Tiny Pie) and it's a great working relationship. Collaboration can be tricky, but we play off each other well. It helps that we can both laugh at ourselves (and sometimes at each other).
What was the most shocking thing you learned while making this book?
MB: The degree of wild-assed behavior was pretty remarkable, just an extraordinary level of mayhem -- drunken, sexual and otherwise. It is hard to imagine how these people put one foot in front of the other in the morning, let alone managed giant careers.
To me it speaks, not just of the excess of Hollywood, the excess that celebrity and power allows -- but also of the time period. Sort of mind-boggling to consider how much everybody used to drink, how much more permissive in that regard society was. For example, to think now that people used to smoke on airplanes, on international flights even, it seems bizarre. Our drinking culture has gone through much the same change.
EW: Agreed. Today's 24-hour news cycle is saturated with stories of Hollywood excess and bad behavior, but it took reading Mark's research for me to learn just how wild the stars of yesteryear could be. I had no idea.
What (and who) are your favorite drink recipes and movie stars from the book?
MB: I love a Negroni, but probably my favorite drink in the book is the Moscow Mule -- invented in Hollywood at the Cock N Bull.
As for my favorite movie stars....
Errol Flynn is up there. To me he was wild and tragic, and very intelligent too. Sort of this swashbuckling cad typecast into a certain life and lifestyle, but with greater ambitions -- ambitions both in acting and writing. His memoir My Wicked, Wicked Ways is one of my favorites. But he had enormous appetite for booze and women and was fairly unapologetic about it. He died at age 50 after three decades, 30 years, of going at life full throttle. I am just about to start script on him, and I am very excited about it.
Mitchum, I love because to me he was just so damn cool. It seems like he absolutely could not have cared less about his career. In fact, didn't care much about anything. And part of that resulted in, I think, the power he brought as a performer.
It is hard to narrow it down to even a few. The Brits seemed like a hell of a good time -- Burton and Harris. Again, not taking the celebrity thing to seriously -- tough lads who had the world by the throat and were happy to squeeze. Tallulah Bankhead was such a striking independent person, living life on her terms -- she described herself as "pure as driven slush," and "ambisextrous." That kind of courage and brass -- to defy the proscribed role of the starlet, that seems wonderful.
EW: I'm a rum man, so I love a good Mojito, and in the new book we have some great rum cocktail recipes, made popular by the Tiki bar culture. You haven't lived until you've made the perfect Zombie or Mai Tai. As far as the stars go, I'm partial to Steve McQueen, John Cassavetes and Dennis Hopper, cool '70s dudes who really knew how to act and/or direct, and also, have a good old time.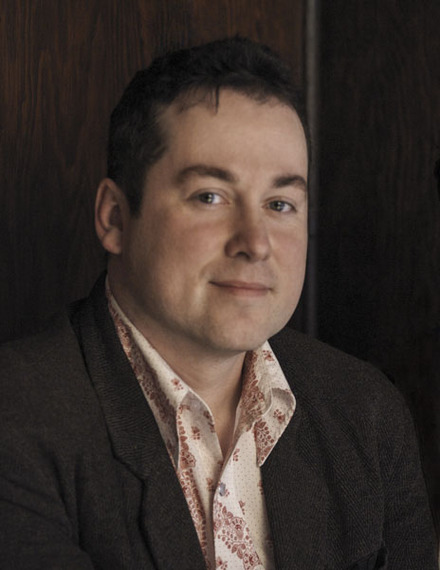 Edward Hemingway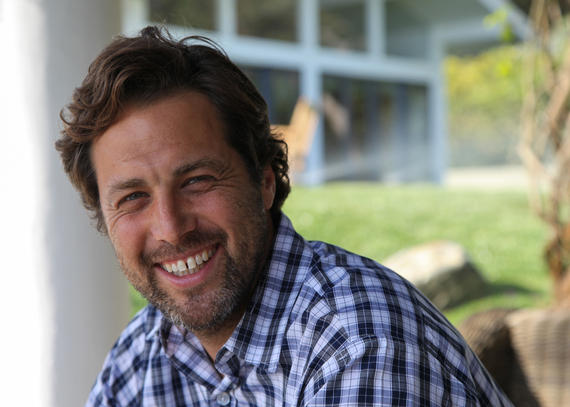 Mark Bailey