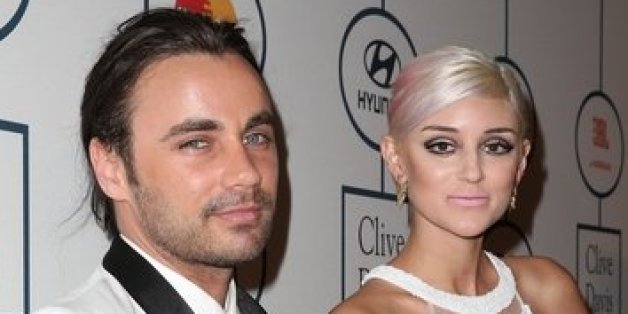 For Tom Hamilton, pop has no boundaries. Growing up in Calabasas, he spent a lot of time consuming pop music, rocking in high school bands, and cooking up all kinds of sonic concoctions. A chance encounter in the studio led to Hamilton's breakthrough winning MTVu song and video of the year, quickly adding his Music Video for "Sun" (produced by the Cataracts) into rotation on MTV2. After a brief stint as a solo artist, Hamilton realized that he really loved being behind the scenes and started collaborating with his best friend and fellow middle-school student, Hollywood "It" girl DJ Caroline D'Amore. Their teaming turned out to be a match made in heaven. Highlights of their barely over a year, super powered pairing has resulted in co-producing the Radio Show Heartbeatz with DJ Caroline D'amore, syndicated in 27 countries with weekly stars like Nick Cannon, Afrojack, Paris Hilton, Rehab and Carnage. Caroline tours and co-headlines with Allesso, Krewella and Rehab, and has opened at the Hollywood Bowl with Bonnie McKee for Katy Perry. She also was prominently featured as a music expert on E! New Year's special Sounding Off, along side Christina Milian, Pauly D and Sebastian Bach.

Their newest project is the the recently released "Global Warning" which was play listed prominently on BPM and KISS FM new music Sundays. Fresh from their first (but certainly not last) time at music industry impresario Clive Davis' legendary Grammy Party, I sat down with Sir Hamilton to find out what's it like to be the hottest gay up-and-coming music manager in Hollywood.
Savas Abadsidis: What's it like being an artist turned manager?
Tom Hamilton: It's great -- we make the all-time best managers because we understand the creative, sensitive side to our artists. I know exactly what my artist wants because I was once one too, wanting the same things. It's also really great because we share the excitement; it's never just about a paycheck for me.
SA: Who do you aspire to be like in the industry?
TH: Well I have a lot of idols in the business -- of course, there is Scooter Braun, Irving Azoff, Benny Medina and Larry just to name a few. But the man I idolize the most is Clive Davis. Not because I want to be record executive, his staying power over the decades, is because he's always one step ahead of the game and that's what I love about him. That's the best part about working together with Caroline, is that process, building her career.
SA: What's a typical day in the life of a big time Hollywood music manager?
TH: There really is no typical day. It's always something different, which I love. One day we are flying to Europe to play music festivals, and the next we are in the studio recording Caroline's radio show.
SA: What's the toughest part of the music industry in this brave new label-less world?
THL In today's business, you are nothing without an online presence. The toughest part is finding that element in a song or video that goes viral. Once you go viral, your career begins and then the labels take you seriously, and can step in to help you get to that next level.
SA: What advice would you give an up-and-comer?
TH: Master social media and every possible moment to make yourself known. Create that initial wave that becomes an impossible movement to ignore.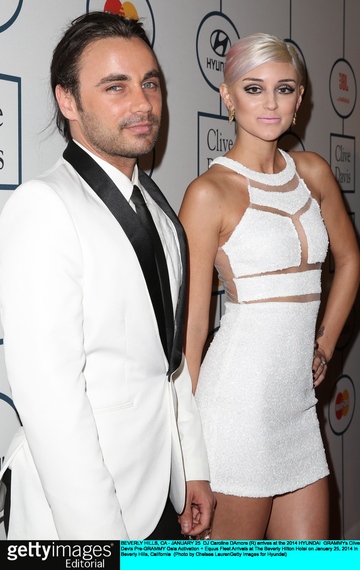 Thomas Hamilton and Caroline D'Amore
at Clive Davis' Grammy Party at the Beverly Hilton