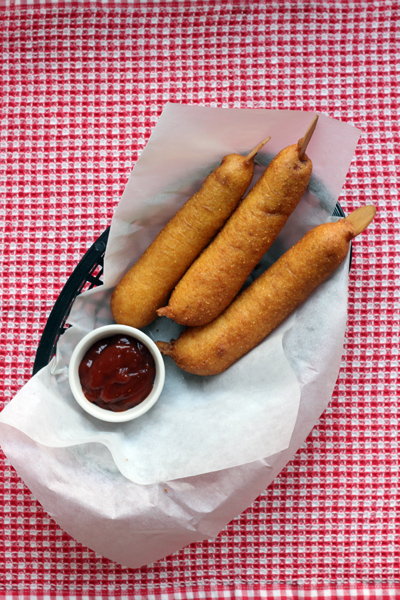 This menu, great for a gathering of six to eight, is for eating with your hands: spread your blanket out in the warm evening sun and linger until the fireflies flash in the dark. Toast with chilled Lambrusco (it's our favorite summer sparkling red) or classic sweet tea and tuck in to a meal of spicy-sweet corn bread, mustardy slaw, easy-to-transport corn dogs, and dense, rich brownies. An added bonus for those that are gluten-sensitive: Everything on the menu is gluten-free!
Recipe: Gluten-Free Corn Dogs
I grew up in the Midwestern corn belt, where once the weather warmed up, the shoes came off and my sisters and I only came inside for meals. Even then, we'd often just grab whatever my mother had set out for lunch and immediately head back outside, eating as we went. Niceties like plates and utensils were blatantly ignored; food that traveled well reigned supreme. Sandwiches fit the bill, but corn dogs were even better. The stick made for easy handling, but even more alluring was the flavor contrast of salty, smoky hot dog encased in golden, fluffy cornbread. While my younger sisters were sometimes known to peel off the outside breading and leave the naked hotdog for last, I balanced each bite for the ultimate combination of savory and sweet, saving the extra crispy nub of batter clinging to the end of the stick for last.
These days, as soon as I feel the summer coming on, I crave that classic fairground treat. But because I had to go gluten-free for health reasons, it had been years since my last corn dog. I came up with this recipe for homemade gluten-free corn dogs which taste as good as I remember. The absence of wheat flour intensifies the corn batter's natural nutty sweetness. Just as they were in my youth, these corn dogs are best enjoyed out in the summer sun. —Judie Haubert
Serves 8
1 cup yellow corn meal
⅔ cup corn flour
⅓ cup cornstarch
1 tsp. salt
¾ tsp. baking powder
2 tbs sugar
1 egg
1 cup buttermilk
1 package of good quality hot dogs (such as Sabrett Skinless Beef Franks)
2 quarts of vegetable oil (for frying)
8 wooden popsicle sticks
1. Line a rimmed sheet tray with paper towels and a wire rack. Remove hot dogs from their package and dry completely with paper towels. Place a wooden popsicle stick into the length of each hot dog, leaving enough length at the end to use as a handle. Heat oil in a 10"-12" heavy pot over medium heat until temperature reaches 350°. 
2. Whisk dry ingredients together in a medium bowl and make a well in the center. Whisk together egg and buttermilk in the well and combine with dry ingredients, mixing until smooth. Pour batter into a pint glass or other tall, skinny container, leaving a 1-inch space between the top of the batter and the rim of the glass. 
3. Dip prepared hot dogs into batter, coating completely, and fry in batches of two for 2-3 minutes, turning halfway through fry time, until deep golden brown on all sides. Drain corn dogs on prepared tray. Repeat with remaining hot dogs.
 Note: You can use up any leftover corndog mixture by frying up some corn fritters. Just drop tablespoons of remaining batter into the oil and fry 2-3 minutes, turning halfway, until puffed and golden. For an added kick, add 1 tbp chopped jalapeño plus 3 tbp grated cheddar to the leftover batter before frying.
RELATED:Home-Baked Cookies »
The Menu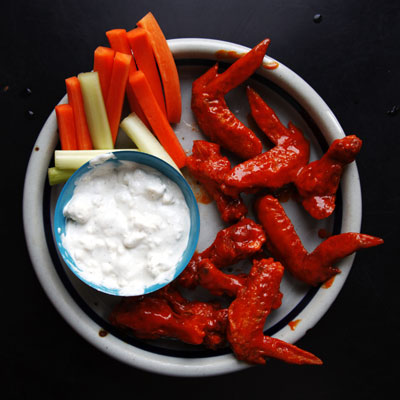 Blue Cheese Dip and Fresh Veggies: You can also serve this tart, cooling dip with fiery chicken wings.
Sweet Tea: Southerners take "sweet tea" -- as genuine iced tea is known as in the South -- very seriously. And what about bottled iced tea? A travesty.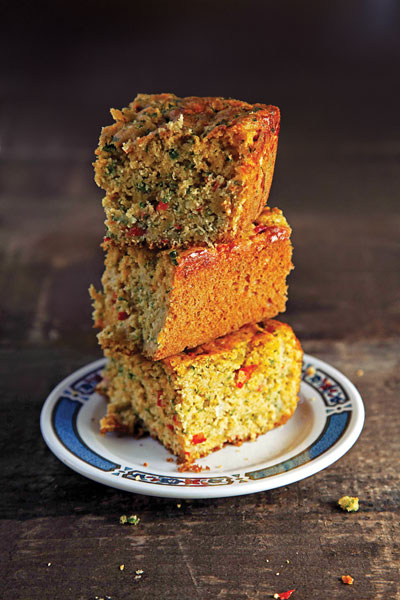 Piquant Corn Bread: This twist on classic corn bread is spiked with cheddar cheese, cilantro, and minced jalapeños.
Tennessee-Style Mustard Coleslaw: Classic coleslaw gets a welcome kick with the addition of mustard.
Homemade Potato ChipsThis recipe makes a party-size batch of chips, perfect as a snack (with or without a dip) or as a side dish--not only with sandwiches but also on the plate with roasted or grilled meats (or game). If there are chips left over, cover them loosely with aluminum foil and store in a cool, dry place.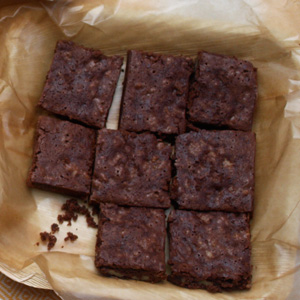 Katharine Hephburn's Brownies: A version of this recipe accompanied an interview with the actress Katharine Hepburn in the August 1975 issue of The Ladies' Home Journal. This brownie recipe produces incredibly chewy bars with a full but mellow chocolate flavor.
RELATED: Easy Chicken Wing Recipes »
About this Menu
This menu is best served cold; everything can be made up to two days before serving and stored in the fridge until picnic time..
Transport your dishes (and keep everything nice and cold) to your favorite picnic spot in the thermal-insulated carybag iso from reisenthel.
Serve your Lambrusco in these elegant and fun reusable plastic flutes from govino: they're lightweight, BPA-free, shatterproof, and recyclable.
Disposable palm leaf plates from Marx Foods are an eco-friendly alternative to plastic or paper, and they look great.
Don't care about gluten-free? This menu can be enjoyed by anyone, but if you don't need to stay gluten-free, fried chicken makes a great addition! You can also swap out the gluten free brownies for our original recipe for Katharine Hephburn's brownies.
MORE FROM SAVEUR.COM: