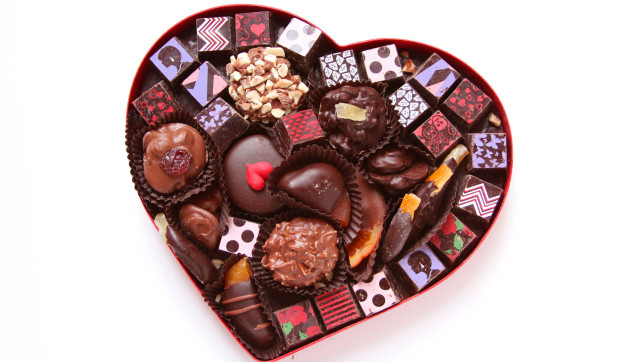 As Valentine's Day approaches, there's one thing that everyone--hopeless romantics and sworn cynics alike--can take pleasure in: a classic box of chocolates. This year we've tasted our way through the best chocolate collections and narrowed it down to eight of our favorites, for a selection of Valentine's Day sweets available by mail-order that are sure to delight the chocolate-lover in your life.
RELATED: Rich Chocolate Desserts »
For a luxurious treat, indulge your valentine (or yourself) in Vosge's Haut-Chocolat Noir Collection of 16 exotically-spiced truffles, tucked into an opulent purple velvet heart. If cute and playful is more your style, a box of lemon-chocolate penguins from L.A. Burdick will certainly do the trick. And for chocolate gourmets, Michael Recchiuti's 32-piece box of artisan truffles offers an astounding range of carefully-chosen flavor combinations from star anise and pink peppercorn to sesame nougat.
Images by Camille Bromley
See our favorite mail-order Valentine's Day chocolates in the gallery »
Vosges Haut-Chocolat Noir Collection
Dark chocolate is known to induce feelings of pleasure, and Vosges Haut-Chocolat has created the ultimate collection to support this love-rush: Their limited edition Valentines Day Noir Truffle Heart Collection marries rich, intense truffles—ranging from 65% to 75% cacao—with exotic herbs and spices from around the world, such as sweet Hungarian paprika and aged balsamic vinegar, all tucked inside a velvety heart-shaped box.
Noir Truffle Heart Collection, $48.00 at vosgeschocolate.com
RELATED: Elegant Recipes for Breakfast in Bed »
L.A. Burdick Chocolate Penguins
Packaged in an elegant wood box tied with a festive pink ribbon, each little love bird from New Hampshire chocolatier L.A. Burdick is hand-piped with a whipped dark chocolate and lemon ganache interior. The choice of animal is an extra-romantic gesture, as penguins mate for life.
9 pc Valentines Chocolate Penguins Wood Box, $32 at burdickchocolate.com
RELATED: What to do with Winter Citrus »
Fran's Chocolate Gray and Smoked Salt Caramels
Fran's Chocolate produces some of the best caramels we've ever tasted—each buttery confections is dipped in dark or milk chocolate, and then sprinkled with gray or smoked sea salt for just the right mix of savory sweetness.
7pc Gray & Smoked Salt Caramels, Pink, $12.75 at franschocolates.com
RELATED: 24 Vegetarian Main Courses »
La Maison Du Chocolat
Inside this sleek, heart-shaped box by the masters at La Maison Du Chocolat is a selection of 66 iconic milk and dark chocolate confections, from a smooth Gianduja praliné to dark chocolate ganache with bourbon vanilla from Madagascar.
Heart Gift Box 66 pieces, $175
at lamaisonduchocolat.us