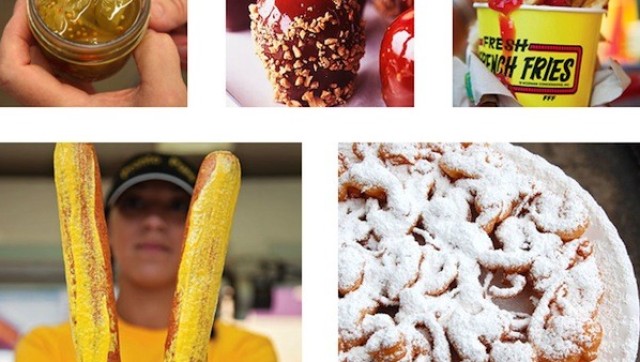 Inspired by Jane and Michael Stern's article Fair and Square, we've combined classic state fair treats like crispy corn dogs and caramel apples with summer favorites like corn on the cob and slices of fresh watermelon, for a celebratory, eat-with-your-hands menu. Even if you won't make it out to a state fair this season, you can still get powdered sugar on your face while eating funnel cake in your own backyard!
More About This Menu
The root beer should be mixed ahead - how long it's left to ferment depends on the flavor you're looking for. After 2 days, it will taste strongly of molasses; at the end of 5, it will be milder and slightly alcoholic.
The pickles can be made ahead and stored for up to two weeks in the refrigerator.
Choosing the right potato is key for great french fries. For five varieties of potato that fry up perfectly, see our article Finest for Fries »
There are a few state fairs around the U.S. that really stand out. Jane and Michael Stern highlight a few of their favorites in Six State Fairs Worth the Trip »
RELATED: Perfect Pickles »
RECIPE: Corn Dogs
Spiked with cayenne and flavored with tangy buttermilk, this batter stands up to the robust weiners within.
SERVES 8
INGREDIENTS
1 cup flour
2/3 cup yellow cornmeal
2 tbsp. sugar
1 tsp. baking powder
¼ tsp. baking soda
¼ tsp. dry mustard
¼ tsp. cayenne
1 tsp. kosher salt
¾ cup milk
¼ cup buttermilk
1 egg, lightly beaten
Canola oil, for frying
8 6" hot dogs
Prepared yellow mustard, for serving
RELATED: Sweet Summer Corn »
INSTRUCTIONS
In a large bowl, whisk together flour, cornmeal, sugar, baking powder and soda, dry mustard, cayenne, and salt. Add milk, buttermilk, and egg, and whisk until smooth; set batter aside. Pour oil to a depth of 2" into an 8-qt. Dutch oven and heat over medium-high heat until a deep-fry thermometer reads 350°. Skewer 1 hot dog with a wooden skewer, and dip into batter; fry until golden brown, about 3 minutes. Using tongs, transfer corn dog to paper towels to drain; repeat with remaining hot dogs and batter. While hot, brush corn dogs with mustard, if you like.
RELATED: Essential Picnic Equipment »
RECIPE: Carl's Gizmos
Carl Cardamon has been feeding Iowa State Fairgoers for over 50 years with hearty, middle American fare like his Gizmo sandwich - similar to an Italian grinder. "You're not going to get rich [at the Fair]," he says, "but you have fun and make some money."
MAKES 4
INGREDIENTS
4 Italian or submarine rolls
¾ lb. lean ground beef
¾ lb. sweet Italian sausage, casings removed
Salt and freshly ground black pepper
1 1/3 cups Marinara Sauce
1 lb. fresh mozzarella, cut into 8 slices
RELATED: Surprising Ice Cream Flavors »
INSTRUCTIONS
1. Position an oven rack about 11" below the broiler, and preheat broiler. Slice rolls open lengthwise ¾ of the way through, so that they open like a book. Arrange opened rolls side by side on a baking sheet. Set aside.
2. Sauté ground beef and sausage meat together in a large skillet over medium-high heat, breaking up meat with a wooden spoon as it cooks, until brown and cooked through, about 15 minutes. Drain off and discard any fat in the pan, then spoon about 1 cup of ground meat into each roll, and season to taste with salt and pepper. Spoon about 1/3 cup marinara sauce over meat in each roll and top each sandwich with 2 slices of mozzarella. Lightly season again with salt and pepper. Broil until cheese is golden, about 7 minutes.
RELATED: Peaches, Plums, and Apricots »
RECIPE: French Fries
Double frying is the secret to outstanding fries. The first plunge in oil cooks the potatoes through for a fluffy texture; the second one, at a higher temperature, forms a crisp exterior.
SERVES 2
INGREDIENTS
Canola or peanut oil, for frying
2 large russet potatoes (about 1 lb. 10 oz.), unpeeled, cut into ¼"-thick sticks
Kosher salt, to taste
RELATED: Easy Summer Cobbler Recipes »
INSTRUCTIONS
1. Pour oil to a depth of 2" into a 6-qt. heavy-bottomed dutch oven and heat over medium-high heat until the temperature registers 375° on a deep-fry thermometer. Add all the potatoes and cook, turning occasionally and maintaining an oil temperature of 325° (adding the potatoes will cause the temperature to drop), until pale and tender, about 8 minutes. Using a slotted spoon, transfer fries to a rack set over a rimmed baking sheet and refrigerate until chilled, about 1 hour.
2. Increase oil temperature to 385°. Working in small batches, add potatoes again; cook, stirring until golden brown and crisp, about 2 minutes. Using a slotted spoon, transfer fries to a rack set over a rimmed baking sheet. Season fries with salt.
MORE FROM
SAVEUR.COM
: