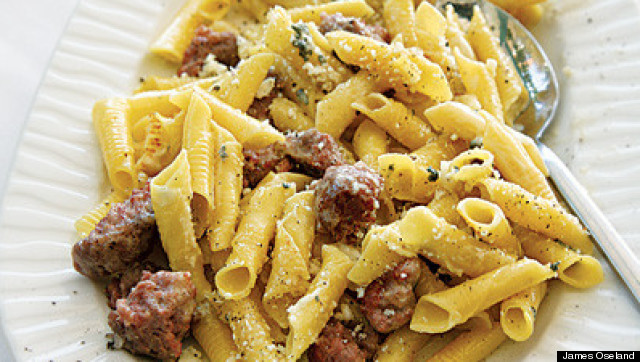 Pasta with Sausage and Cheese

The simple combination of pork sausage, blue cheese, and fresh oregano add remarkable complexity to al dente pasta in this delicious dish.

SERVES 2-4
INGREDIENTS

2 tbsp. extra-virgin olive oil
6 oz. semi-cured Greek pork sausages or sweet Italian sausages, cut into 1" pieces
Kosher salt, to taste
8 oz. pasta, preferably garganelli or penne
½ cup white wine
½ oz. blue cheese, crumbled
¼ cup heavy cream
¼ cup loosely packed fresh oregano leaves
¼ cup grated Parmesan cheese, for garnish
Freshly ground black pepper, to taste

RELATED: What to do with Peaches, Plums, and Apricots »
INSTRUCTIONS
Heat oil in a 12" skillet over medium-high heat. Add sausages and cook, stirring occasionally, until browned, about 7 minutes.
Meanwhile, bring a 4-qt. pot of salted water to a boil. Add pasta and cook until al dente, about 9 minutes. Strain pasta, reserving ½ cup pasta cooking liquid; set aside.
Add wine to sausages and cook until reduced by one quarter, about 2 minutes. Add the blue cheese, cream, and oregano and cook until the mixture is thick and the cheese has melted, about 2 minutes. Stir in reserved pasta and season with salt. (If sauce seems too thick, stir in some of the reserved pasta cooking liquid.) Transfer pasta to a small platter; garnish with grated cheese and season with black pepper.
RELATED: 15 Summery Pasta Recipes »
Skillet Asparagus

Southern chef extraordinaire Edna Lewis taught us this simple recipe, which she learned from her mother. Cooking asparagus in the skillet concentrates its flavor rather than diluting it, as steaming or boiling can.

SERVES 4 TO 6

INGREDIENTS

2 lbs. asparagus
2 tbsp. unsalted butter
Salt and freshly ground black pepper
RELATED: 15 Recipes for Ribs »
INSTRUCTIONS
Rinse asparagus in cold water and trim off tough ends of stalks. Put butter in a heavy skillet with a tight-fitting lid and heat until butter is foaming. Lay asparagus in the pan and shake from side to side to coat asparagus gently with melted butter; cover tightly and cook over medium heat for 3 minutes. Check asparagus and turn as needed to make sure the stalks cook evenly and don't burn.
Continue cooking 5 minutes longer, or until asparagus is tender but still crisp and bright green. Season to taste with salt and pepper and serve hot.
RELATED: Non-Pesto Basil Recipes »


Sprinkle Cookies

Blanketed in multi-colored sprinkles, these gorgeous cookies are a staple of Italian bakeries.

MAKES ABOUT 3 DOZEN

INGREDIENTS

1½ cups flour, plus more as needed
1½ tsp. baking powder
½ tsp. kosher salt
12 tbsp. unsalted butter, softened
¾ cup sugar
1 egg
2 tsp. vanilla extract
Zest of ½ lemon
1 egg white, lightly beaten
½ cup multi-colored sprinkles
INSTRUCTIONS
Whisk together flour, baking powder, and salt in a bowl; set aside. In a large bowl, beat butter and sugar on medium-high speed of a mixer until pale and fluffy, about 2 minutes. Add vanilla, egg, and lemon zest, and beat until smooth; add dry ingredients, and beat until just combined. Using a 1-oz. ice scream scoop or 2 tablespoons, portion and shape dough into 1" balls; place balls 2" apart on parchment paper-lined baking sheet. Lightly flour the bottom of a ¼ measuring cup, and press each ball into a flat disk; chill disks for 30 minutes.
Heat oven to 375°. Place sprinkles in a bowl; set aside. Using a pastry brush, lightly brush tops of cookie disks with egg white and then press into sprinkles to adhere completely. Return cookies to baking sheets, and bake, rotating baking sheets top to bottom and front to back halfway through cooking, until set and set and lightly browned on the bottom, about 10 minutes. Let cool before serving.
Subscribe to Get More Simple Weeknight Meals »
MORE FROM SAVEUR.COM: