In his second dispatch, "The Vote Comes to Afghanistan's Peaceful Heartland" for Foreign Policy, September 20, Schuster Institute Senior Fellow E. Benjamin Skinner reports on the current political climate for women in Bamiyan province where he interviewed Bamiyan's Governor Hariba Sarabi outside a polling station at the Saed Abad Girls School in Afghanistan.
Afghanistan's Bamiyan province is unique, "like a totally different country," Razia Hussaini tells Skinner in an interview. Hussaini is one of six female candidates running for one seat allotted to women in the Bamiyan province of Afghanistan, where Skinner is an official election observer and contributor to Foreign Policy.
Read Skinner's first dispatch, "E-Day in Kabul," ForeignPolicy.com, September 17, 2010.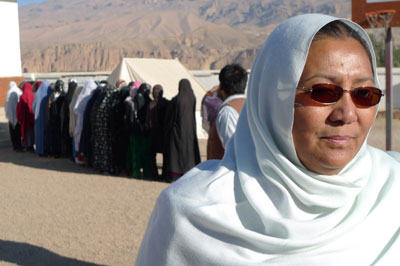 Bamiyan's Governor Habiba Sarabi outside the Saed
Abad Girls School that was used as a polling station for
women. Polling stations for women outnumbered those
for men in Bamiyan province.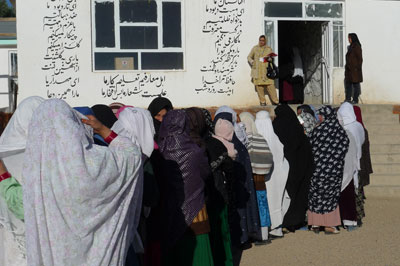 The Saed Abad Girls School temporary polling station
and others in the province couldn't keep up the demand,
and ran out of ballots well before the close of polls.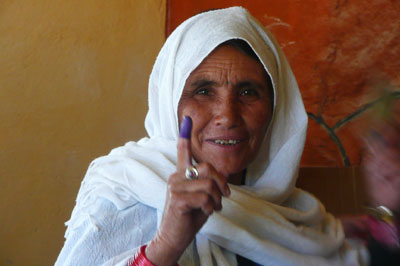 An Afghan women raises her purple ink-stained finger,
symbol of her voting power. Photo courtesy Jackie C. Harris.
Visit www.brandeis.edu/investigate for more pictures from Skinner's reporting trip to Afghanistan.