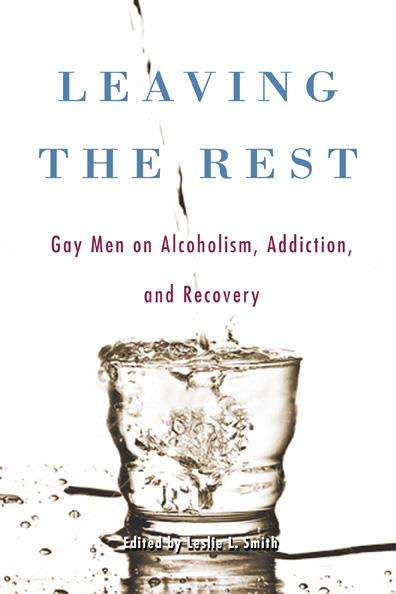 When editor Leslie L. Smith approached me a few years back about contributing to his collection of essays Leaving the Rest (Magnus Books), I presumed he wanted something about sex.
I had just released my debut novel, Diary of a Sex Addict, and although it was fiction (inspired by the works of Brett Easton Ellis and Mary Gaitskill) people mistook it for fact and began to seek me out as a sex-pert (I'm not.)
Leslie, however, wanted something different. He wanted truth. The book would be a collection where, "Gay men open up and share their own personal experiences of being a gay alcoholic/addict and living as a sober gay man, including experiences leading to and following recovery."
What I delivered to him in my essay, "Recovering My Sexuality," (the last essay in the book if you're looking) ended up becoming, for me, a self-fulfilling prophecy. You'll have to read it to unravel my meaning (hey, we gotta sell books) but suffice to say that when I wrote the piece I was very single and engaging in a lot of wild sex to fill that illusive life void. The conclusion of the essay is deliberately open-ended, for at the time I was envisioning a hoped-for romantic life:
Standing nude at the water's edge, I was acutely aware of my body. From a distance, a man ambled toward me walking his dog. Nudity had always been a first step toward sex. Even alone, late at night, undressing, the mere act of being nude triggered a need in me to be touched, to relieve some ancient nagging that could start me hunting for cock. At that moment, at the water, I felt a strange sense of calm and a freedom in being naked, facing an immense foamy swell, not needing anything from myself or anyone else. There was nothing to run from. I wasn't turned on and I wasn't ashamed. I felt sensual, as the water rushed up my legs and tickled my thighs. I felt fully in my body. The man passed slowly with his dog, and I smiled -- an honest smile. Then I walked steadily into the waves and dove in.
That evolution I wrote of -- what I imagined and hoped for -- eventually came true. Just ask my (quite amazing) boyfriend.
I caught up with Leslie this week, and chatted with him about the book and how he worked his way from concept to publication
Scott Alexander Hess:
Where did you get the idea for the book, the inspiration?
Leslie L. Smith:
That's a complicated question. I was a practicing member of A.A. for more than two decades, and I was always annoyed by the lack of literature on the gay experience. Then I learned that Don Weise from Magnus Books had just opened his new imprint and was interested in doing a book about being gay and sober. I had been thinking about that for a long time, mostly because I was struggling with my own path in sobriety, and a friend introduced us. We hit it off and set out to do it together. The book is A.A.-centric. Mostly the content of the book came from my personal experience in A.A and from meeting people on various journeys through addictive behaviors. During my time in the program, I was interested in the way the world outside of A.A. thought about the question of recovery. The outside view of the question seems to be, "If you have a problem, the answer is always in a meeting." We see that representation often in movies and TV shows. Always in such a simple way. Usually it is presented as if the first meeting is the end of the question. But for me, and so many others, the meeting was just the beginning of a complicated and long journey.
Additionally, being gay in A.A. always presented a unique set of questions that were not addressed in the traditional 12-step literature. I could never resolve, "anonymous," with the. "out-loud and proud," identity I developed coming of age in the Act-Up era. Even though one group was "personal" and one was "political," the idea of claiming who you are in a public way always seemed the most freeing possible thing to me, and I didn't know how to do that and be "anonymous." And with gay sober issues, that's just the tip of the iceberg. We wanted to create something that spoke to both sets of questions, something that represented the issues surrounding the process of getting and staying "sober," which for many is not as black and white as it is for others, but also how to do that with an inherent "queerness." The program's values can be very traditional, and gay men, as a group, often tend not to be. Like being gay, the practice of sobriety, both in and out of the 12-step programs, is as complex as any individual who embraces that path. The world seems to think the right answer to any substance problem is always a 12-step program. That is true for many, but not for all. And if we can't embrace that simple level of diversity in the gay sub-culture of sobriety, then where does it really have a chance?
Scott Alexander Hess:
How do the essays vary in tone, point of view and style and how did you choose them?
Leslie L. Smith:
The book, as it comes from my personal experience and connections, is very A.A. focused. With that lens, I tried hard to get a varied set of experiences, but each essay is very much a personal journey about the question or experience of sobriety in relation to A.A. More than half of the essays focus on a successful 12-step experience; others are by people who have had a more challenging experience with the program. One is about a meth user -- who is not an alcoholic, who hates joining things and who felt he needed to kick his habit alone. A friend said something that I used in the introduction of the book, that it was, "A bell curve of sober experience." That is definitely what we set out to do -- and I hope what we came close to achieving.
Scott Alexander Hess:
Will non-addicts relate to the essays and if so, how?
Leslie L. Smith:
I hope this book will help people find a better understanding about what it can mean for an addict to use, or not use, which is much more complicated than non-addicted people can imagine. It is also my wish that the varied experience of these men can open a dialogue with health and mental health professionals that provide care to those with substance issues, because a surprising number of them still view 12-steps as the one-stop shop for addiction issues. Others, especially many academics, are very anti-12 step. It's all very dogmatic and reactive. This book will certainly help humanize the experience of dealing with additive behaviors, and experience the 12-steps in their complexity. Anyone who knows someone who has had issues with substance abuse will find a better understanding of their loved one's journey toward a more sober life in this book. Though most of the men write a bit about the link between their sexuality and their use, only a few essays focus on this as a primary topic. Most of the essays are very universal and relatable no matter what the reader's sexual orientation might be.
Scott Alexander Hess:
What are you working on next and/or is the book part of any future project?
Leslie L. Smith:
The publisher does have hopes that we can turn this into a series, maybe collecting similar essays focusing on other 12-step programs or other forms of recovery. But for now, I am taking that possibility one step at a time. I have a novel I am finally finishing after years of toiling and rewriting. It's called Sally Field Can Play The Transexual, or I was Cursed by Polly Holiday, and it's a sort of an irreverent look at the missing legacy of the AIDS movement. Also, my 1995 film David Searching, with Anthony Rapp, Camryn Manheim and a whole host of NYC great stage actors, was just accepted to the OUTFest Legacy Project/UCLA Film Archive, which was a great honor. I am trying to find the time to put a streaming version put together before we put the prints and masters into permanent deposit there. I expect both the novel and the streaming version of David Searching to be available by the beginning of 2014.