A working title of what follows might have been "What I Learned at Art Basel," but these tips are transferrable and might fairly be considered pillars of wisdom with regard to any event or festival travel.
1. Schedule Realistically
Now, this is easier said than done, as foreknowledge of traffic, queues and various delays is hard to come by. But there are other diversions, which pose even greater danger. The most important art installation/party on my Art Basel itinerary, for example, I missed.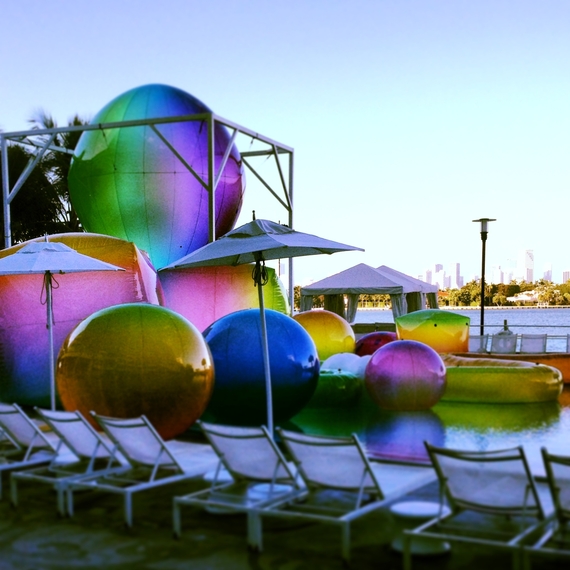 "Somewhere over the Rainbow" -- an experience by FriendsWithYou at the Mondrian. (Photo by Scott Bridges)
The Dec. 6 " Too Fast For Love" exhibit apparently attracted the elite of the Miami art scene, including art dealer (and Real Housewives of Miami star) Adriana De Moura. Artist Tom Dash's work focuses on pop iconography, appropriating imagery from existing art and going punk rock all over it. I've heard it described as "postproduction painting."
And I would've been a part of the scene had it not been for a beautiful Swiss woman, a pool and a lot of mojitos. Incidentally, she missed her party, too (and I got the impression that her hangover-inducing regret was greater than mine).
2. Look the Part
This tip goes beyond "dress in layers" or "shirt and shoes required." Sure, it's important to be cognizant of the weather and the dress codes, but those are bare minimums, with no regard to style. There is an unspoken uniform at any important festival; know what it is and participate -- in your own unique way, of course.

A 2014 Jaguar F-type convertible is itself a work of art. (Photo by Scott Bridges)
Miami is a vibrant city with its own colorful palette. A New York or L.A. wardrobe stands out here as much as a Texas oil man on a white sand beach (hint: he's the one in cowboy boots). And during Art Basel, one's garb is expected to be as artistic as the Picassos you're contemplating.
3. Eat Well
Nothing can ruin a good trip or a beach-worthy body like a poor dieting regimen. You're in a town that has swelled with the annual tourists, and if you're dining on drive-thru burgers, the swelling will only continue. And if you're not accustomed to such "food," you just might spend unscheduled time "indisposed."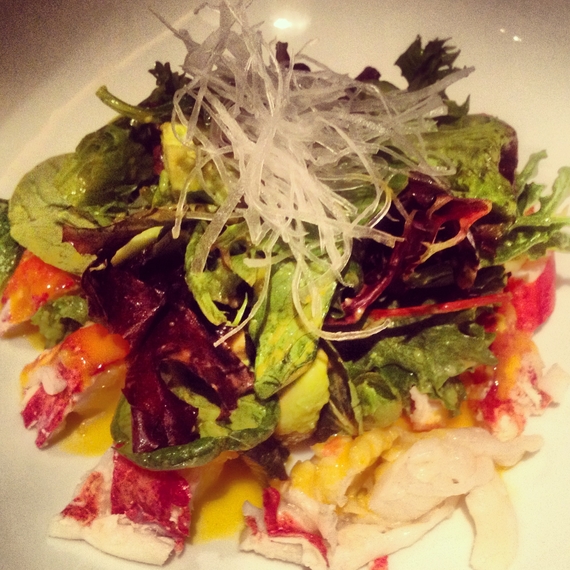 Lobster salad with passion fruit dressing at Juvia. (Photo by Scott Bridges)
Do your research and find a good restaurant or two in the area, and make reservations as far in advance as they'll let you. I hit the jackpot with Juvia, atop 1111 Lincoln Road -- the one-of-a-kind parking structure designed by Herzog & de Meuron. Here, Executive Chef Sunny Oh blends French, Japanese and Peruvian cuisine at the sushi and seafood-driven penthouse eatery.
4. Plan a Getaway
A weeklong retreat can feel like an eternity without a brief respite from the constant action. Choose a day that affords some downtime, and head out of town, perhaps to a destination the locals go to unwind. In Miami, that's the keys. Pick a mode of transport that suits the locale. In South Florida, that means a sporty Jag.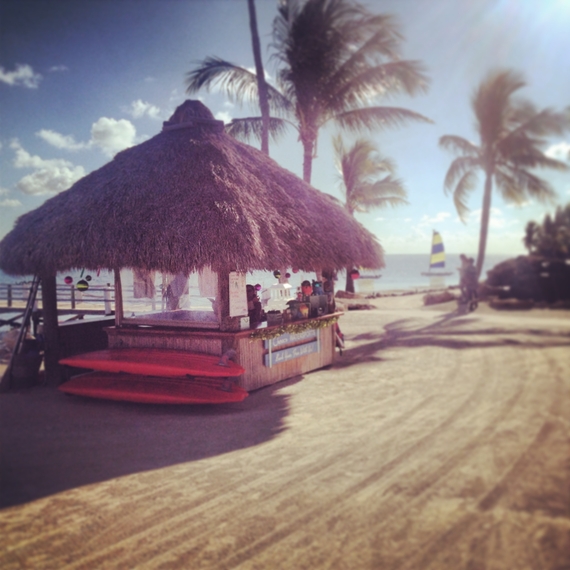 Thatched-roof beach bar at Cheeca Lodge in Islamorada, in the Florida keys. (Photo by Scott Bridges)
I set out southwest along U.S. Route 1 in a 2014 Jaguar F-type convertible (the firesand orange model). The 340 supercharged horses under the hood roared down the Overseas Highway as I reached speeds unheard of on my own 405 Freeway back in L.A. And with the touch of a button, the dual exhaust pipes boomed like an unseasonal thunderstorm.
(As an aside, this ties nicely with the "Look the Part" tip: As I pulled to a stop in Miami Beach, a tall, stylish woman literally turned her head and said, "That is one fine car." You'll not get that reaction in a Sebring.)
I reached Islamorada and reluctantly gave the vehicle to the valet at Cheeca Lodge, one of the senior George Bush's favorite fishing holes. Morning slipped effortlessly into a warm afternoon, eating fresh-caught fish tacos (the fish part, anyway) and key lime pie. I returned to the hustle and bustle of the art scene refreshed and reinvigorated.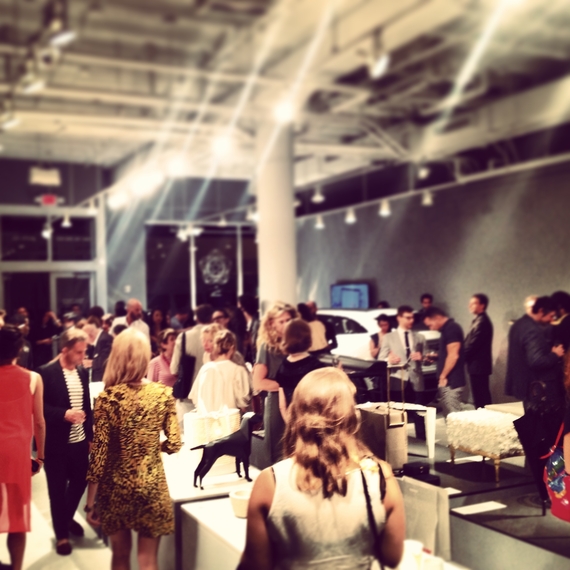 Stylish crowds flocked to Wallpaper's inspired exhibit. (Photo by Scott Bridges)
Next month, many of us will be headed to Sundance, where you'll have an opportunity to apply these tips; but one caveat: Ditch the convertible.