There's a magic that happens when style and substance collide. At first blush, Bagatelle L.A. (a partnership between Aymeric Clemente and Remi Laba of Brand Essence, and Jonathan Segal of The One Group) might strike you as a stereotypical L.A. supermodel -- sexy but shallow. Think again. The French Mediterranean restaurant in the heart of West Hollywood (the former Boudoir space) is a haven for serious foodies, not calorie-deprived runway models.
The white building with blue trim may look nondescript from the outside, but enter the indoor/outdoor, multi-room design by Studio BRASA and you may feel you've stepped off La Cienega and onto the Champs Elysees. The elegant main dining room feels sunken in front of the bar. A DJ pumps the room with lively sounds, creating an upbeat vibe.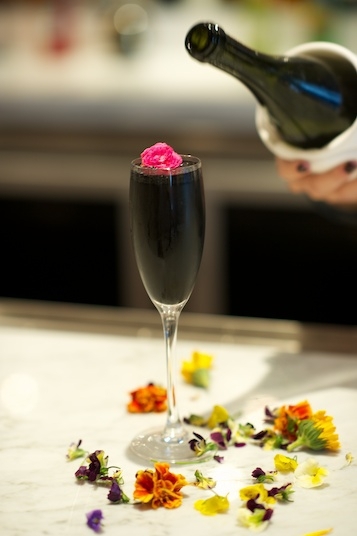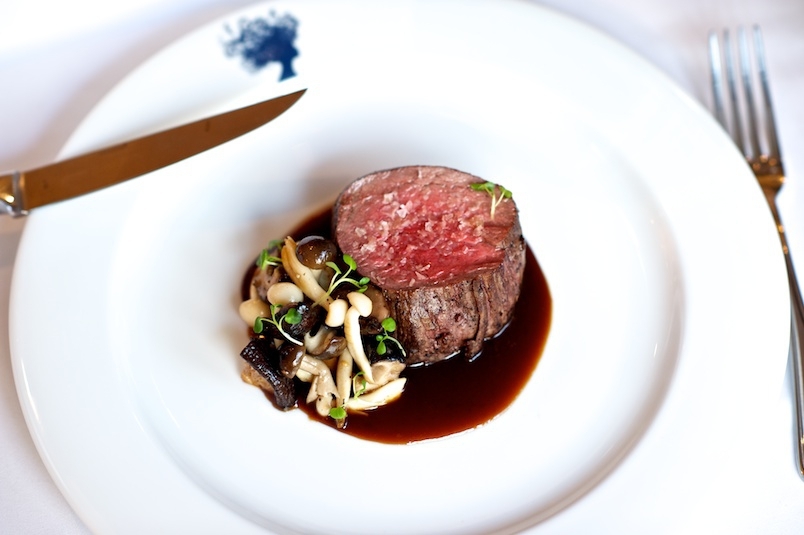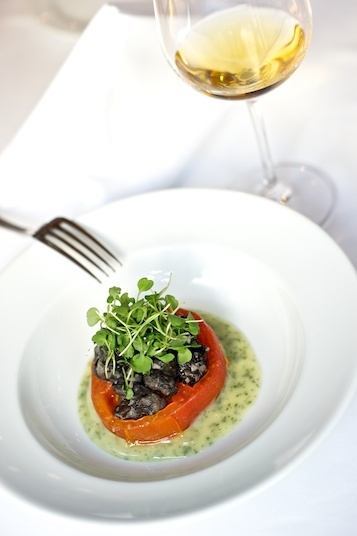 There is a fine selection of liquor and liqueurs at the bar. The specialty cocktails can be hit or miss. Chances are you will find something that resonates with your own sensibilities here, however. For me it was Death in the Afternoon. Served in a flute, it consists of absinthe, Champagne and a lemon wedge (there may also be bitters if I recall -- and after a few of these, recollection tends to become as turbid as the beverage). It tastes a little of black licorice with a Champagne aftertaste and a lingering hint of citrus. Ernest Hemingway invented the cocktail and used the name as the title of one of his novels. The recipe is published in So Red the Nose, or Breath in the Afternoon, a 1935 cocktail book, which featured the favorite beverages of notable writers. Hemingway's instructions were simple: "Pour one jigger absinthe into a Champagne glass. Add iced Champagne until it attains the proper opalescent milkiness. Drink three to five of these slowly."
Bagatelle's bar program has as much flair as the staff behind the bar. The staff is more than just attractive; they are both knowledgeable and entertaining. Bartender Zach Patterson, for instance, says his cocktails have been inspired by his travels around the globe. When Patterson's off work, you'll find him mixing drinks behind the bar, and when he's on the clock, he'll jump over the bar to dance with patrons and keep the energy level up. That's commitment.
With all the attention to ambiance, you may be wondering if the same care went into the cuisine. It did. Chef de cuisine Scott Quinn (a Le Cordon Bleu alumnus, and formerly of Bouchon) is a talented and creative star in the making. The menu struck me as a work in progress (the restaurant is only a few weeks young and is still working out the kinks); it attempts to incorporate local foods and will be updated seasonally.
Whetting one's appetite is not a problem at Bagatelle. Whether it's truffle fries or escargots or foie gras, the French redolence is ever present. Quinn explained the four-day process of preparing his foie gras. My wrist was sore after jotting down all the details (and by the way, I am well aware of the perceived insensitivity that could result from my whining about my achy wrist in light of the atrocities that are part-and-parcel to foie gras. Lighten up).
Entrees are more universal in nature -- for my money, the eight-ounce filet mignon is one of the finest cuts of beef on any continent, and served up red in the center by Quinn, is one of the better carnivorous meals in the city. He serves his prime select filet "old school," as he puts it, pan-seared in butter with garlic and thyme. He also insists on "the longest preparation possible."
Giving the beef a run for its money, however, is Quinn's roasted chicken. The two-and-a-half pound brined Jidori bird soaks for 12 hours in its own juices. After that, it is trussed and rubbed, and spends another day marinating. When at last the bird is ready, it is roasted and served with a slight crisp on the outside, while remaining moist and juicy inside.
Dessert, as you might expect, is as indulgent as everything else on the menu; take the chocolate soufflé, for instance. Nine minutes -- that's all the warning the kitchen requires to prepare the soufflé. If you wait until you've finished your entrée, don't worry, just take a few moments to relish the meal you've just experienced by enjoying a glass of Scotch, Cognac, port or as host Andrew Schlapinski recommended, a raspberry framboise, which is not for the timid. It's a rich, exotic beverage best enjoyed in small doses. If you're going to linger a while, I would suggest an aging port.
This is a restaurant with style to spare. Maybe in the end, it suffers from an identity crisis. There will be some who come for dinner, others for the DJ; some for the food, others for the fab. It will be interesting to see if it can find its regular crowd, and what type of crowd that will be. Beneath the sparkly veneer, there is substance here. Bagatelle, with its lavish extravagance and fine cuisine, is attempting to make a statement that how you eat is as important as what you eat.