In 2006, a 6.3-magnitude earthquake struck the island of Java, killing 6,000 people and leaving 1.5 million homeless (I realize this might be an unorthodox way to begin a restaurant review, but bear with me).
That same year, Jackson Pollock's "No. 5, 1948" sold for $140 million, making it the most expensive painting ever sold up to that point; the so-called "Crocodile Hunter" suffered death by stingray while filming something; Mozart's 250th birthday was celebrated throughout the world; and five-year-olds were being conceived all over the place (not necessarily Mozart-related).
2006 was also the last time that Circa 55, the iconic mid-century-style restaurant in the Beverly Hilton, changed its dinner menu. (Just an aside here: Menus are like underwear, if you don't change them now and then, people won't want to eat with you). Anyway, there's a new menu now.
Enter Chef de Cuisine Zack Gochin -- a fairly young, but experienced chef who spent years mastering his craft in Europe. Gochin's commitment to seasonal, farm-to-table food is apparent on the new menu, which might be described as a sophisticated twist on traditional comfort food. I'm told about 90 percent to 95 percent of the menu is locally sourced -- Wednesdays at the farmers' market.
There has been a trend lately (have you noticed?) in well-established restaurants updating their menus, redesigning their interiors, even changing their philosophies to meet the evolving needs of an increasingly more discriminating public. This is good news for diners. It's also good news for the restaurants that adapt to the changing climate. And make no mistake, Circa 55 is adapting.
Oh, you can still get a world-famous Mai Tai at neighboring Trader Vic's. And there's a good chance you'll still catch a glimpse of a way-too-tan old dude in a speedo and medallion at the pool. But now more than ever, there's good reason for foodies to flock to the Beverly Hills landmark.
To get a sample of Gochin's style, consider the heirloom tomato caprese salad or the beet and goat cheese salad. Both are good representations of the chef's creative use of contrasting flavors. Try, as well, the spicy edamame. Rather than simply salting up the beans, Gochin peppers them with full-flavored Togarashi spice.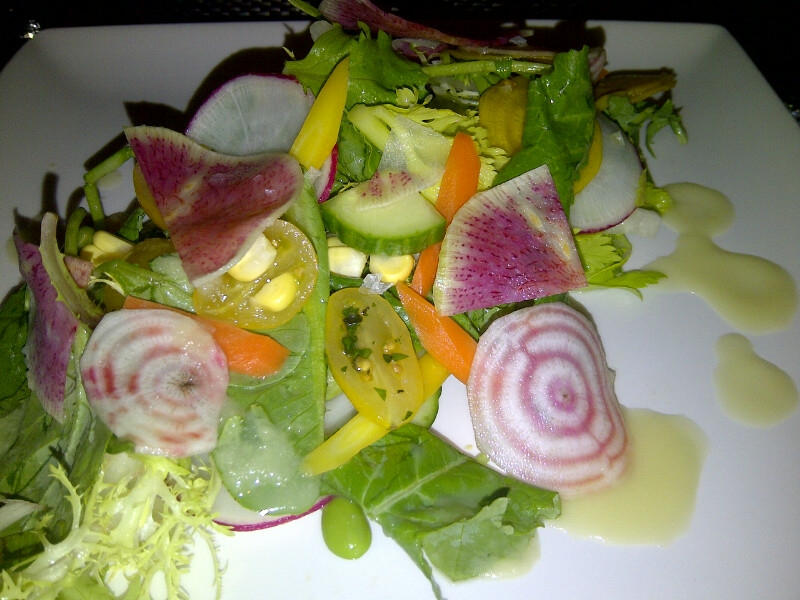 The new menu at Circa 55 showcases locally sourced, sustainable foods. (Photo by Scott Bridges)
One of my favorite dishes is the vegetable pasta. I've seen gardens with less veggies. And while artichoke garlic cream sauce may sound like a dipping sauce one might find on a plate of curly fries at a Guy Fieri restaurant (Ok, that was a blatant ploy for SEO purposes, you got me), the sauce is actually quite delicate. It's reasonably priced at $23.75 (and that's the least expensive entrée on the menu), but gets a little steeper ($33.25) if you go in for the lobster claw meat, but if you're going to do it, do it right. Don't skimp on the lobster.
Other entrees worthy of consideration include a good citrus-brined chicken; California veal loin, served with Brussels sprouts and a yummy bacon-and-red wine sauce; the grass-fed beef tenderloin, which comes in a tomato and chimichuri sauce; and the Pacific Coast sea bass, which is tasty enough on its own, but the Hawaiian sweet potato ravioli is what makes this dish sing.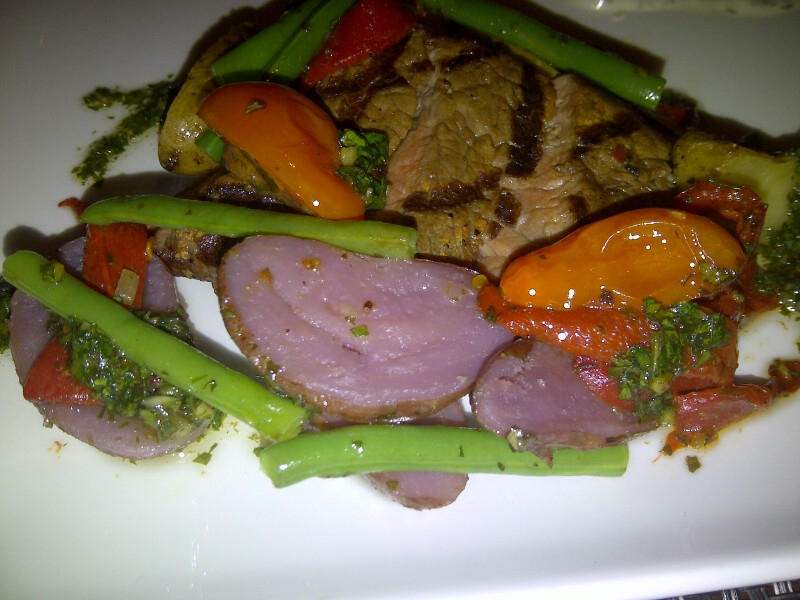 Chef de Cuisine Zack Gochin's chimichuri sauce brings grass-fed beef to life -- so to speak. (Photo by Scott Bridges)
Topping it all off are the devilishly sinful creations of Executive Pastry Chef Thomas Henzi. The presentation is very appealing and the attention to detail is superb. And if you're a cheesecake fan, you'll find Henzi's delightful -- in fact, that's true even if you're not a cheesecake fan (assuming there is such a thing as a non-fan of cheesecake).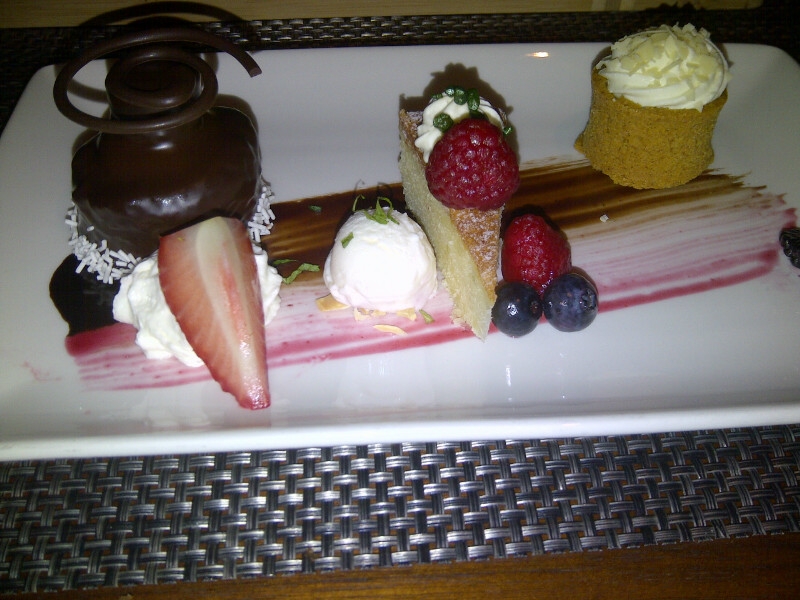 A few of Executive Pastry Chef Thomas Henzi's showpieces. (Photo by Scott Bridges)
Despite possible appearances, Circa 55 is not a minimum-age requirement for diners. With its new menu and with Zack Gochin in the kitchen, there's good reason for a new generation of food lovers -- even those young'uns conceived to "Eine kleine Nachtmusik" in the heady summer of '06 -- to discover the evolution taking place at Circa 55.