Au revoir. The phrase has been repeated in restaurants all over Los Angeles during the past two weeks. Fare thee well, foie gras, we hardly knew ye. It's true; up until the California Legislature banned the delicacy with the passage of SB 1520, which took effect on July 1, some foodies hardly knew the various incarnations their beloved fattened goose liver could assume.
A delightful byproduct of the law was that chefs became bold, devising exotic new ways to serve a dish that had almost grown stale when seared and dull as a mousse. But late June 2012 proved to be a horizon-expanding time for foie-loving chefs, who offered tasting menus displaying their culinary creativity.
As a journalist, I felt a certain duty to document the final days of foie, you know, for the sake of posterity. So, like a handful of other gourmands on a farewell bender, I gathered my appetite and hit the duck-liver trail like some kind of foie gras groupie. These are a few of the highlights I encountered on my safari (I almost punned that, then thought better -- you're welcome).
For the first stop on my tour I felt I would need some perspective, and where better to find a different point of view than at recently updated West, high atop the Angeleno Hotel. The 270-degree view from roughly 20 stories above the 405 Freeway, however, was almost narrow in comparison with that of Executive Chef Matthew Woolf, who made a strong case for the abolition of SB 1520 both with his arguments, and particularly with his menu.
"Meanwhile," says Woolf, "McDonalds is still legal."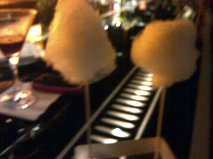 Cotton candy foie gras at The Bazaar.
Our ethics as it involves the food industry is arbitrary at best. Still, I wasn't sure how serious the lady at the next table was when she suggested the idea of eating seal. The problem that animal rights activists tend to have with foie gras is the practice of force-feeding, known as gavage, in which a feed tube is inserted down the throat of the animal and it gets the Hansel-and-Gretel treatment (to put it delicately). People in the industry have pointed out, however, that the esophagi of geese are anatomically different than that of humans, that they lack a gag reflex and that their throats were designed to swallow things like fish, whole. But I digress.
Chef Woolf paid homage to the foodie favorite by featuring it in each of six courses on his tasting menu. Highlights included PB&J -- you read that right -- foie gras parfait with creamy peanut butter and strawberry jam, topped with a delicate brioche; Duck Ménage o Trois: duck confit with foie gras gel and curried duck skin, which is sort of like using every part of the buffalo, right? And what foie gras meal would be complete without a seared portion? Hence, the Soufflé, which showcased a seared scallop as well. And for dessert, the lately ubiquitous foie gras ice cream served with roasted peach and a rhubarb crisp.
My next foray into the heart of the liver took me to Petrossian in a fashionable area along Robertson Boulevard in West Hollywood. Executive Chef Giselle Wellman's menu offered a wine pairing as part of the experience. Petrossian, of course, is one of those sophisticated restaurants in which one doesn't need a reason to order foie gras, just taste buds.
Chef Wellman's five-course tasting menu began with a summer berry gazpacho incorporating Armagnac-poached foie gras and pickled beets. In the asparagus salad, she introduced the foie gras in a paper-thin ravioli, tossed in black summer truffles and paired it with a New Zealand Chardonnay from the famed wine region of Marlborough. Wellman's seared incarnation was enhanced by a complex trio of unlikely flavors: cherries, mint and pistachios. Add a French Chenin Blanc and you'll understand why folks are going to miss this food so very much.
After a foie-gras-enhanced prime flat iron steak and a glass of Edna Valley Pinot, it was on for the best tasting foie gras ice cream I encountered on my odyssey (although West's paring of it with the roasted peach gives it a run for its money). The ice cream was presented in a clamshell-shaped pastry coated with raspberry jam, sea salt and honey, and served with a Bushmills honey iced tea cocktail. Divine.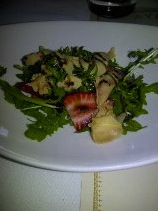 Chef Shigefumi Tachibe's foie gras parfait with wild arugula, strawberry and aged balsamic, at CHAYA Beverly Hills.
The next venue on my venture was CHAYA Brasserie in Beverly Hills for a six-course bon voyage party.
CHAYA Corporate Executive Chef Shigefumi Tachibe's feast for the senses included a beautiful foie gras parfait with wild arugula, strawberry and aged balsamic.
"I am somewhat saddened by the foie gras ban because it's one of those ingredients that's so versatile and that you can use in so many different dishes... varying from appetizers to main courses to even dessert," said CHAYA Executive Corporate Chef Shigefumi Tachibe.
The menu included a beignet showcasing seared foie gras and the inspired combination of peach and port, offering a distinctive and complex flavor profile. After an it's-even-tasty-remembering-it soba (buckwheat) risotto, it was time for the coup de (foie) grace: Grilled prime filet mignon, topped with foie spread and served with Swiss chard. Words cease here.
There are foie gras memories I've collected over the past few weeks that I will tell my grandchildren about. When they ask, "Grandpa, what was foie gras like?" I can tell them that it was many things. For instance, at The Bazaar, Chef Jose Andres imagined it as a bite-size swirl of cotton candy. At Hot's Kitchen in Hermosa Beach, Executive Chef Sean Chaney envisioned it atop tater tots, shattering the definition of tater tots along the way. At Haven Gastropub in Pasadena, Executive Chef Greg Daniels created it as a thick mousse, to be spread on a piece of toast or spooned right out of the jar. Those jars, by the way, seem like an ideal form of contraband to distribute felony foie - not that I'm advocating that, mind you.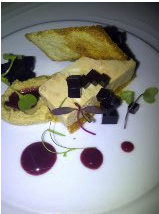 You've never had a PB&J like this before...and may never get the chance again. Foie gras peanut butter and jelly sandwich as created by West's Executive Chef Matthew Woolf.
Several other restaurants offered similar tasting menus during the month of June, and I would probably be writing this from the hospital had I hit them all. At some point along my culinary journey, I learned to employ my ears, rather than just my mouth. I started listening to chefs talk about foie gras, as opposed to gorging myself on it (ironically, I began to understand those ducks getting force-fed to put on weight -- of course, no one shoved a tube down my throat... not that I would have put up much resistance).
The restaurants that offered a fond farewell to foie gras, such as the ones I visited on my bender, are noteworthy for their passion for food and creativity in preparing it in novel ways. Their chefs are artists. And when we take colors from their palettes, our world turns a little less vivid. To deny their palettes is to deny our palates.