Everyone knows about the bustling bar scene in the beach cities of the South Bay. It's not a place people tend to go for great dining, however. That's changing. With so many great places north of the 10 Freeway, it's hard to steer people to a seemingly far-off corner of L.A. 1) After visiting Hot's Kitchen in Hermosa Beach, it's not hard anymore, and 2) it's really not that far off.
For those of you south of the airport, this is especially good news, as you have a killer spot to enjoy North American comfort foods served as modern cuisine. Disguised to some degree as a burger and taco joint, Hot's Kitchen is actually more of a chef-driven take on the beachside café, with a creative menu and a top-notch selection of beers and wines.
Chef/owner Sean "Hot Sauce" Chaney (of Hot's Cantina, North Hollywood), for whom the restaurant takes its name, has gone to great lengths to make every aspect of the place eco-friendly, including hormone-free, grass-fed beef, reclaimed wood for the bar, recycled plastic bottles used for chairs. In addition, there are no bottled beers available; everything is on tap. And about 90 percent of the wines are from relatively local vineyards.
Those beers and wines, by the way, are carefully selected by bar manager Mike Siordia. Favorites of mine include the 10.5 percent alcohol Val-Dieu Grand Cru, a dark Belgian with caramel notes, and the Houblon Chouffe, another Belgian, this one golden and unfiltered, with a crisp citrus taste and more than nine percent alcohol content. Siorida, by the way, has a good deal of expertise pairing the perfect drink with each dish.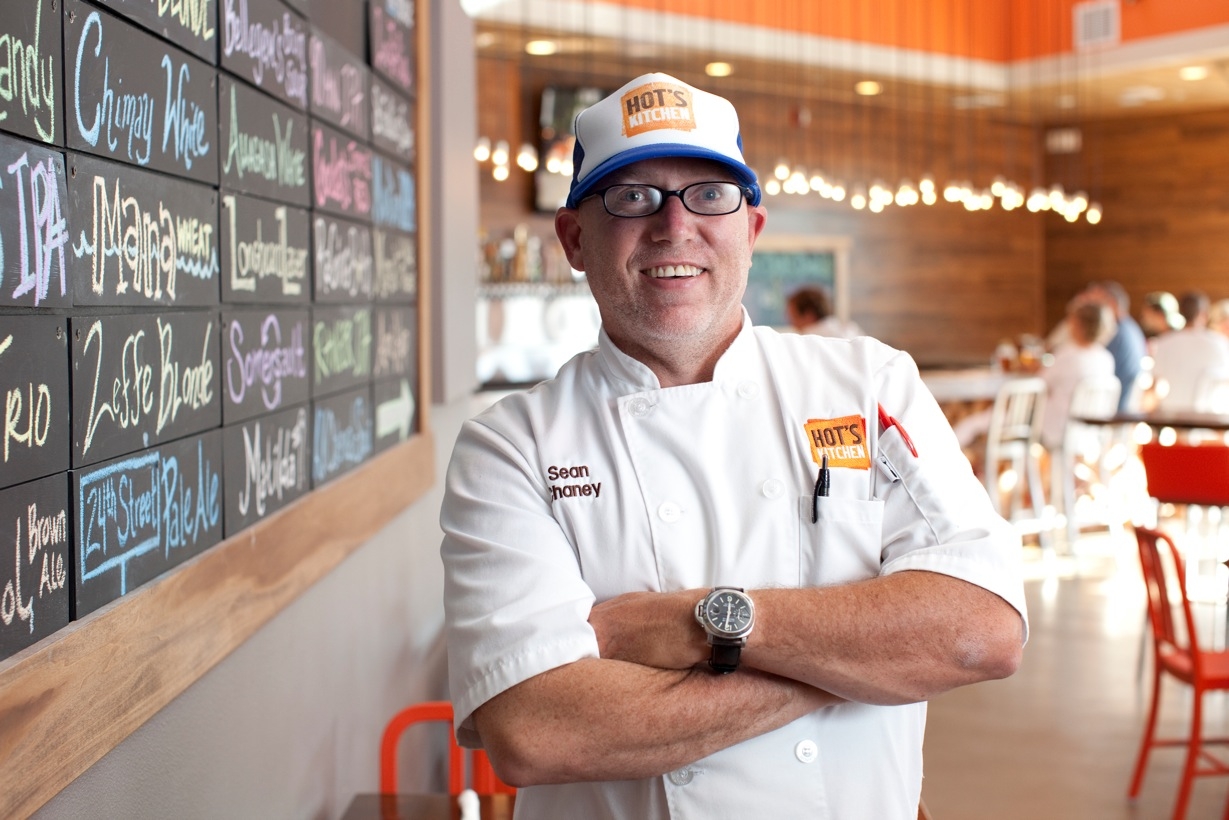 Chef owner Sean Chaney has put a modern twist on the classic beachside cafe.
And among those dishes are some real gems. If you have the opportunity to try the grilled Skuna Bay salmon, don't pass it up. It's served in a maple glaze and even if you aren't a fan of salmon, this one will change your mind. And get in fast to try the seared foie gras & tater tots, which will be banned (the foie gras, not the taters) July 1. Incidentally, the restaurant will indulge in a foie gras Mardi Gras of sorts the night before -- mark your calendar.
The menu also includes some exotic burgers and tacos, and no matter what else you're having, these should be sampled. Among the burgers, the buns are made fresh daily by Breadbar Bakery. They might just be the best buns in town. Now, I normally wouldn't recommend this, but I'm going to make an exception because I tried it and it was fantastic. And it's this: Order more burgers and poutine than you can eat. Take home your leftovers in a box. The next morning, throw them in the microwave for maybe 45 seconds or so, and enjoy. There are some foods that make good leftovers and burgers and fries are not among them -- or so I thought. The buns absorb a bit of the juices, and if it's a tad greasy, fine -- it'll help with the hangover from all that great beer you had the night before.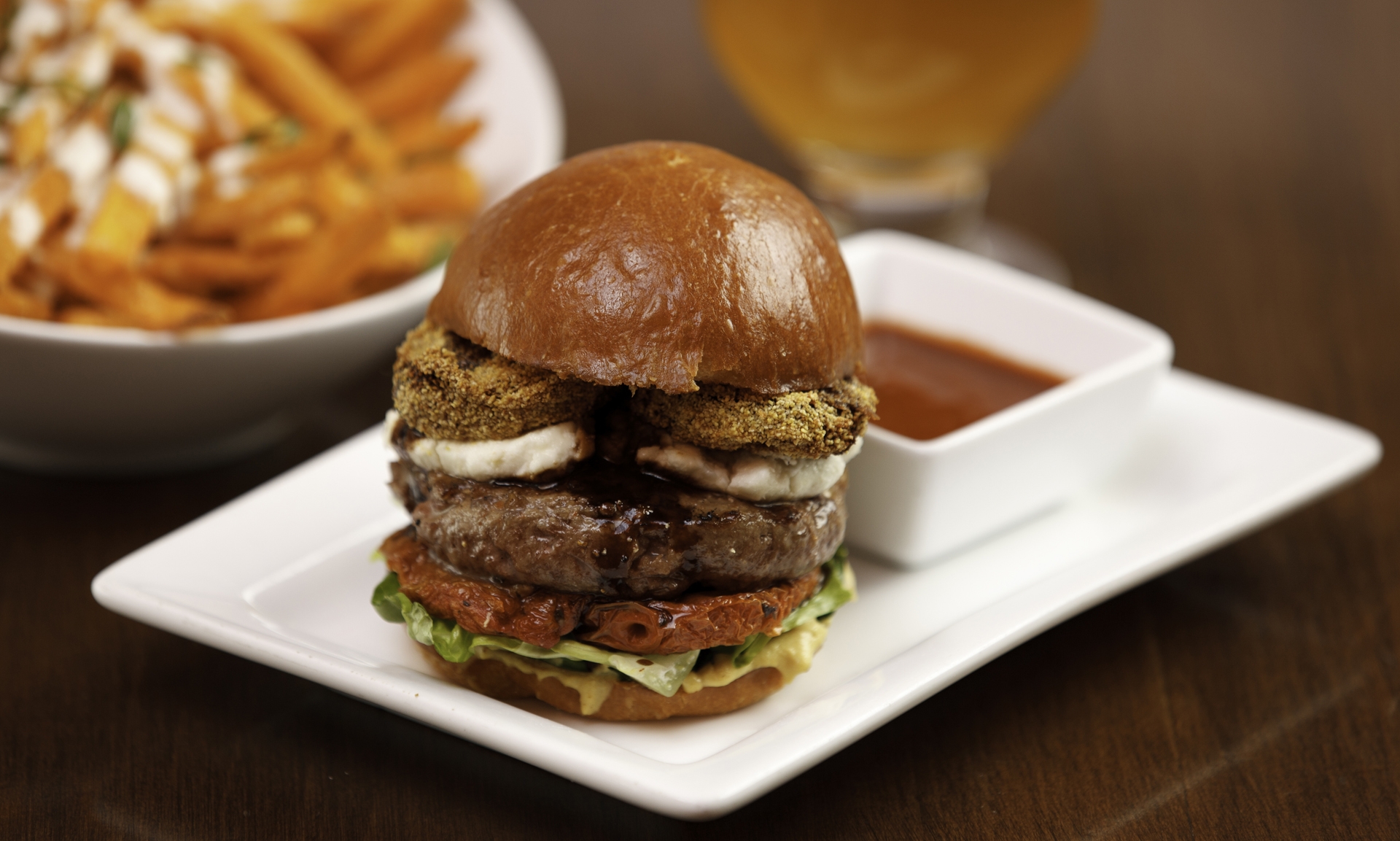 The beef is hormone-free and grass-fed, and all buns are made fresh daily by Breadbar Bakery.
As for the tacos, there are categories of chicken, beef, pork, ocean, vegetarian and, then something along the lines of exotic. There are more than 50 varieties in the mix. I sampled a handful: the Korean, featuring beef, with kimchee and green onions; the Ancho, with pulled pork, cilantro, crispy onions and ancho barbecue sauce; the Thai, with chicken, spicy peanut sauce, carrots, roasted coconut and green onions; the Eel, which includes enoki mushroom, avocado and eel sauce, the Tofu Curry, with tomatoes, peas, green onions, yellow curry and sriracha. There are also exotic tastes for the bold -- Italian Sausage, Gyro and Duck Confit.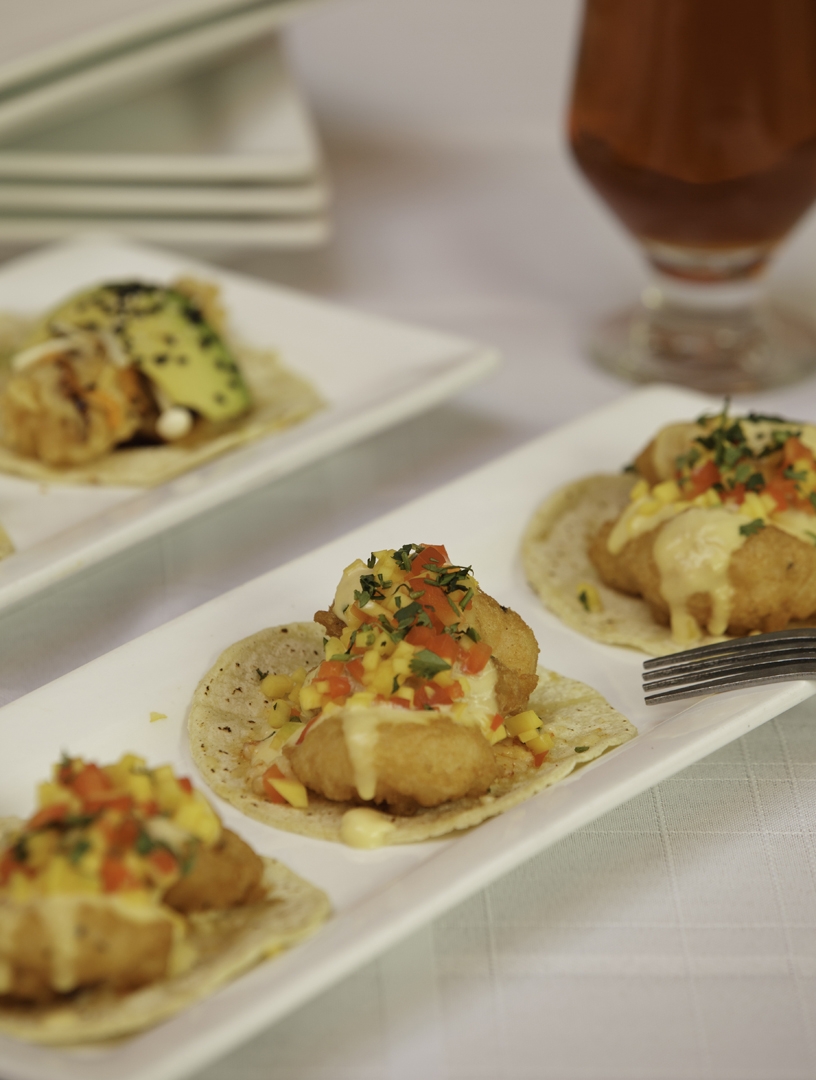 There are more than 50 varieties of tacos to choose from.
And for dessert, ice cream sandwiches courtesy of Milk -- flavors like salted caramel, grasshopper, peanut butter and more.
There is no hard alcohol here, instead, there is a wide array of artisanal beers and a solid wine list.
The dining room at Hot's Kitchen is what you might expect of a Hermosa Beach eatery. It's open and airy, with sports playing on TVs at the bar and throughout. And I could say that the place has a good energy but that's more of a nice way of saying that it's loud. This isn't a tablecloth-and-white napkins fine dining experience, it's a local hot spot. If you're looking for a romantic place for intimate conversation, this isn't the spot -- at least during peak hours, anyway. If, however, you're looking for a bustling atmosphere with a friendly vibe, this will be right up your alley.
Whatever part of town you're in, Hot's Kitchen is worth checking out. The parking is ample (although, if you use street meters, remember quarters -- my meter didn't take credit cards). Otherwise, there are plenty of lots in the area. And if you're local, walk or catch a cab -- not only is it more environmentally responsible, but with this array of beers and wines (about three dozen of each), it would just be cruel to make someone be the designated driver if it isn't necessary.
Photos courtesy of Dan Fowler.