Widely regarded as one of the most romantic getaways in America, Carmel more than lives up to the reputation with its scenic white-sand beaches, world-class golf, boutique shops, fine dining and burgeoning wine region. The resort town is about a five-hour drive from L.A. and only an hour south of San Francisco.
Within the village, you won't see any neon signs, which are prohibited. Street signs are made of wood, and there are no streetlights. Chain restaurants aren't allowed, either -- not even Starbucks. Summer is an ideal time to plan a stay, so here a few of my favorite facets of the jewel that is Carmel.
There are 43 inns in the square mile of Carmel-by-the-Sea, and among my preferred places to stay are Hofsas House and Cypress Inn. The former has been an iconic example of Carmel charm since the middle of the last century. It's also family-owned and operated, with three generations providing hospitality. Owner Carrie Theis has deep ties to the city, and is a currently a member of the city council.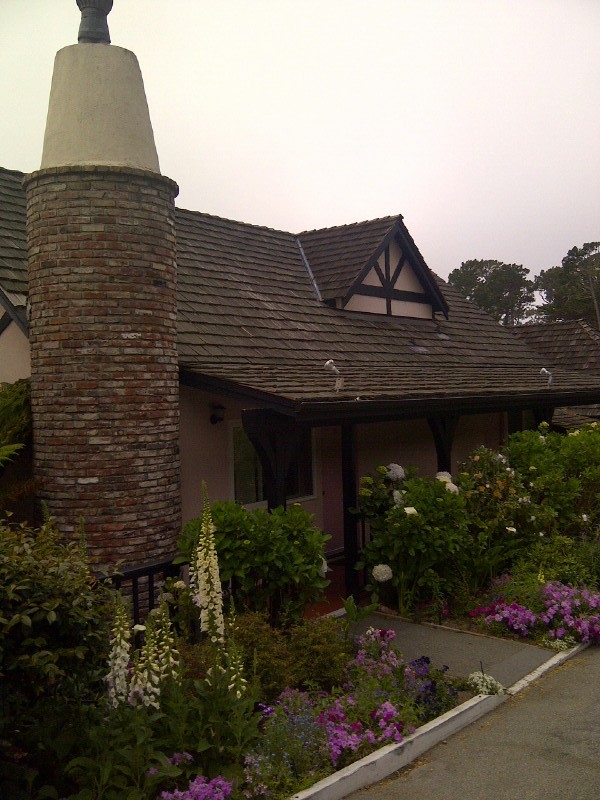 Third generation-owned and operated Hofsas House. (Photo by Scott Bridges)

Although Carmel has a strict two-story limit, the historic hotel avoided the rule by building on a hillside three blocks north of Ocean Avenue and eight blocks from the beach. Some rooms have private balconies, wet bars and even kitchens. Most have fireplaces. And there's a heated pool and sauna. The continental breakfast is a little underwhelming -- coffee, juice, fruit and bakery-delivered pastries.
More history awaits at Cypress Inn, which dates back to 1929. Jointly owned since the 1980s by Golden Age silver screen star Doris Day, the boutique hotel has renovated rooms, a garden courtyard and outdoor dining patio. It's also home to Terry's Lounge (with one of the best bartenders and happy hours in town), the namesake restaurant/bar designed by Day's son after getting inspired on an extended trip to Morocco.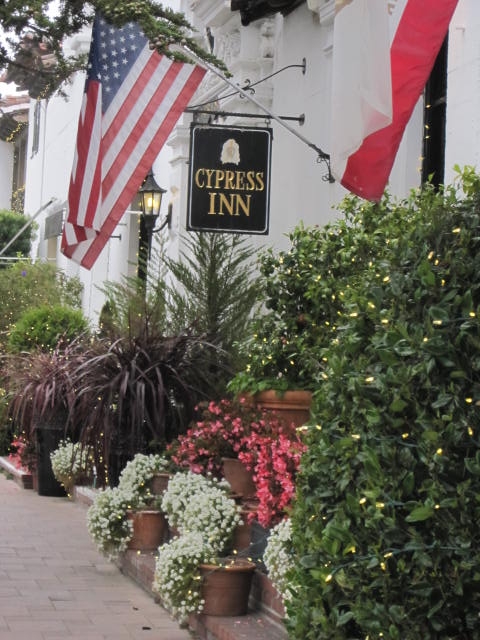 The garden-like Cypress Inn, downtown Carmel. (Photo by Scott Bridges)
An animal rights proponent for decades, Day was the first in Carmel to provide pet-friendly lodgings. Cypress Inn is not only progressive on animal issues, but has also been ahead of the curve on environmental concerns, with a green eye toward sustainability. Just one example is their water policy -- rather than dishing out plastic water bottles, the hotel provides carafes, which guests may fill at the bar.
Both hotels are also a convenient walk to the restaurants in the village. One that you won't want to miss is Mundaka. The Spanish tapas restaurant is nestled a block from the main drag in a beautiful eco-friendly space. Chef Brandon Miller describes the food as "fresh, local, organic, free-range, line-caught, sustainable, fair-trade, home-made from scratch." He employs staples of distinctive Spanish cuisine like saffron, sheep's milk, fava beans, Serrano ham and Marcona almonds.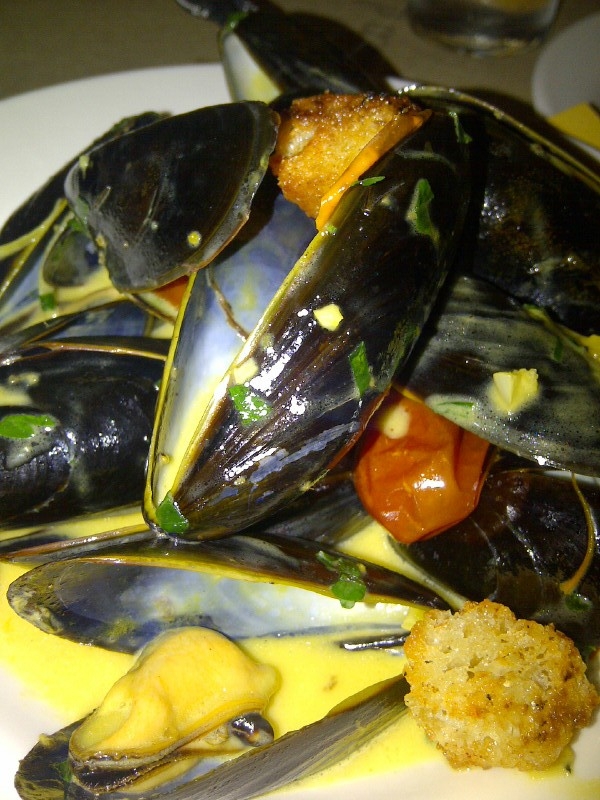 Mejillones:Â mussels with oven-dried tomatoes and saffron cream. (Photo by Scott Bridges)
Mundaka features an impressive wine list with Spanish and Californian offerings. There are about a dozen mixology cocktails, the best of which is probably the El Trailero (123 anejo tequila, fig compote, orange juice, ginger syrup, muddled rosemary). Last year, Monterey Weekly named it the best cocktail in the county.
Italian food is among the most popular dining options in the city, and one of the most beloved is family-run Vesuvio. Chef Pepe's menu features the best of Southern Italian cuisine. A signature feature is the Mozzarella bar, but the restaurant is renowned for its pizza. Sons Christian and Gian Pepe trained at Verace Pizza Napoletena. And, as pizza aficionados know, Naples is the home of the brick-oven pizza.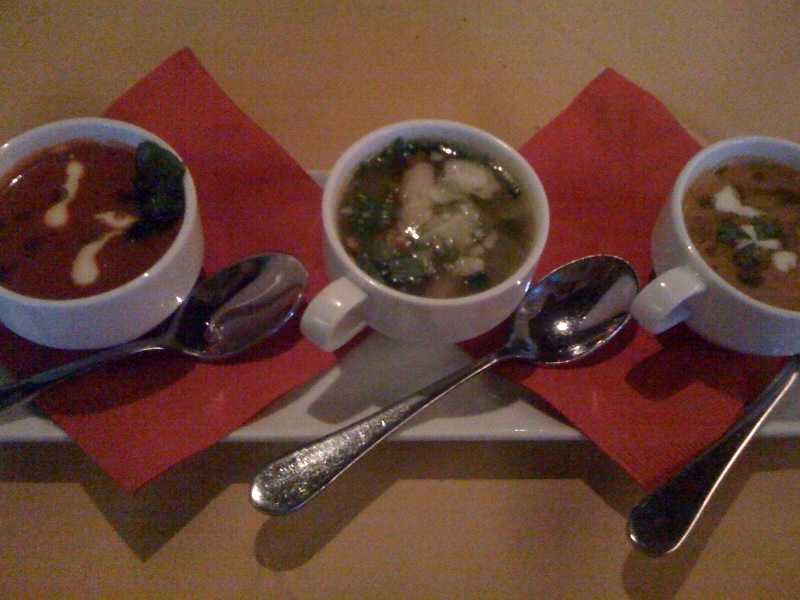 A trio of soups at Vesuvio. (Photo by Scott Bridges)
The well-curated wine list is a conjunction of Old World and New, with both Italian and Californian gems. In addition, the cocktails are well-crafted by Christian, and pair nicely with the decadent food. This may very well be the best place to find barrel-aged cocktails in town -- for instance, the Negroni "Vecchio" (Beefeater gin, Cinzano Rosso, vermouth and Campari, on the rocks with a slice of blood orange).
Meanwhile, if you feel like taking a scenic drive to nearby Pacific Grove, treat yourself to the indulgent dining pleasure of Fandango. Since 1987, Provence-born Pierre Bain has been wowing locals and travelers with Mediterranean comfort food like escargot in butter with garlic and herbs, or fresh Sanddabs, brushed with egg and sauteed. This is the perhaps most decadent restaurant on the peninsula, as well as one of the most charming.

Escargot in butter with garlic and herbs. (Photo by Scott Bridges)
The wine list is so comprehensive it requires a table of contents. Wine Spectator named Fandango a 2011 Best of Excellence award winner for its the list, which includes international treasures, as well as local favorites. Bottles and half bottles are available, as well as dessert wines, both sweet and fortified, some by the glass and bottle.
And then, there's the undiscovered side of Carmel -- the valley. This region is something of a conundrum, blending rusticity and sophistication. The west end is golf paradise. At Quail Lodge & Golf Club, you'll find a gorgeous 18-hole championship course. There's also a pro shop, tennis courts, swimming pool and fitness center, so there's plenty of activities to keep you in shape.

The beauty of Quail Lodge & Golf Club. (Photo by Scott Bridges)
The pet-friendly resort boasts non-smoking guestrooms and spacious suites, which have hardwood floors, large central fireplace, vaulted ceilings with skylights, and patio or balcony with sweeping views of the Santa Lucia Mountains.
Just up that road are the 500 breathtaking acres of Carmel Valley Ranch, a property boasting fields of lavender, an herb garden accessed by the kitchen, and roaming wild turkeys (uncertain whether the chef harvests these guys for the turkey burger). Renowned for golf, the resort's infinity pool is another of the finer features -- at dusk, enjoy roasting s'mores by one of the adjacent fire pits, followed by a late-night scene with other adults.

The view from a balcony at Carmel Valley Ranch. (Photo by Scott Bridges)
The spacious suites are luxurious and attractively furnished, with stunning views of the tree-lined hill country. With vast bathrooms, a separate living room/office and a furnished wooden deck, it feels more like a residence than a hotel room.
You'll also find one of the best restaurants in the area: The Lodge, helmed by Executive Chef Tim Wood. Wood is a conscientious chef who works with sustainable ingredients, many from right outside the door. Beef is sourced from a trio of local farms. His seasonal menus are brief but diverse. One of the most delicious items on it is the honey-chile chicken wings, ranked by Food and Wine magazine as among the best in the country.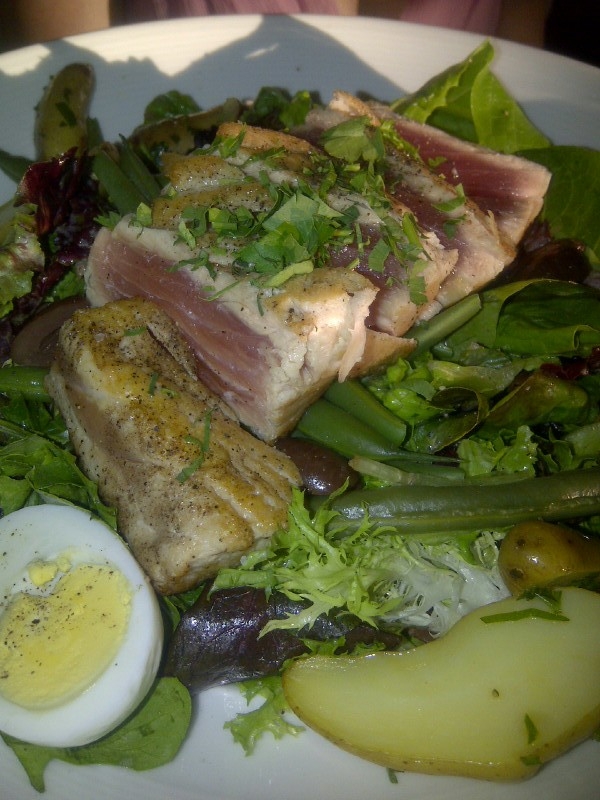 Chef Tim Wood's seared ahi nicoise salad. (Photo by Scott Bridges)
The wine list has been meticulously curated with classics from France, Italy, Spain and the wine-producing counties just up the road to the north, and features cellared trophy bottles, as well as local favorites. An entire page is dedicated to wines-by-the-glass, and another is set aside for half-bottles and magnums.
The valley's east end is where tourism encounters genuine day-to-day ranch life, and includes tasting rooms that showcase wines from vineyards that are literally around the corner. One such winery is historic Holman Ranch - so scenic that would-be brides book years in advance.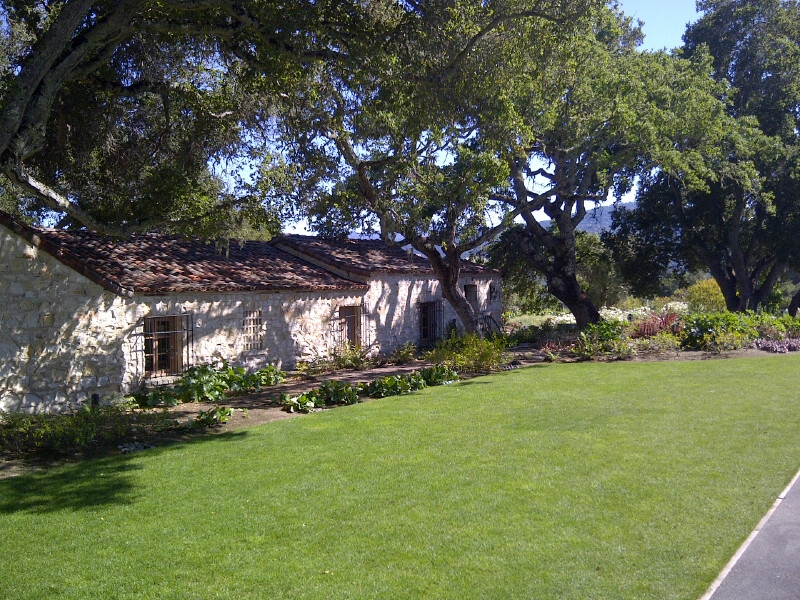 A cabin at historic Holman Ranch. (Photo by Scott Bridges)
Nestled in the gently rolling hillside, the Lowder family-owned and operated ranch has mountain views and anachronistic serenity. Estate-grown wine varietals, including the region's famous Pinot Noir, occupy almost 20 acres of hilly terrain, in addition to an equestrian center and olive grove. Rustic cabins (with cell reception and WiFi) reside next to a restored hacienda, with a barn, which functions as a dance hall/event space. The spacious lawn is ideal for weddings, with a backdrop of flowers and grapevines.
Holman Ranch operates one of several tasting rooms on wine row, along with popular wineries like Chesebro, Cima Collina, Dawn's Dream, Joyce Vineyards and Parsonage, among others.
As for dining in this part of the valley, there's longtime local favorite Will's Fargo, which retains its original charm from the1920s. And while the Bernardus-owned restaurant remains a beloved steakhouse, French-born chef Jerome Viel brings his own flair. The dimly lit saloon showcases a full bar with a good Bourbon selection and a great supply of local wines, including, of course, Bernardus (also, this is the only restaurant to enjoy Holman Ranch wines).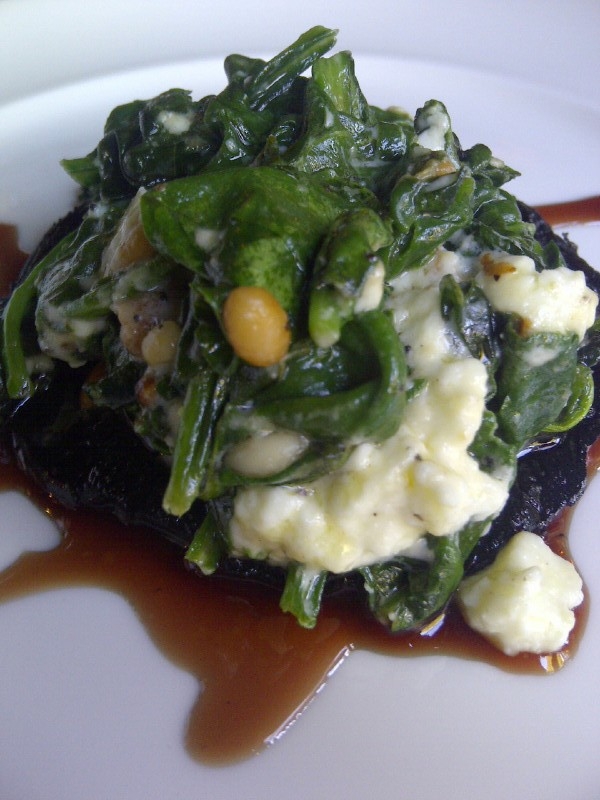 Stuffed portobello with spinach, pine nuts and feta at Will's Fargo. (Photo by Scott Bridges)
Beef is king in these parts, and the best is Will's Rib-eye, the 14-ounce signature cut that keeps locals coming back. Fish options range from Mahi Mahi to Swordfish to Yellow Fin Tuna to Lobster tail. Pork, poultry, lamb and veal also grace the hearty menu, with a few vegetarian options, as well.
Located directly behind the restaurant is a small shopping center, at the back of which is the biggest gastronomic surprise in this part of the county. A nondescript building that formerly housed the Chatterbox, has been rechristened "Lokal," the kitchen of chef/owner Brendan Jones.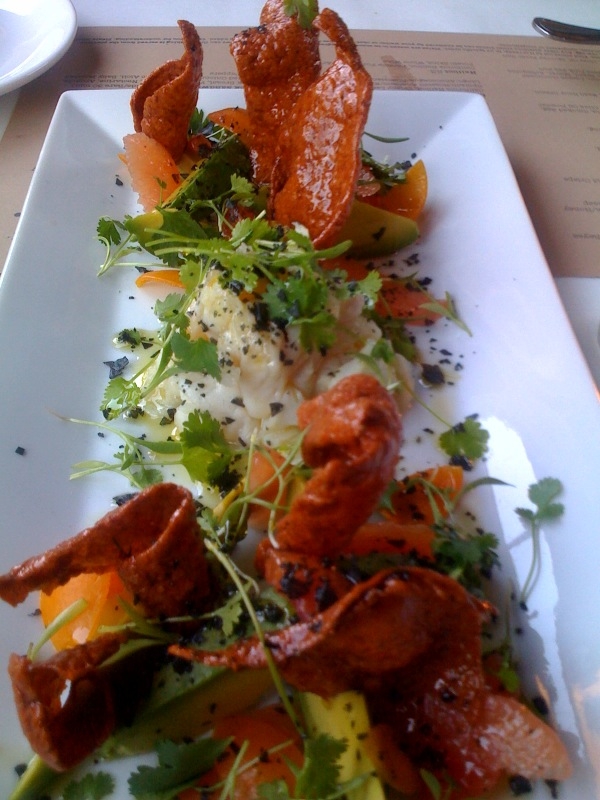 Chef Brendan Jones' ceviche at Lokal. (Photo by Scott Bridges)
Although Jones has no formal culinary education, he served a stint at Spain's Michelin-starred Mugaritz. The visionary chef creates one-of-a-kind dishes from local ingredients, crafting new menu items every week. Dishes that you think you've tried come alive in new ways when prepared by Jones. The menu reads beet salad, but this is not the ubiquitous beets-and-burrata-and-citrus-and-nuts that you've grown bored of. The chef's dishes are reimagined, resembling fine art as much as food.
And after a long day of golf, shopping and dining, unwind at Refuge. America's first co-ed spa's hydro-thermal therapy is a perfect way to relax body and mind. The cycle begins with a sauna or steam bath, followed by a dip in an icy pool, followed by relaxation in a zero-gravity lounge chair, followed by a dip in a heated pool. The cycle is then repeated three or four times. You'll be amazed how relaxed your muscles become.
And if you still want more, you can always finish by booking a soothing massage. Enjoy!