For as long as I can remember, La Costa Resort and Spa had been the gold standard for spa-goers. But in recent years, several new spa resorts had begun to gain ground, and there was a new contender to deal with in the day-spa. La Costa, which has occupied the same 40 acres of pristine North County San Diego land since 1965, was in need of a makeover. Over the last couple years, it got it.
If it's been more than a year since you've checked out the world-class spa, you haven't seen the new La Costa, which recently underwent a $50 million renovation. The renowned spa is still one of the better spots the Western Hemisphere in which to find recuperation, restoration and rejuvenation. Many day spas have sprung up to try to compete, but one of the defining features of La Costa is that the experience does not vanish at the end of the day, and you don't go back into traffic, and back into the chaos of modern life that brought you to seek sanctuary in the first place. Rome wasn't built in a day, and neither does the human body fully find harmony in an afternoon.
So plan to stay at least overnight. After all, there's much to do. Two beautiful golf courses provide an ideal way to soak up the landscape and get some fresh air. And if your game is anything like mine, it's a good walk spoiled, as they say. The resort is also famous for its tennis, and features an annual women's tour event stop. Center court is immaculate, but there are also about four clay courts, in addition to hard courts. Lessons are also available in both sports for all levels of play.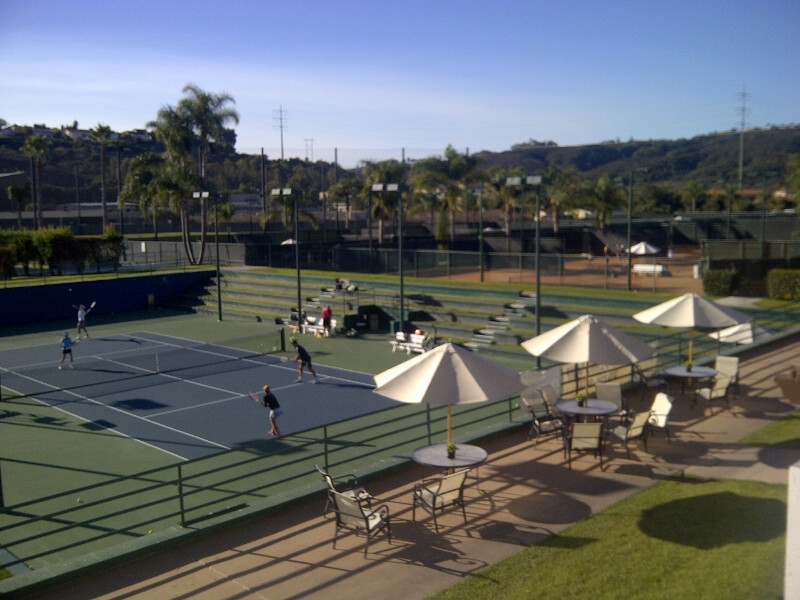 Tennis anyone? Center court at La Costa. (Photo by Scott Bridges)
And when it's time to unwind, it's time to choose a pool. There are a couple on the family side of the resort -- the ideal place to let the kids loose. Don't worry, there's a fully functioning bar for the grown-ups. But kid or adult, there's something very cool about this pool area -- the waterslides. Two slides snake their way about two-stories down into a splash pool. In the spirit of journalism, I tested the slides, and can report that although I wish they were longer rides, they are fun nevertheless.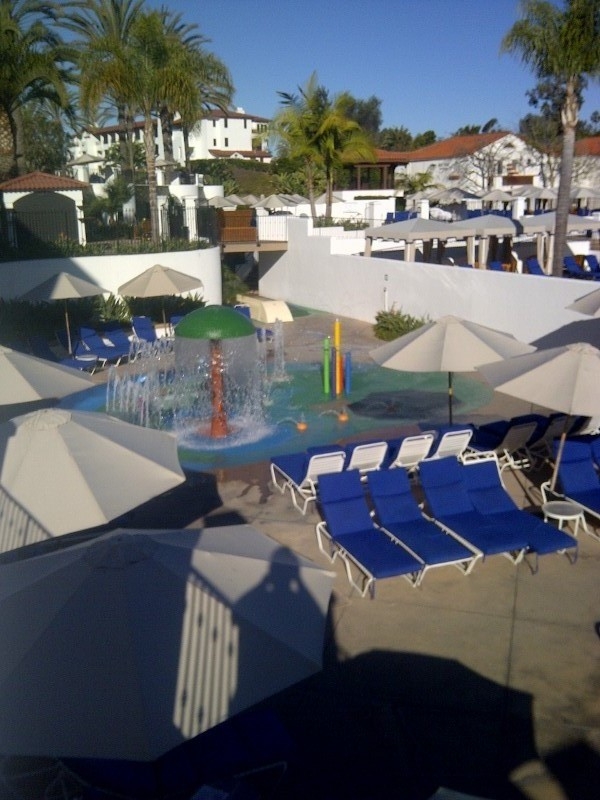 The resort is family-friendly, with plenty of opportunities for kids. (Photo by Scott Bridges)
But when you've worn yourself out sliding, and taking turns with the kiddies, you might find you're ready for The Edge -- the state-of-the-art adults-only pool, which overlooks the golf courses. A DJ fills the air with mystical upbeat sounds as chilled-out guests wade in the warm waters of the pool or dip into the heat of a handful of hot tubs that seem to drop off into nowhere. Cocktail waitresses cruise the aisles of lounge chairs, keeping sunbathers and pool-dippers from becoming parched.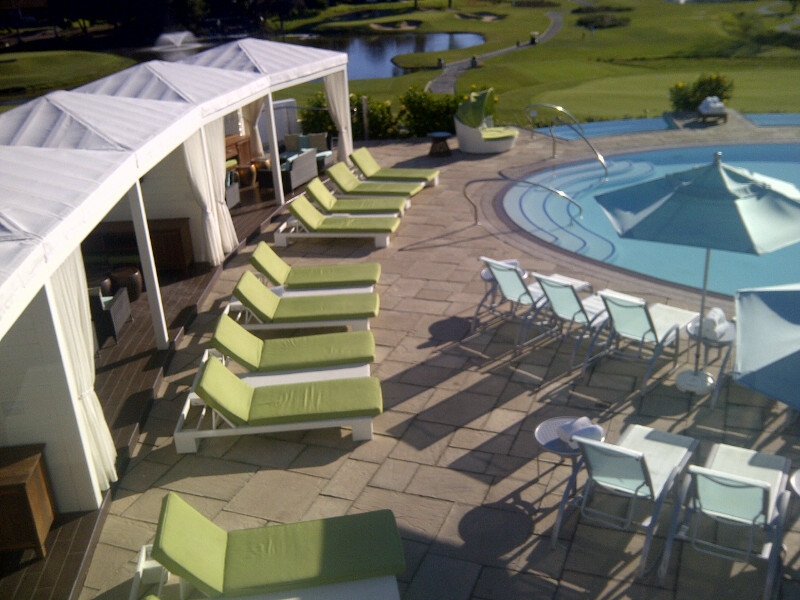 The Edge is an adults-only pool with incredible views of the golf course. (Photo by Scott Bridges)
What I was particularly curious about, however, was the resort's new restaurant, Blue Fire Grill. Would this be another San Diego surf-and-turf or a modernized chef-driven destination restaurant? I sampled a little bit of what they're cooking up at the classy new joint, and I was convinced a few bites in that this is a serious dining locale.
The green lentil soup was like home-cooking. It is slow-cooked for more than six hours, giving the lentils, onions, carrots, etc., time to cook down and fully flavor the broth. Diners are greeted with warm breads and a like-no-other herb butter, which pairs nicely with a soup of this caliber.
The same care is taken with the Skuna Bay Salmon salad, which connoisseurs will know is a special treat, served with a light lemon aioli dressing -- one of the highlights of the night.
The Skuna Bay Salmon salad. (Photo by Scott Bridges)
Another dish worth noting is the Diver Scallop with wild mushrooms -- this is something you are likely to find in any of the finest restaurants in L.A.
I was a little surprised by my next course -- Chicken Carbonara. But this was not unlike any that I'd ever tried, changing my mind about a traditional dish I thought I knew. The secret, I was told, was the locally farmed free-range chicken. In fact, the vast majority of Blue Fire's ingredients are fresh from the farmers' market, just a stone's throw away.
Blue Fire Grill features farm-to-table fresh vegetables and local, sustainable meats. (Photo by Scott Bridges)
I had the T-bone as an entrée, satisfying my carnivorous instincts. It was followed by a good (but not great) cheese plate, and an incredible cask-strength McCallan Scotch, which is terribly difficult to find even in some of my favorite restaurants throughout Southern California.
Finally, a dessert of vanilla ice cream topped with black pepper and strawberry balsamic reduction, with shortbread, finished the meal nicely, particularly when paired with a 30-year-old Ramos Port.
Outside, a jazz band played modern standards on the patio, in the warm Carlsbad night. It makes for a nice social scene, and with a couple of specialty cocktails - the Spa-tini is a favorite - you might not even mind that they're playing Hannah Montana covers of Van Morrison. Then again, you might also want to have a couple of the tequila-based Long Tail Texans.
The New La Costa Resort and Spa is, after all these years, the ideal way to restore body and mind. And with Blue Fire Grill, your appetite will also be satiated in style.