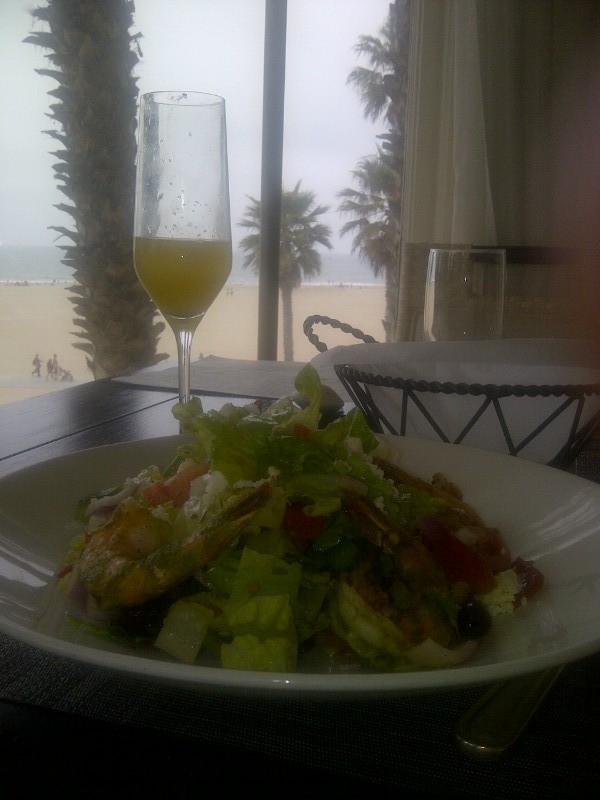 Sunday morning brunch at Catch at Casa del Mar. Photo by Scott Bridges.
Among the pleasures of living in Southern California is unfettered access to fresh farmers' market produce, a picture-perfect climate and our hallmark leisurely way of life, and nowhere do these characteristics combine so symbiotically than in our tradition of weekend brunch. It may very well be my favorite meal. After all, all the pleasures of breakfast and lunch become available; and when else is it socially permissible to drink before noon?
I give you, therefore, my humble awards in a handful of categories integral to a proper brunch. In the tradition of those ubiquitous award program euphemisms, I give you "The Brunchies."
This list is by no means exhaustive, and no doubt there are gems I've overlooked or have yet to discover. And if it seems a little bit Westside-biased, I concede the point; but I'll suggest that the best brunch is a local brunch. In the spirit of fairness, however, I welcome suggestions and recommendations. Let me know your favorite haunts.
So without further adieu...
BEST AMBIANCE: Coast at Shutters on the Beach
The patio at Coast, on the beach in Santa Monica, is the quintessential brunch location. For the ideal experience, take a ride on one of Shutters' bicycles and unwind before settling in with a Bellini or Mimosa. If it's chilly out, I recommend the tortilla soup -- one of the best you'll ever have. But don't leave without trying the lemon ricotta pancakes with fresh berries. Syrup is optional -- they're sweet enough without it. Coast is one of those places to take out-of-towners to give them the impression that every day in L.A. is this casual and refined.
BEST MENU: Fig & Olive
The seasonal brunches at Fig & Olive are a specialty of the West Hollywood hot spot. Executive Chef Pascal Lorange is a master at creating a variety of dishes employing the flavors of Southern France, Spain and Italy. Nowhere will you find a more cohesive and creative brunch menu. And amazingly, every dish is a winner. Despite all the laws of probability, I have yet to be disappointed with a single bite -- the tartines, the carpaccios, the crudo, Chilean sea bass, rosemary rack of lamb under glass; even the soups are extraordinary. The menu changes seasonally, and a three-course prix-fixe is available. This summer, Lorange trotted out 20 new dishes to the menu. The wine list is among the best, along with the service. Furthermore, Fig & Olive has maybe the finest combination of natural light and use of music.
For more on Fig & Olive, see my review.
BEST ALL-YOU-CAN-EAT: Culina at The Four Seasons Los Angeles
If you look up brunch in the dictionary, you ought to find the word Culina. This is the ideal place to take a group of hungry diners because the variety is off the charts. There are multiple rooms filled with table after table of everything from pastries to salads to sushi to cheeses to desserts. In addition, there is a buffet of hot foods, a carving station featuring a few choices of meat and an omelet bar. In sum, there is something for everyone -- and in unlimited quantities. The specialty cocktails are superb and the wine list is as comprehensive as it gets, featuring an array of Italian wines.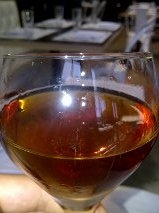 The 9 Wood is one of the many creative concoctions at Comme Ca. Photo by Scott Bridges.
BEST BAR: Comme Ca
I ultimately chose Comme Ca because I could come here simply for Sunday morning drinks (but then I'd be missing out on some of the finest dishes in the brunch landscape). The specialty cocktails are original, beautiful in presentation and delicious. The menu is complete, offering a great selection of fantastic beers, liquors and wines, and without being overwhelming. I strongly urge you to try the 9 Wood (aged rum, amaretto, sweet vermouth, habanero, cocoa bitters; stirred and served straight up) before you finish what is a top-five brunch (and off the top of my head, the only one I know that offers a selection of fresh oysters on the half-shell).
BEST CREATIVITY: Bagatelle
Chef Scott Quinn never ceases to surprise me. I thought I knew what a steak-and-egg breakfast was until I tried it his way, with tender braised beef shoulder topped with an easy-over egg. The French toast cubes are particularly inventive, but then so is everything on the menu. If you like Denny's, you'll hate Bagatelle. In addition, to a fantastic chef-driven menu and some of the finest bartenders to be found, the ambiance at Bagatelle is what makes it a must-try: They've got a DJ creating a high-energy vibe and a dining room that is incomparable, making another of my favorite indoor brunch scenes.
For more on Bagatelle, see my review.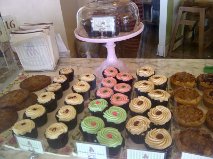 The pastries of La Provence are too much temptation. Photo by Scott Bridges.
BEST VALUE: Napa Valley Grille
First off, value does not mean least expensive; it means getting the highest quality for the best price. Napa Valley Grille's small plates brunch offers just that. It includes some of Executive Chef Taylor Boudreaux's staples, like crab cakes Benedict ($8.25), machaca con huevos ($5.25) and breakfast flatbread ($5.50), can stand alone or, better still, can be shared family-style. The lunch menu is also available, as are artisan cheese plates, and without breaking the bank. Throw in $4 bloody Marys and $12 bottomless mimosas, one of the best wines-by-the-glass selections available, and you have one of the best brunches around.
For more on Napa Valley Grille, see my review.
BEST DESSERT: Hotel Bel Air
The awe-inspiring redesign of the hotel has been well-documented. And the Wolfgang Puck restaurant, in the hands of Executive Chef Sonny Sweetman, is easily among a handful of the best brunches in L.A. It has everything -- excellent food, tremendous service, one of the largest wine lists ever and the best bloody Marys (a separate category perhaps?) in town. It's a near-perfect brunch experience, and one of the highlights has to be the goodies of Pastry Chef Cassie Ballard (a Sherry Yard protégé). The basket of assorted breads is as good as you'll find -- the chocolate-banana muffin is a personal favorite, along with the best bran muffin I've had. The dessert selection is creative, proportional and the perfect finishing touch to a perfect meal (a personal favorite of mine being the cherry sorbet atop bing cherries). Additionally, you'll feel like royalty here, even if actual royalty is sitting at the next table.
BEST EXPERIENCE: Farmshop
It doesn't have the view of Catch or the variety of Culina; there's other aspects of the brunch experience that some places may do better, but I don't any place that brings it all together quite like Farmshop. Located in the Brentwood Country Mart, there is plenty to enjoy before and after your meal (there's a market next to the dining room). First of all, if you can find a better Bellini, you've probably already had a few too many. The menu is short and sweet (and not inexpensive), but the care and precision that goes into each dish is apparent in every bite.
NOTEWORTHY BRUNCHES:
Catch at Casa del Mar
Had I chose a category for best view, Catch would probably win. Not only that, but it ranks among the best values, which is surprising in light of its incredible ambience and top-notch menu. Consider that for a mere $35, you get your choice of appetizer, entrée and dessert. The beet salad with pistachios, burrata and grapefruit is one of the best salads I've had all summer, and I get reminiscent just thinking about the skirt steak in a delicate pesto sauce. The homemade smoothies, alone, are worth the visit.
Brick + Mortar
The recently opened Brick + Mortar in Santa Monica offers great brunch items, including pizzas, and saucy cocktails that may just reinvent the way brunch is done. The crowd is young and lively, and General Manager Brian Ross' staff is friendly and hospitable. It is a perfect place to let morning slowly drift into afternoon among friendly locals.
For more on Brick + Mortar, see my review.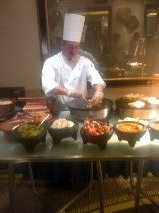 There is enough variety at Culina to keep you coming back for more. Photo by Scott Bridges.
La Provence
With locations in Beverly Hills and Brentwood, you won't find too much better in the way of brunch than La Provence -- except maybe at the airport. That's because the French-inspired café/bistro is opening a new location at Gate 4 at LAX. Now travelers from around the world will be able to experience one of our local favorites. And if it were necessary, I'd be willing to go through security and a pat-down for the goat cheese, asparagus and portabello omelet. The coffee is Intelligentsia and the wines change daily. But one of the most special features of La Provence is the fresh-daily pastries.
Tra di Noi
One of the best all-you-can-eat brunches, as well as a magnificent location in the Malibu Country Mart, Tra di Noi is like a mini-vacation. There's always something new to try at the bountiful buffet table. The local wines are one of the restaurant's hallmarks. And the atmosphere is uniquely Malibu.
The Charleston
Hands down the best jazz brunch in town. And on a stretch of Wilshire Boulevard with a handful of waffle-specializing restaurants, Executive Chef Jet Li serves up the best chicken & waffles in the neighborhood. His modern take on classic comfort foods makes for a very American-style brunch. I should add that the cocktails are superb.
For more on The Charleston, see my review.
My hope is that if you have a particular aspect of this oft-overlooked meal that you're looking to indulge in, you would use this article as a guide in making your brunch plans. I'm including a short list of some of my other favorite locations, which I just could manage to properly categorize for the qualities that they bring to the table.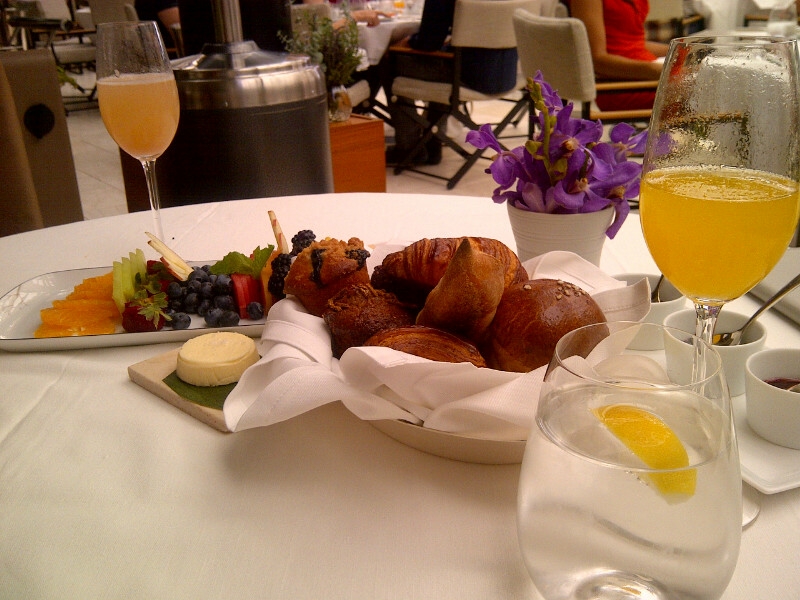 Fresh pastries at the Hotel Bel Air. Photo by Scott Bridges.