Somewhere between the hustle of Los Angeles and the bustle of San Francisco, there lies a sanctuary of relaxation and recreation: Monterey.
The historic city on California's central coast, 320 miles north of L.A. and 112 south of San Fran, was once home to the sardine canning industry of which novelist John Steinbeck wrote. Today, Cannery Row and Fisherman's Wharf are popular tourist attractions. And Monterey Bay Aquarium is world-renown for its sustainability efforts, including its Seafood Watch list. In addition, there is a burgeoning dining scene, world-class golf nearby and incredible natural beauty.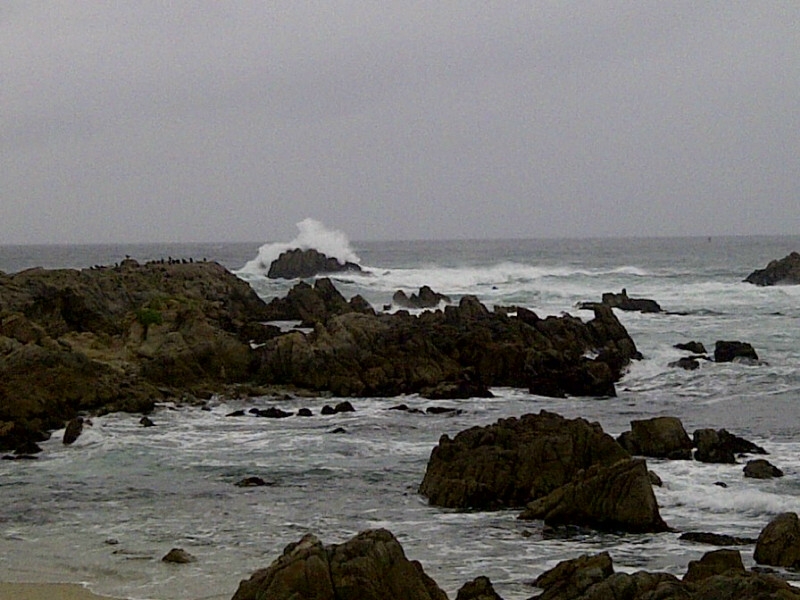 An overcast day along the Monterey coast. (Photo by Scott Bridges)
The aquarium's staff cares for more than 40,000 animals and plants. Educational tours provide the public an opportunity to learn more about the ocean and its flora and fauna. Open sea feedings and kelp forest feedings are inspiring spectacles. The $30 adult admission is a great value for an afternoon of entertainment and enlightenment.
The aquarium is conveniently located at the end of Cannery Row, a must-visit locale. It's a bit touristy, with some corporate chains and novelty souvenirs, but the venue is home to a variety of local shops and restaurants.
Speaking of restaurants, there are some great ones in town. While at Cannery Row, check out Cannery Row Brewing Company, which features more than 70 beers on tap and some of the best comfort food on the entire peninsula. The dining room is filled with wall-mounted TVs with individual sound boxes at each table to catch all the action on game day.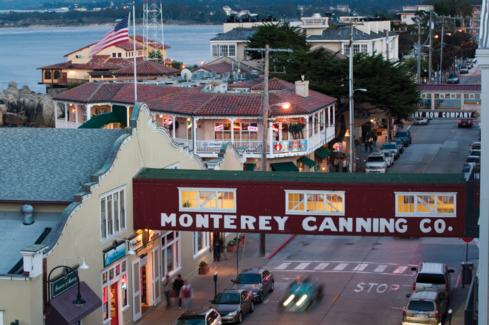 Cannery Row. (Photo by Kerrick James)
The cheesy spinach-artichoke dip is probably what I would imagine heaven tastes like, the three-hour smoked hot wings with Point Reyes bleu cheese dressing are worlds away from pizza joint hot wings, and the Tillamook cheddar ale soup is tailor-made for a rainy Monterey day.
The signature pulled pork sandwich, with 14-hour applewood smoked pulled pork and Tennessee-style coleslaw, and the Monterey Bay Fisherman's Stew, with clams, mussels, calamari, rock shrimp, Pacific cod and salmon in a tomato-saffron broth, are as good as any reason to visit Monterey.
Beer aficionados will also appreciate Peter B's Brewery, at the Portola Hotel & Spa, where Brewmeister Kevin Clarke concocts his own small-batch brews on site. Clarke carefully selects his ingredients and creates seasonal favorites. During my visit, he was working on a chocolate porter and a Scotch ale. A chalkboard displays his creations, as well as the other various craft beers, which have made Peter B's the downtown hot spot for beers and small plates.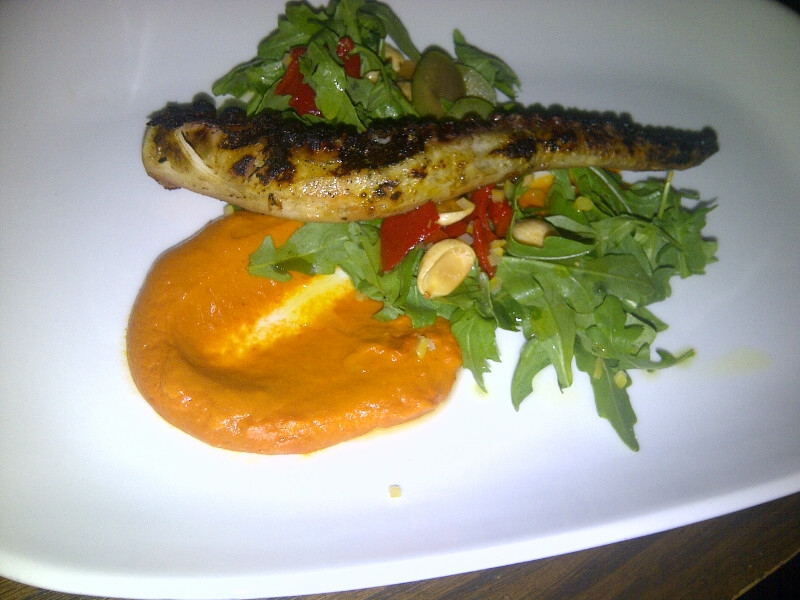 Charred octopus with Marcona almonds, romesco and arugula at Restaurant 1833. (Photo by Scott Bridges)
Around the corner from Peter B's is Jacks restaurant. This is more than a typical surf-and-turf; it's sea-to-table, ranch-to-table cuisine with a modern twist. The local approach is apparent in dishes like the Salinas Valley Wedge Salad and the Organic Spinach, featuring sautéed mushrooms and soft yolk egg.
Executive Chef Jason Giles' menu reads like a what's what of Monterey Bay. Highlights include: Jack's roasted corn and crab chowder, warm dungeness crab cakes, seared ahi tuna, crispy monterey bay calamari, baked scallops on the half shell, pan-roasted Alaskan halibut, prawn scampi, grilled wild salmon and basil-crusted pacific sole. The chop house portion of the menu includes carnivorous pleasures like braised pork osso buco, Harris Ranch tenderloin of beef and bone-in rib eye chop steak, as well as a prime rib dinner on Friday and Saturday nights.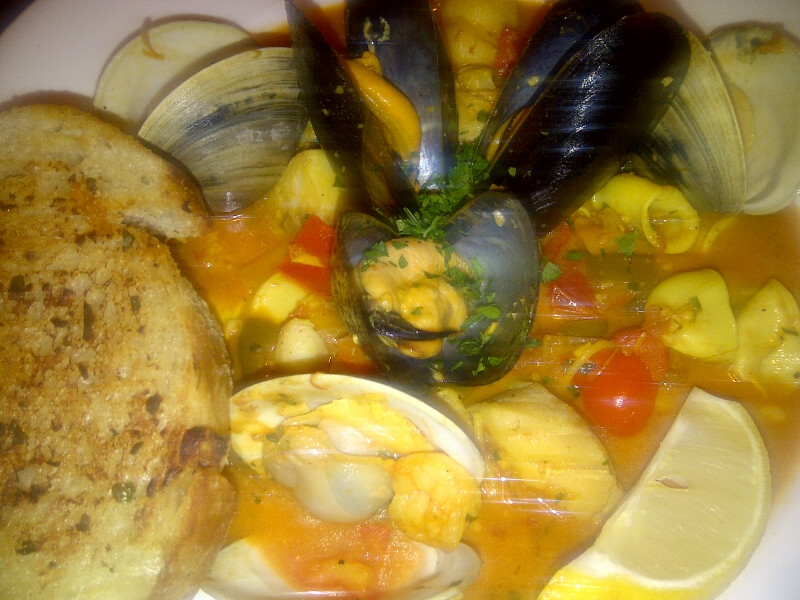 The Fisherman's Stew at Cannery Row Brewing Company. (Photo by Scott Bridges)
The restaurant is renowned, like the city itself, for its seafood, which is sourced in accordance with the Monterey Bay Aquarium's Seafood Watch program, which, according to its site, "helps communities and businesses make choices for healthy oceans."
But no dining adventure in Monterey would be complete without visiting Restaurant 1833. The historic 180-year-old mansion housing the establishment is as marvelous as any location I've ever dined. The restaurant features multiple dining rooms on two floors, with period accents throughout.
And of course, there's the legend of James Stokes, who, as General Manager Tobias Peach tells the tale, stole a doctor's trunk aboard a steamship, then posed as a doctor for more than 20 years, eventually becoming the personal physician of the governor, and who was exposed when the governor died while under his care, though not his fault. So the place may be haunted.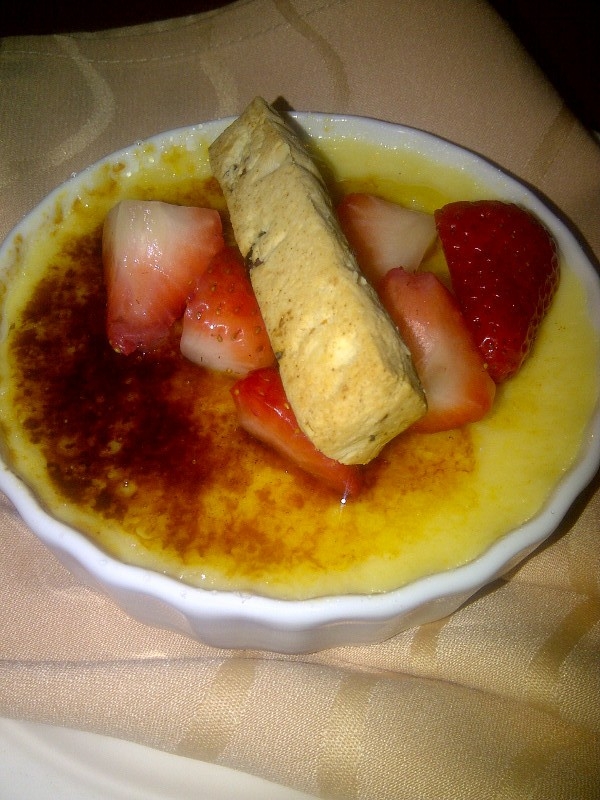 Jack's creme brulee with strawberry and shortbread. (Photo by Scott Bridges)
The beverage program is first-rate under the leadership of Ted Glennon. There are a handful of high-end specialty cocktails and a tremendous wine list, and I know of no other place offering an absinthe program like this. About 25 varieties are available traditionally or served Russian-style, which involves setting it aflame and capturing the fumes under glass; the glass is then lifted and the fumes inhaled before imbibing the liquid, which is poured over either orange juice or root beer.
Executive Chef Levi Mezick's modern American menu features a collection of small bites and share plates like the bacon-cheddar biscuits with maple chili butter; bef carpaccio with sriracha foam, cilantro and masago; charred octopus with marcona almonds, romesco and arugula.
Again, the seafood in Monterey is a must, and Mezick showcases his talents with his pan-roasted rock cod, Monterey Bay salmon or olive oil-poached sea bass. Or, plan in advance for entrées like the salt-crusted dorade (24 hours in advance) or the signature truffle chicken (one hour).
And when it's time to work off the calories, there's plenty of activities in which to partake. You'll find joggers and cyclists enjoying the coastline even on the rainiest of days. There is also plenty of hiking through scenic parkland. And for golfers, this is paradise. Just down the road is the world-famous Pebble Beach, as well as some of the most spectacular courses on the PGA tour.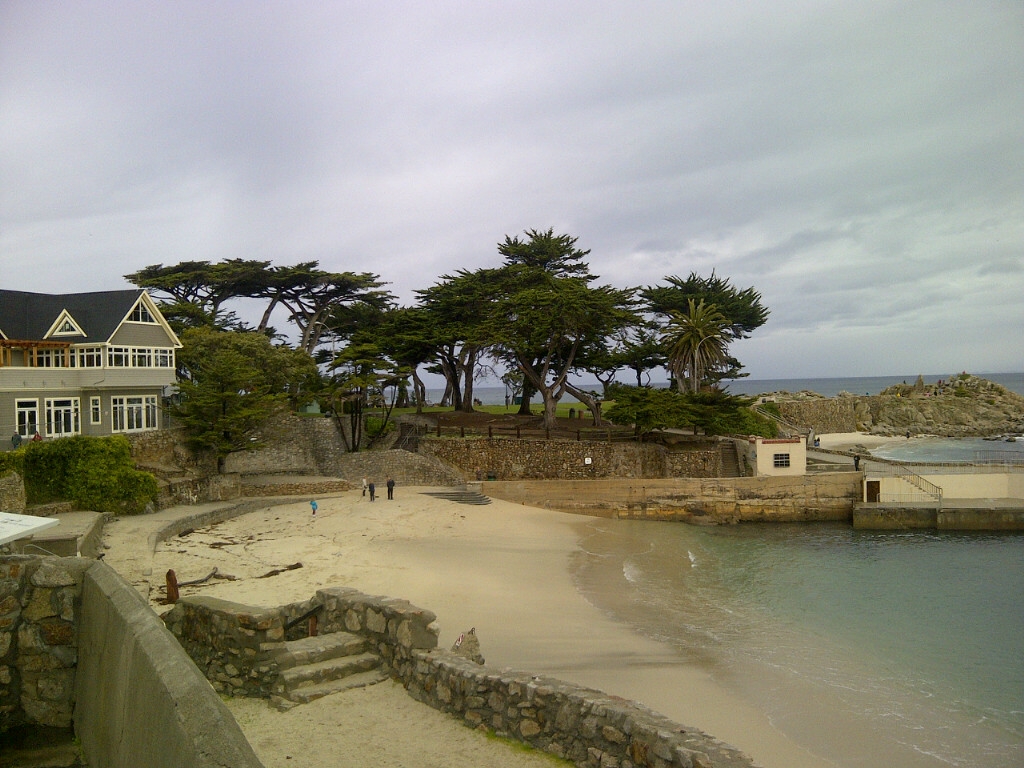 Lovers' Point. (Photo by Scott Bridges)
And because this is California, there is 17-Mile Drive -- a scenic stretch of road that cuts through lush forest, dotted with magnificent residences. For $10, you can enjoy some of the finest views on the central coast, including the iconic Lone Cypress, and without stepping foot outside the comfort of your vehicle. The drive leads to beautiful Carmel, home to boutique jewelry shops, artisanal craft stores and art dealers.
Monterey is foreign to big-city eyes, with its unspoiled, natural beauty. The picturesque bay is a habitat for sea otters and pelicans, and features some of the best whale-watching in all of California. The area also includes some of the most productive agricultural land in the world. Tour the traffic-free roads and you'll discover the lettuce of Salinas, the artichokes of Castroville, the apples of Watsonville and the garlic of Gilroy.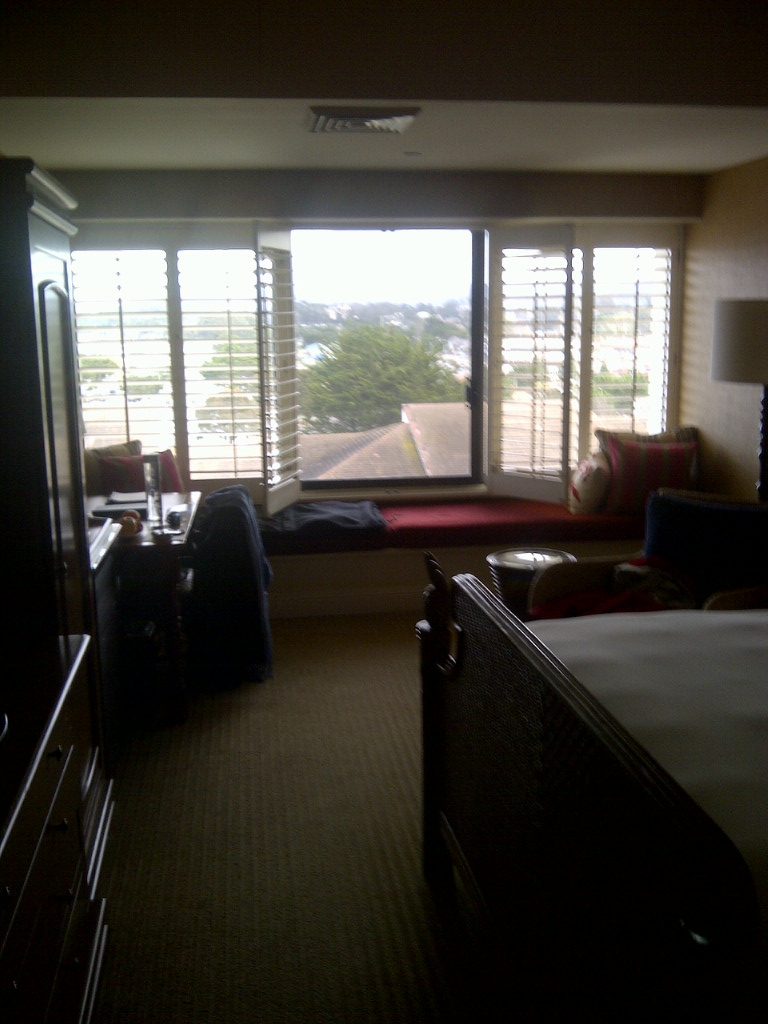 The nautical-inspired Portola Hotel and Spa. (Photo by Scott Bridges)
After touring the countryside, it's reassuring to return to the charming historic downtown of Monterey, rather than the chaos of a major metropolis. The architecture is welcoming, as are the inhabitants. I found that The Portola Hotel & Spa seems to capture that friendly spirit. Furthermore, the décor has a casual elegance that inspires relaxation.
"The hotel's interior is designed to blend in with the area, meaning nautically inspired to go along with the giant bay outside our backdoor," says Chicourrat.
And while boasting all the amenities of a luxury hotel, it still maintains a commitment to reducing its environmental impact. Further reducing that impact is the opportunity to walk just about anywhere within the district -- which is good because with all the one-way streets, no-left-turns and parking hassles, foot-travel is best.
Christmas time at the plaza at the Portola Hotel & Spa. (Photo by Scott Bridges)
"For both business and pleasure travelers, you can't beat the location," hotel general manager Janine Chicourrat told me. "Monterey has a rich historical presence, a small town, intimate feel and is easy to get around."
The hotel's plaza includes a combination of shops and restaurants, and there's a movie theater within a couple of blocks. It has a small gym, an outdoor pool and Jacuzzi, and a small ice rink, where I found youngsters skating while parents enjoyed hot toddies and took pictures.
And on the subject of taking pictures, bring plenty of film (or batteries, as the case may be) because you're going to want to record for posterity the memories you're bound to make in Monterey.
PHOTO GALLERY
Monterey Weekender