The August heat is upon us, and it's likely that your appetite has disappeared like the June gloom. It's time for lighter meals, refreshing drinks and ocean breezes. And an ideal place to find all that is at Ocean Avenue Seafood in Santa Monica, located, conveniently enough at Ocean Avenue and Santa Monica Boulevard.
To make the most of your summer, start by getting out of the heat and into an icy cocktail. I'd like to recommend the Fresh Cucumber (Hendrick's gin, muddled cucumber, basil and lime). Among the specialty cocktails, you'll also find fresh takes on the Cosmopolitan, Mimosa, Mai Tai, Long Island Iced Tea, Bloody Mary, Margarita and more.
The beer selection isn't going to win any awards in an area of town crawling with pubs, but there's about a dozen on draft and the same amount in bottles, including something for anyone who's not too snobby about a cold beer.
The wine list right now includes 20 glasses -- eight reds and a dozen whites -- and a fairly deep selection of bottles and a few half-bottles. California is very well-represented on the list -- from Santa Barbara to Napa Valley -- but France is also recognized, as well as the Northwest and the South Pacific.
The next stop on this culinary adventure is the Raw Bar, home of about a dozen varieties of oysters on the half-shell from across the coastal waters of the continent, ranging in price from $$25-$33 per dozen, and served in the traditional manner on a bed of ice. There's also an oyster/wine sampler, which includes a half-dozen oysters and three featured wines for about $23. You can also sample oysters individually. Two of the more interesting varieties featured right now are the Kumamoto, from Northern California's Humboldt Bay, and the Malpeque, from Prince Edward Island (PEI), each for about $15/dozen.
Other delicacies from the Raw Bar include Peruvian scallops in a delicious ponzu sauce with chives, Cherrystone clams, from Long Island, Oregon Dungeness crab, PEI black mussels, hard shell American lobster and wild jumbo Pacific shrimp.
The iced shellfish platters are one of the best values -- and most impressive displays -- if you're dining with company. At under $40, The Grand is perfect for couples. For parties of three or four, The Deluxe is a good deal at $75. And for groups of up to eight, the perfect way to absorb the experience is with The King, which includes 15 oysters, six clams, eight Peruvian scallops, 20 jumbo shrimp, 20 black mussels, more than a pound of lobster and a two-pound Dungeness crab for $145 (and while that could honestly and actually feed a party of eight, if you're anything like me, you could probably finish the platter yourself on an empty stomach, a couple martinis and a dare -- it's that good).
Now that your taste buds are awake, it's time for an appetizer or two, from about 15 to choose from, which come hot and cold. There's also more than a half a dozen exciting salads and a couple of outstanding chowders. The menu includes your standard fried calamari, shrimp scampi and lobster taquitos, but also gets a tad adventurous with items like smoked trout, filet tips in red wine reduction, and tempura-style Maryland soft-shell crab.
At last it's time for the entrée. Fortunately, the portions are not mammoth, but are substantial enough that -- fair warning -- you may be hauling home a box or two (but trust me, you don't want to leave it behind). Currently, the wild Alaskan Snow Pass Coho salmon is at the peak of the season, along with the wild Alaskan halibut. Get them while it's hot. The salmon is served in a rich, dark and addictive pinot noir reduction with black cherries that might have you asking for a spoon. The fish is grilled over an open flame, adding to its ruddy complexion, and enhancing it with a smokiness and robustness.
The halibut is meaty and flaky, with a buttery taste. It pairs perfectly with the grilled cous cous, which is mixed with spinach, green onion, mushrooms and a mouth-watering truffle oil (oh, and a good Chardonnay, of which there are about 20 bottles to choose from, ranging from about $40 to $130).

Other seasonal fish options currently available include Idaho Rainbow trout, wild California striped seabass, wild Phillipine yellowfin tuna, wild Pacific Chilean seabass, wild Ecuadorian mahi mahi, Fijian albacore, and more.
Live Maine lobsters are also an option, right out of the tank, and can be clam-baked for an additional $7. And, of course, there's more shellfish on the menu, served in a variety of ways. And for the carnivore, a surf & turf option, including filet mignon and prime ribeye, even grilled chicken breast. Additionally, there's a handful of pastas, highlighted perhaps by the Manila clam linguini, with white wine and garlic butter.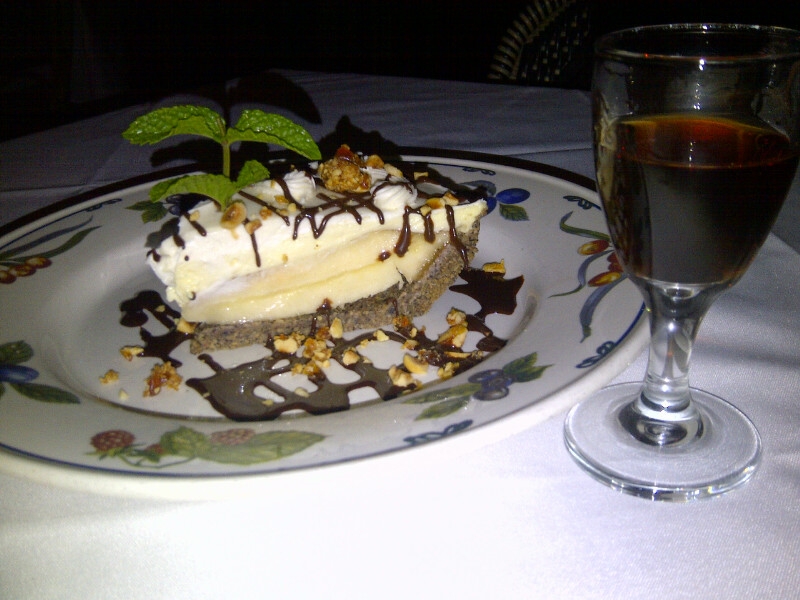 The banana cream pie pairs nicely with a glass of 20-year-old tawny port. (Photo by Scott Bridges)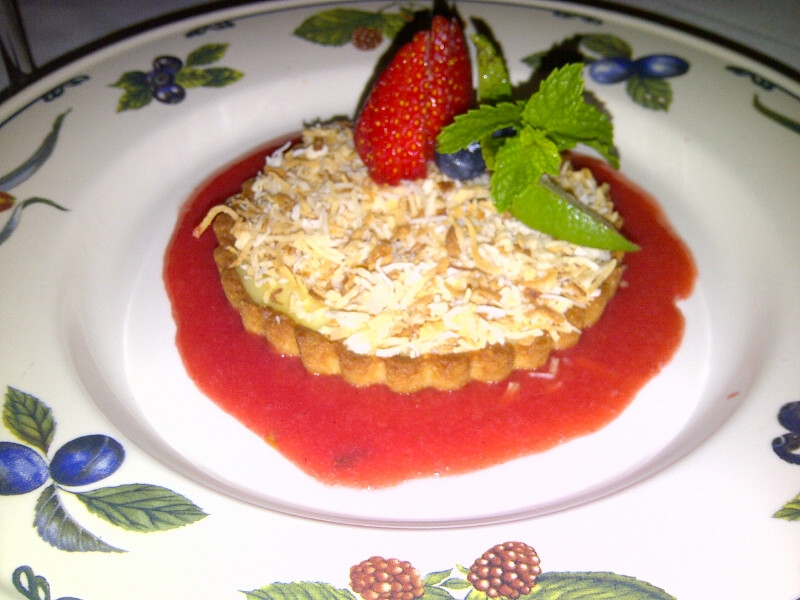 The strawberry margarita sauce adds color and sweetness to the key lime and coconut tart. (Photo by Scott Bridges)
You might think you're finished; that you'll grab dessert elsewhere -- and I confess, I thought that myself. You'd be wrong. Not only should you not skip dessert, you should not go off menu. The pairings with after-dinner drinks are there with good reason, and I was surprised by to discover it. I'm not a banana cream pie man, but this is no ordinary BCP (if I may adopt a little shorthand). Imagine bananas in banana custard with a graham cracker crust, topped with hazelnuts and drizzled with chocolate. Nope, words just don't do it justice. Add a glass of Cockburn's 20-year tawny port, and you've got something special.
The key lime and coconut tart with strawberry margarita sauce is another winner, though I can't put it on the same level. The pastry tart simply overwhelms the tart of the lime. The crust is not soft and flaky enough to fall apart at the edge of a fork without a little muscle behind it. Still, the dish comes alive when enjoyed alongside the recommended Inniskilin gold oak, aged ice wine, which , by the way, you won't find on the dessert drinks menu. The ice wine is very sweet but complex from start to finish. The bouquet hints at something entirely different than your palate will encounter, leading you to believe that your nose and your mouth aren't working in conjunction -- delightful, and it plays harmoniously with the tart.
Just writing about Ocean Avenue Seafood has whet my appetite. If reading about it has done the same for you, keep in mind that general manager Brett Reed has put together a charming and highly knowledgeable staff that makes dining in a romantic venue across the street from the Pacific -- if it weren't a pleasure enough already -- an even more extraordinary occasion... and a cool way to beat the summer heat.