Mark your calendar now for May 31. That's the launch date of Palm Springs Restaurant Week (a misnomer, not only because it includes the surrounding cities of La Quinta, Rancho Mirage, Palm Desert, Cathedral City and Indian Wells, but also in that it runs through June 16, still, it has a better ring than Restaurant Two and a Half Weeks).
With several dozen restaurants and local businesses getting involved, it would take too long to list the participants (especially when that list can easily be found here.)
Instead, I'd like to shed some light on a few of the highlights of the experience, which I recently had the pleasure of checking out. So, in no particular order, here are a few ideas to help you plan out your trip.
Modern American comfort food is superbly represented by the husband-and-wife team of Tom Steferak and Bonnie Barkley. The duo will offer a $26 prix fixe menu featuring choice a wide array of choices. Among the entrées is the signature limoncello pasta: Buccatini pasta with a sauce of limoncello, olive oil and fresh-squeezed lemon juice, topped with a generous helping of bay shrimp.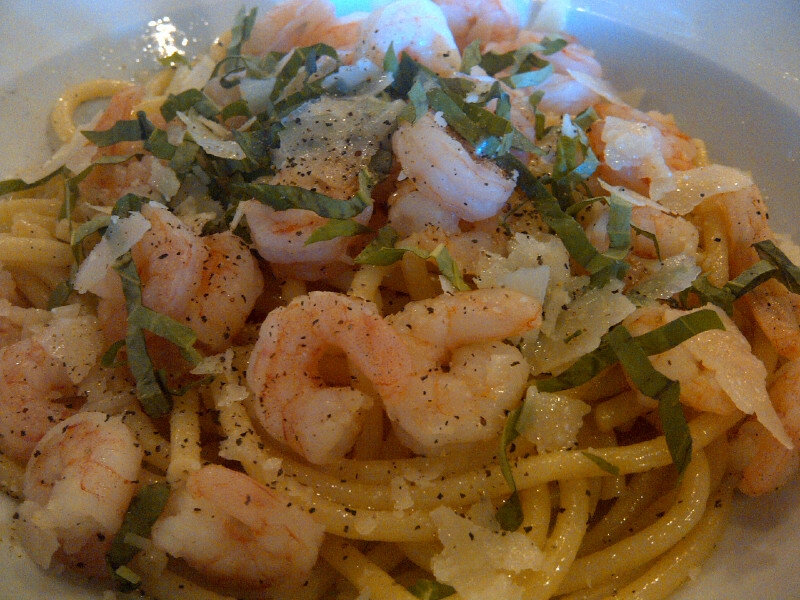 Cello's Limoncello Pasta Pairs Perfectly with a Cold Cello Drop. (Photo by Scott Bridges)
And don't miss out on the house specialty, the Cello Drop. The beverage calls for an ounce and half of citrus vodka, one ounce of lemon Torani and a half-ounce of lemon juice, shaken and poured into a martini glass coated with Tommy Cello's small-batch limoncello (153-proof Diesel liquor, with 30 days of absorption of the oils of Eureka or Lisbon lemons, combined with a homemade simple syrup of equal parts sugar and water), which is floated on the top and garnished with a lemon.
The $38 prix fixe at Catalan is money well spent. Spanish and Italian influences abound at chef/owner Drew Davis' farm-to-table eatery. If you're looking for good tapas and unique cocktails, look no further. My favorite tapas are the goat cheese-stuffed piquillo peppers and the chili-and-cilantro honey Jidori chicken wings. Beware, both are highly addictive.
There are several cocktails worth trying, but my favorite is the house-made pineapple-infused vodka. It's served on the rocks with a twist and fresh mint.
The most exciting tapas in town are at Catalan. (Photo by Scott Bridges)
And if it's cool enough out, enjoy the night air while dining on the central patio.
After a decade of success, Babe's is as strong as ever. The vision of Don Callender, co-founder of the Marie Callender's chain, Babe's offers a $26 prix fixe for Restaurant Week.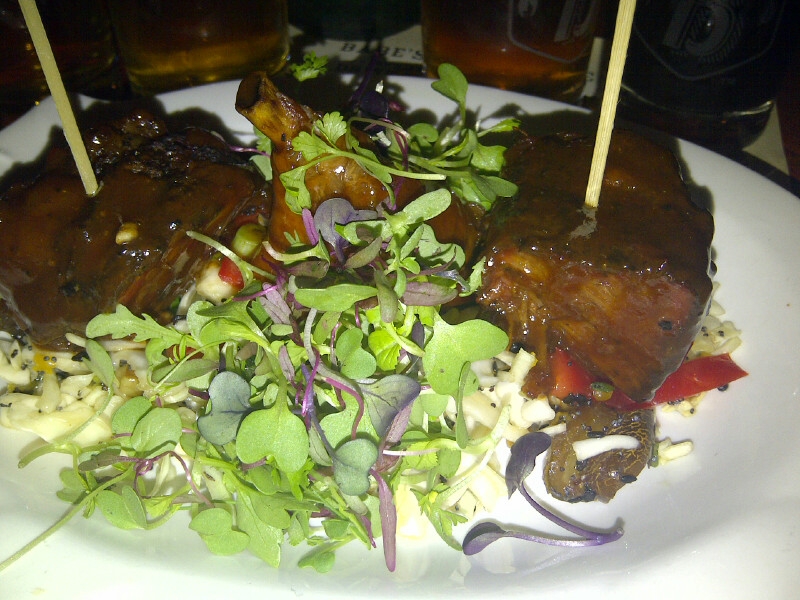 Great barbecue and award-winning beer are in store for you at Babe's. (Photo by Scott Bridges)
If hickory-smoked meats and award-winning craft beers are your thing, Babe's fits the bill. From fried green beans to braised short ribs, this is the place to find the most decadent Southern-influenced comfort food in the valley.
For a mere $38, you can enjoy a sampling of one of the most beloved surf-n-turfs in the West. Steaks are cooked quickly in a 1,500-degree Montague oven.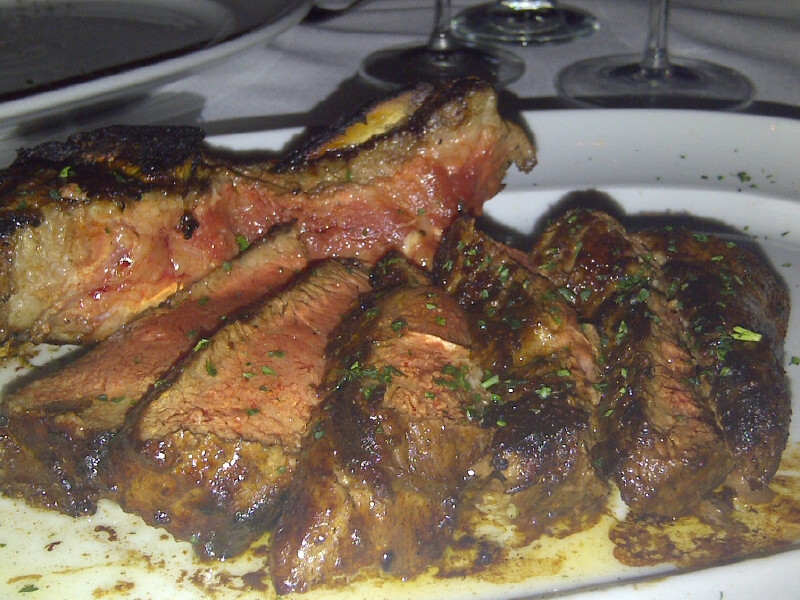 Mastro's Steakhouse will satisfy your carnivorous desires. (Photo by Scott Bridges)
Enough ink has been shed on Mastro's that I'm probably not going to write anything that you don't already know. I'll simply say that one thing to look for on the menu is the signature lobster mashed potatoes. Meanwhile, if we're being honest, there's really no way to misfire on any meat or seafood selection.
You'll find one of the best patios in town, overlooking the golf course, at Rancho Las Palmas. The hotel's restaurant, bluEmber, was recently named "Best of the Best in Outdoor Dining" by Palm Springs Life magazine.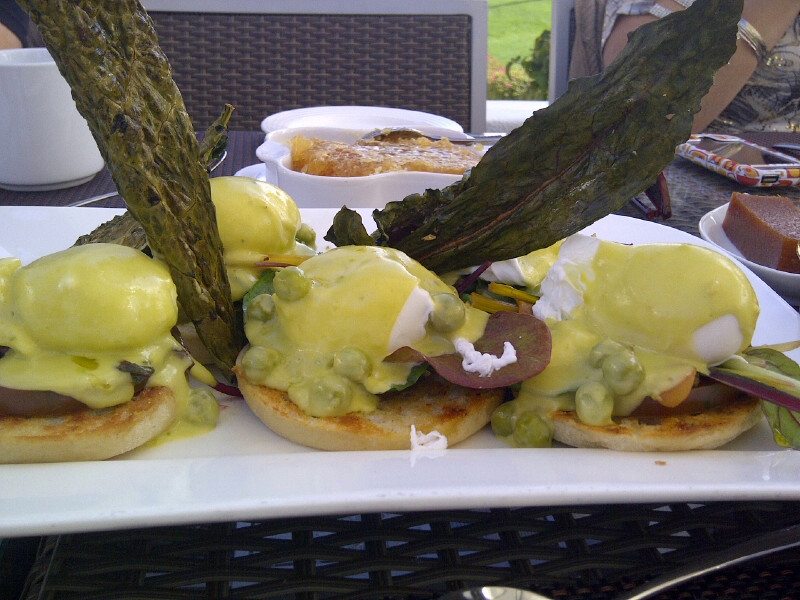 bluEmber showcases patio dining and the amenities of Rancho Las Palmas. (Photo by Scott Bridges)
The $38 prix fixe features a contemporary take on classic California cuisine. The breakfast spread is a best bet, with updates on items, such as an eggs Benedict with early spring peas Hollandaise and Temecula Valley Swiss chard.
For a taste of the French countryside in Palm Desert, head to Cuistot for Chef Bernard Dervieux's three-course prix fixe, priced at $38. Among other prestigious stints, Dervieux, served as the former executive chef of the Beverly Hills Hotel for several years.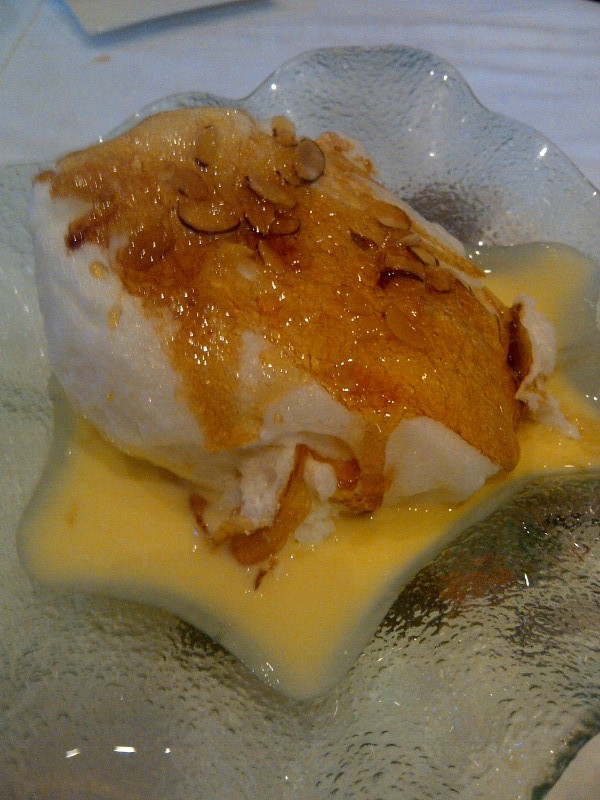 The Floating Island dessert at Cuistot is nothing short of amazing. (Photo by Scott Bridges)
The restaurant is one of the most beautiful in the valley, designed like a large rustic farmhouse, with wood beams, stone walls and fireplace.
The wine list is impressive, showcasing fine selections by the glass and bottle. Meanwhile, the menu creates one dilemma after another, with no wrong answer.
One of the most exciting new restaurants can be found in a most unlikely space in Cathedral City. The nondescript strip mall location conceals the innovative creations of reformed lawyer, Chef Joane Garcia-Colson, whose deconstructed delights are the talk of the town.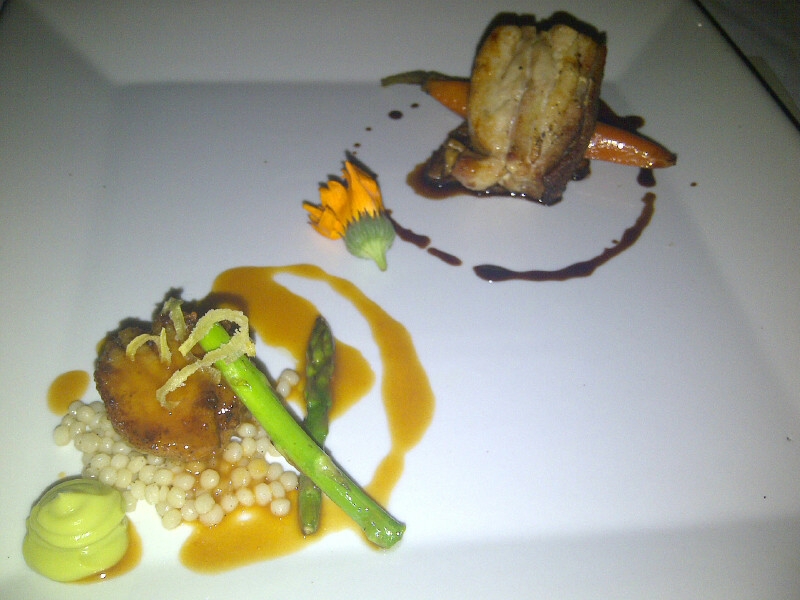 Dish's Joane Garcia-Colson is one of the most creative chefs in the valley. (Photo by Scott Bridges)
The house-made meatball of beef tenderloin in a port glaze is as original as anything you're likely to find under the desert sun.
The space can politely be referred to as "intimate," but to speak plainly, there are nine tables, so be sure to reserve one. Dish will offer a Restaurant Week special for $38.
Be sure not to overlook that most important meal of the day during your stay in Palm Springs. One of the better breakfasts you'll find is at Lantana, within the Hyatt Regency Indian Wells Resort & Spa.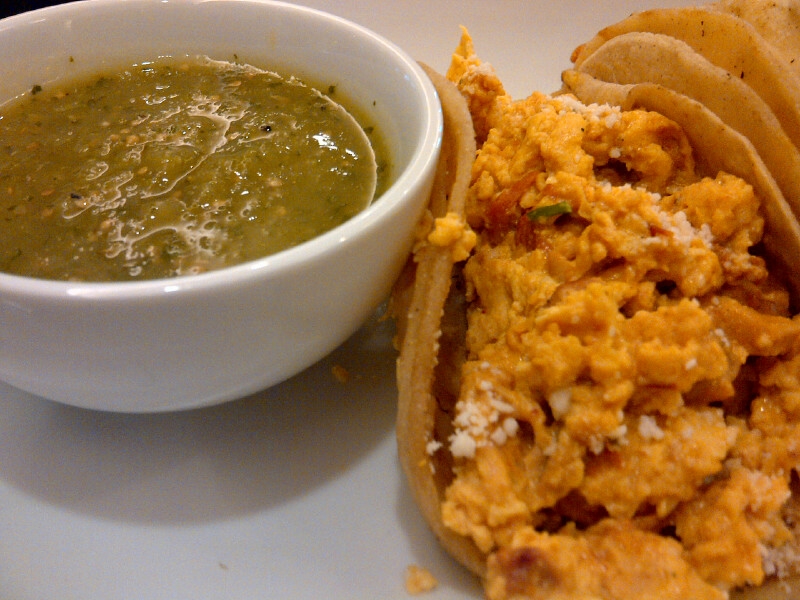 Chef Chis Mitchum's Indio Street Tacos at Lantana. (Photo by Scott Bridges)
In addition to the regular favorites, Executive Chef Chris Mitchum offers simple but creative dishes like Indio Street Tacos, made with scrambled eggs, achiote chicken, cilantro, Cotija cheese and tomatillo salsa.
The chef, who grew up on a farm in rural Missouri, describes himself as "old school," and sources his produce at the local farmers market.
One of the most interesting of all participants in Restaurant Week is ShareKitchen, where local chefs, caterers and specialty food product developers will create a memorable a three-course a la carte patio-to-table menu of fresh herbs, fruits and vegetables grown in the Organic Patio Container Garden.
ShareKitchen is a nonprofit incubator program for aspiring stars in the food world, offering a space to work and lessons on the business side. The building is subsidized by the city of Palm Springs, and thus far, 13 business licenses have been granted.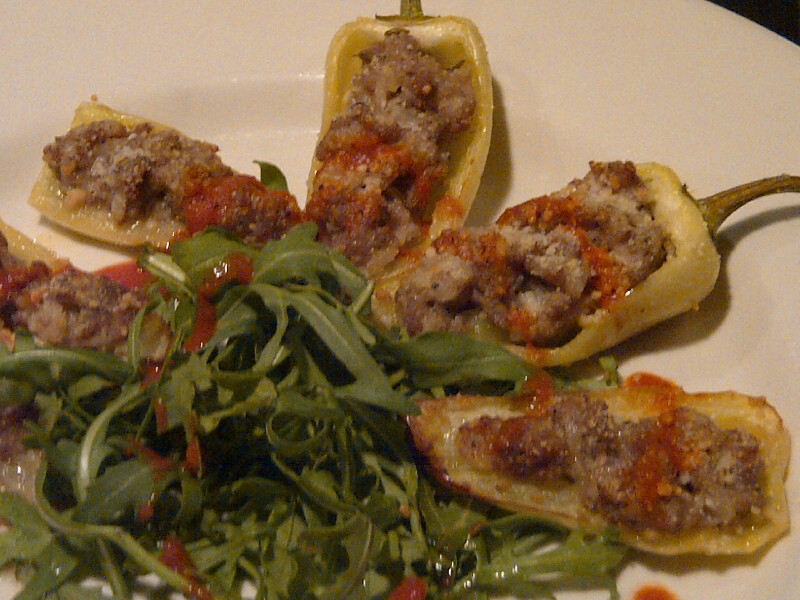 ShareKitchen will feature an eclectic spread during Restaurant Week. (Photo by Scott Bridges)
Chefs like Ana D'Alba will offer truly homemade dishes that you'll find nowhere else. D'Alba got serious in the kitchen after coming to America and developing food allergies. She prepares everything from scratch. You'll also get a taste of Kalayra Angelyys's (The Food Angel) Snacker Cracker, which comes in four tasty varieties.
This may be one of the better values during restaurant week, as there will be between three and nine, yes nine, courses offered. The menu has not been confirmed as of this writing, and will be influenced by what's in bloom come end of May.
In addition to great dining, there are some other ways to enjoy the desert in late spring. Golf and tennis are always in season, but if you're interested in seeing more of the natural environment, consider a Desert Adventures Jeep Tour, which provides guided tours along the San Andreas Fault, and where you'll explore pristine palm oases and learn about the forces that shaped the region and the natives who inhabited it.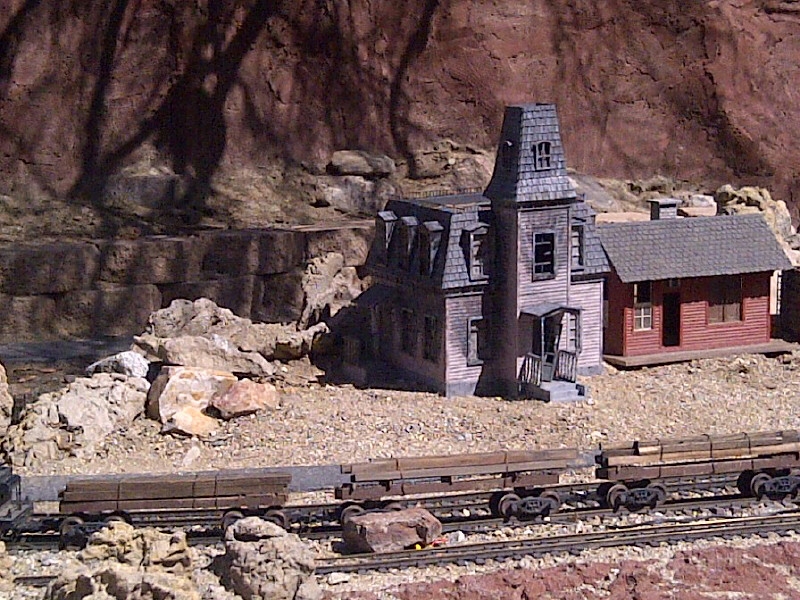 Bates Motel is just one of the sights to see at The Living Zoo. (Photo by Scott Bridges)
Another idea is The Living Desert Tour, a 1,200-acre zoo with more than 500 animals from Africa and North America, hiking trails, guided tours and the most impressive G scale model train that I've ever seen.
And to top it all off, consider an olive oil tasting or a wine tasting in Old Town La Quinta. To sample a vast array of olive oils and balsamic vinegars, check out La Quinta Olive Oil Company. And for wine lovers, The Wine Bar at Old Town has more than 300 wines from around the world, including about three dozen by the glass. The wine store offers Saturday afternoon tastings and also features a restaurant on site and live music on weekends.
So bring your sunscreen and your appetite because Palm Springs Restaurant Week is one hot ticket.