There are certain cultures renowned for their hospitality. For example, we speak of "Southern hospitality," whereas there I've personally never heard anyone speak of "California" or even more broadly, "West Coast hospitality." Internationally, there is another place and people famous for their tradition of being hospitable: Italy.
Probably every Italian-born restaurateur I've encountered has demonstrated such kindness and generosity, stopping just short of adopting me. Their restaurants are merely an extension of their own home kitchens in a different space. Emblematic of that familial spirit is Portofino Cucina Italiana, the kitchen of Naples-born Executive Chef/owner Diego Ortoli and his lovely wife, Atsuko.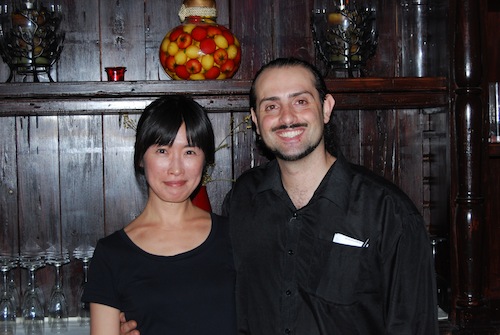 Atsuko and Diego -- your guides through culinary Italy.
(Photo courtesy of Portofino Cucina Italiana)
Located at Fifth and Main streets, in the former Café Bermuda space a few blocks south of City Hall, Ortoli's restaurant is a microcosm of the neighborhood itself, combining tradition and authenticity with modern and creative inspirations. "L.A. Downtown News" nominated Portofino as the Best New Restaurant, Best Italian Restaurant and Best Mid-Range Restaurant of 2011.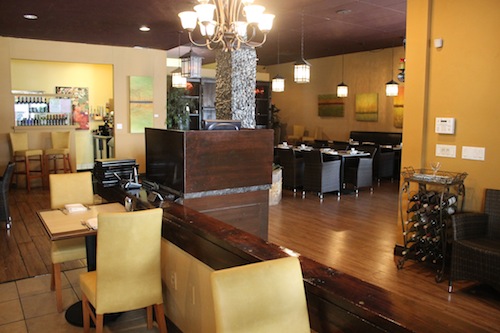 The dining room is an open space that creates great energy
.
(Photo courtesy of Portofino Cucina Italiana)
How many places do you know are open for lunch and dinner, offer free WiFi, have a gluten-free menu (with about a dozen options) and are dog-friendly? Well, now you know one. In addition, Portofino offers delivery, take-out and catering -- parties, weddings and other events.
Of particular interest to locals and people doing business in the area are the $7.99 lunch specials. Options include a couple of soups and a couple of salads, four incredible panini sandwiches served with salads, five pasta dishes also with salads, and a pair of chicken entrées. And for a little more, you can get the meatballs and salad, or the roasted Atlantic salmon.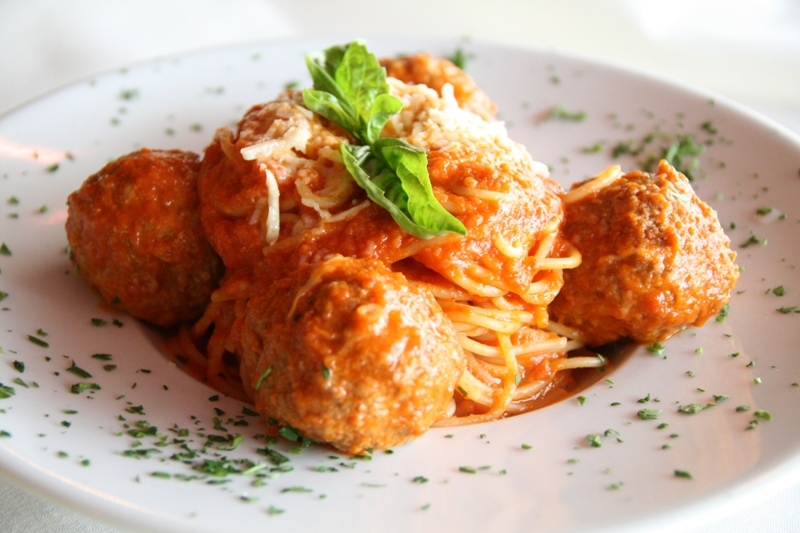 The Spaghetti con Polpette is as good as it looks.
(Photo courtesy of Portofino Cucina Italiana)
The dinner menu is highlighted by a variety of pastas -- Penne al Pesto, Penne alla Normanna, Gnochi Portofino, Fusilli alla Giudea and homemade lasagna, to name but a few. The pasta is the showcase, and I highly recommend coming as a group and sampling the various dishes.
The entrees offer less choice, but no less an authentic Italian experience. Of the four entrees, there are two chicken dishes, one beef and one fish option (Pollo alla Piccata, Pollo alla Marsala, Filetti al Pepe Verde, and Salmone Ripieno al Pesto, respectively). In essence, there's something here for everyone. And while everything on the menu is reasonable for any budget, the steak is the only item over $20.
The Tiramisu is as good as you'll find in this area.
(Photo courtesy of Portofino Cucina Italiana)
The desserts are a must-do. Consider the tiramisu or the affogato al caffe for authenticity's sake.
Portofino also offers a fine selection of house-brewed espresso beverages, both hot and cold, and as well as teas, and strawberry lemonade.
But the showpiece is the wine list. The list is a tour of Italy by region, with tasting notes on each, and many by-the-glass options. Should you choose to bring in your own special bottle, keep in mind there is a $15 corkage fee. But unless it's a special occasion bottle, you're better off sticking to Ortoli's well-stocked cellar.
Benvenuto!