In terms of setting, there are not many restaurants that can compete with Ray's and Stark Bar. Residing in the center of the Los Angeles County Museum of Art, Ray's and Stark Bar is fine dining amidst fine art, but with a casual vibe.
Museums are not known for their dining. Most feature an overpriced cafeteria with plastic silverware and furniture. Ray's and Stark Bar is not a museum restaurant; it's a restaurant that happens to be located at a museum. And it's a destination in itself. Esquire magazine named it "One of the best restaurants of 2011."
The glass structure is itself a work of art, with indoor and outdoor dining. Centrally positioned, the umbrella-covered patio attracts cool breezes, making it an ideal way to beat the summer heat. But if you want to take it one step further, grab a cold drink at adjacently set Stark Bar. The fully stocked outdoor bar is the perfect spot to bring a date or meet with friends. And the cocktails are as modern as anything else you'll find at LACMA. Mixologist Paul Sanguinetti makes use of a variety of herbs from the garden, right behind the restaurant.
Set in the middle of town, with the museum, the open space and the bar, you've got an ideal setting for a restaurant. But how's the food? Here's the thing: If Ray's and Stark Bar were located in a strip mall on the outskirts of the county, it would still be destination dining. This is a foodie's paradise.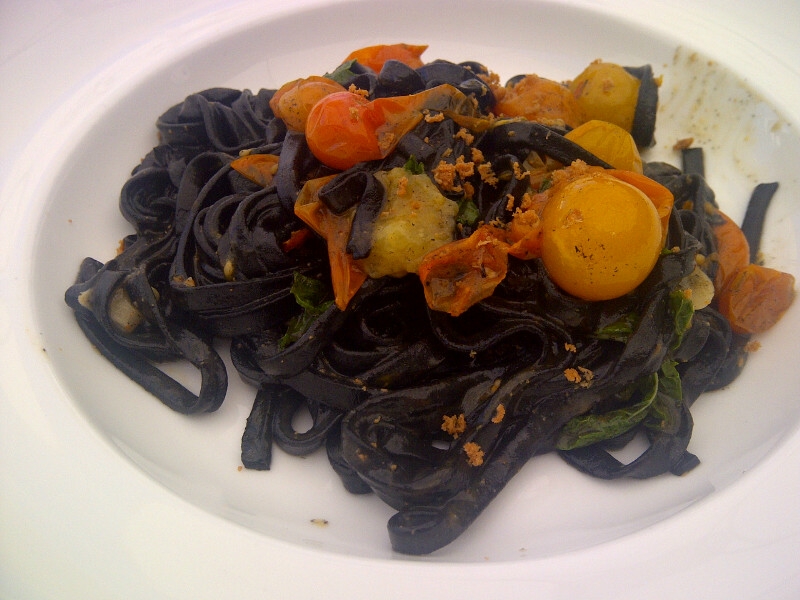 The tuna bottaraga is cutting-edge cuisine. (Photo by Scott Bridges)
Executive Chef Kris Morningstar has crafted a menu that features unique dishes, incorporating fresh herbs from the garden. There's a signature appetizer I'll recommend: the wood-roasted chile, with chorizo, dates, goat cheese and almond sauce. It's not too spicy, if you're worried about that, and it's a complex blend of flavors. Another signature dish is the tuna bottaraga. This squid-ink pasta is like nothing else you've been eating. Look for it to be duplicated in kitchens all over town.
Pastry Chef Josh Graves bakes fresh homemade bread and creates incredible desserts. Try the peaches -- it's a cobbler-style dish served in a small iron skillet. It's colorful and complex -- it's to the taste buds what a Jackson Pollock is to the eyes.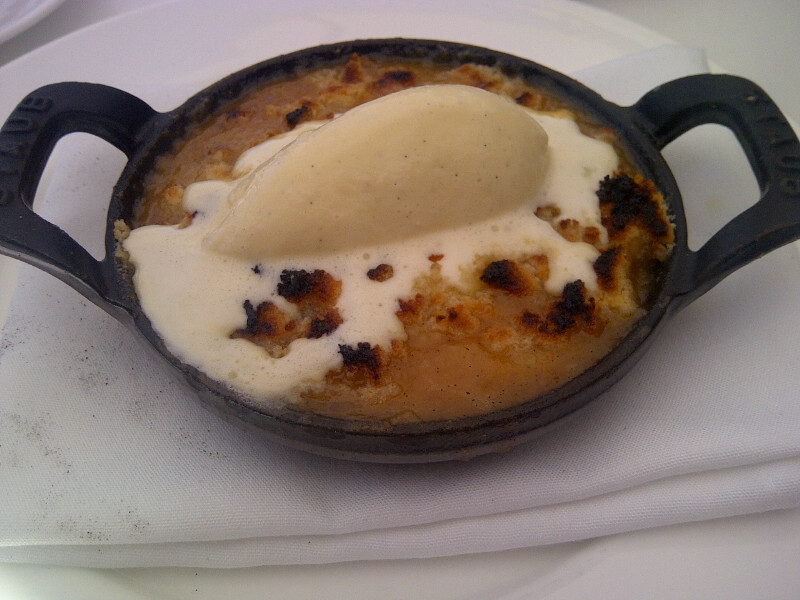 Peaches. This dessert is skillet-licking good. (Photo by Scott Bridges)
The newest addition to the museum complex is Coffee and Milk, a coffeehouse that will feature Graves' fresh breads and pastries.
Another exciting feature is the "Curate" series, which will feature a four-course meal to pair with an art exhibit. The event was successfully launched in January with a Parisian salon theme. The bi-monthly series will be hosted by Maite Gomez-Rejon of Art Bites, and will feature the work of Caravaggio in November. Get your tickets early, the event will be held twice and there's only room for about 20 or so people each night.
If parking is an issue in deciding where to eat, as it is for most Angelenos, fear not: LACMA has subterranean parking, and elevators that bring you right up to the restaurant. Furthermore, it's location in the Mid-City district, on Wilshire Boulevard just east of Fairfax, makes it easily accessible by public transportation.