Top Chef Masters winner and James Beard Award-winner Rick Bayless deserves credit for his role in reinventing Mexican food in America with his PBS series Mexico -- One Plate at a Time and his Beard-nominated Mexican Everyday. He has been honored as Midwest Chef of the Year, National Chef of the Year and Humanitarian of the Year.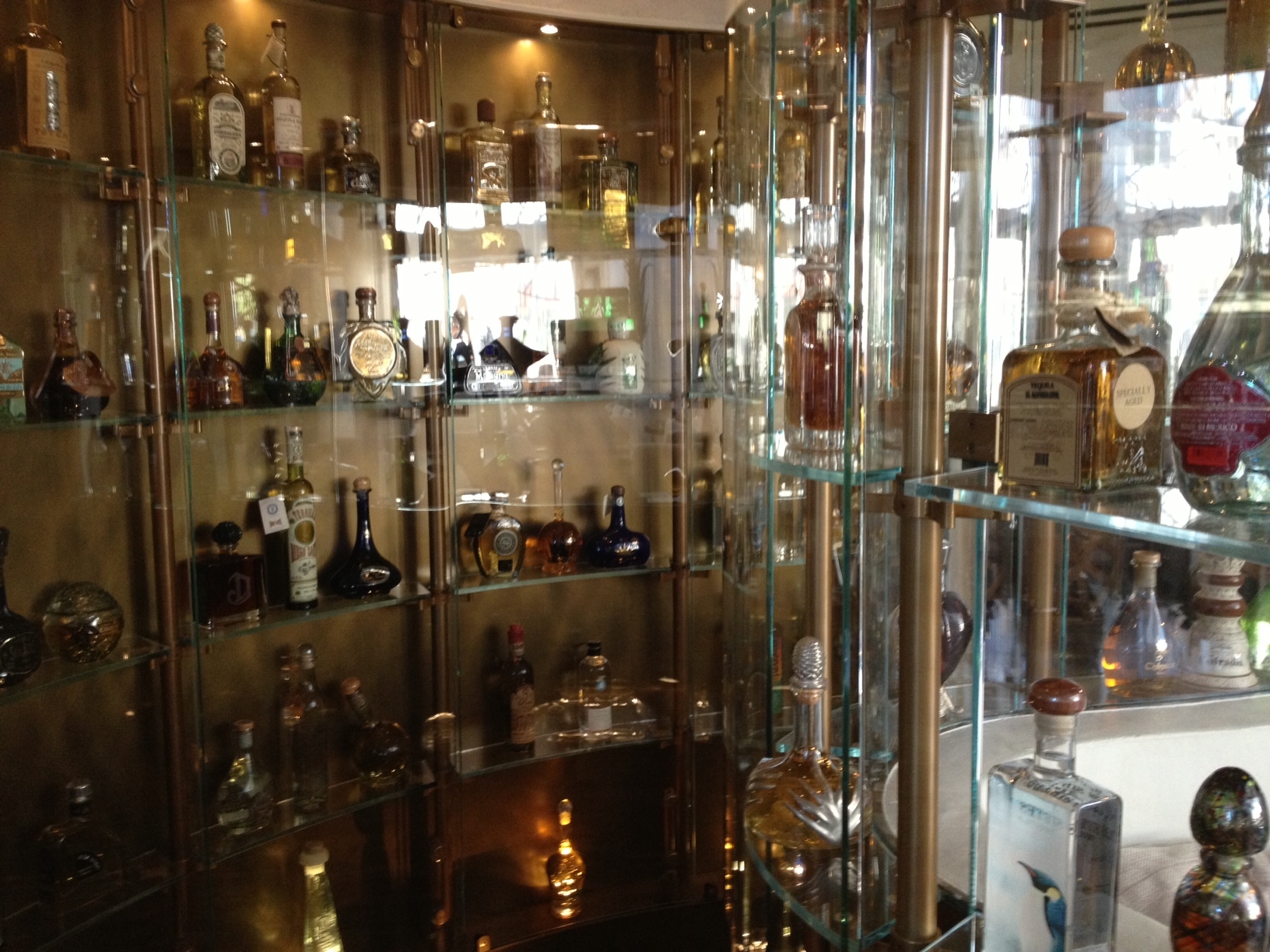 The tequila tunnel at Red O. (Photo by Scott Bridges)
His Red O on trendy Melrose Avenue in L.A. opened a few years back and changed the landscape of Mexican cuisine in the city. The menu is a composite of authentic Mexican dishes and a California-esque take on them.
Recently, Bayless unveiled a handful of new street tacos reminiscent of the Tijuana street scene. Executive chef Efren Cardenas turns the recipes into mini-masterpieces. They are composed of only the highest-quality ingredients: Fish tacos feature Branzino; shredded chicken tacos are made with Tinga sauce, micro kale, lime juice and avocado puree; three-hour braised pork belly and slow-cooked beef tongue street tacos are also on the menu.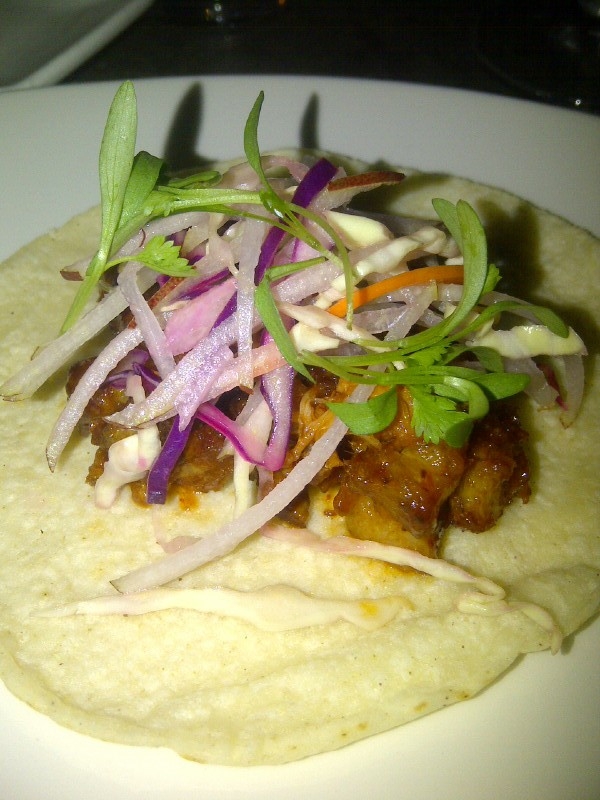 Braised pork belly street tacos. (Photo by Scott Bridges)
But the central component of the menu is the "Mexico's Celebrated Seven," featuring the chef's signature Pollo en Mole Poblano (Mary's young chicken grilled and served with house-made poblano pepper, black beans and watercress salad); and the Cochinita Pibil ( achiote-marinated Niman Ranch suckling pig, slow-cooked in banana leaves, served with black beans, pickled red onions, roasted habanero salsa).
The gorgeous space is highlighted by a tunnel of tequila. And few bottles match tequila for sheer beauty. But there's more to the bar program than just tequila or the ubiquitous margarita. There is a margarita here, however, that Bayless described as "a game-changer." The Steve Calabro-designed crystal-clear Casablanca Margarita was designed to resemble a martini, and but for a half-salted rim and a small chunk of lime doubling as an olive, does a pretty good job.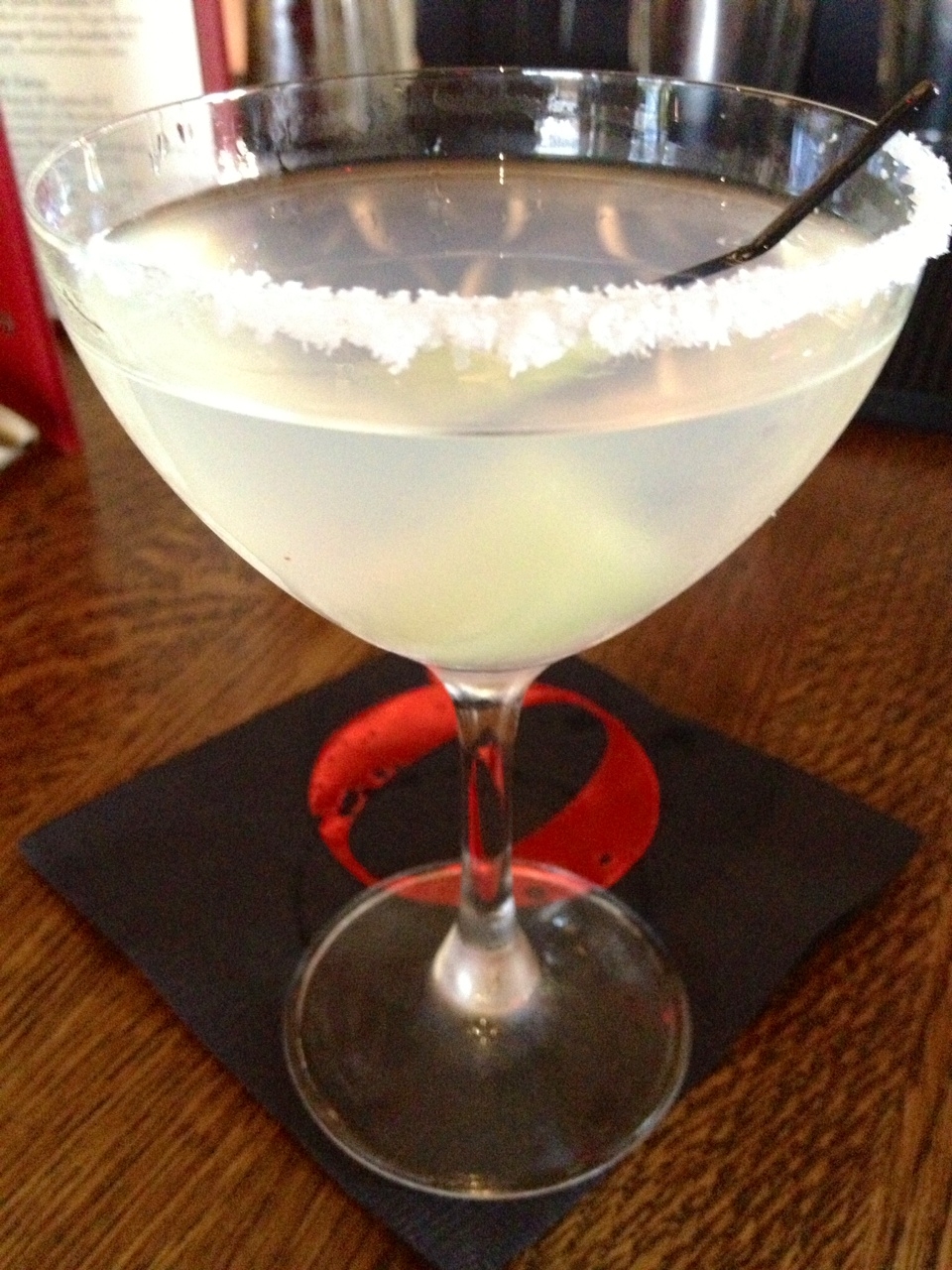 The game-changing Casablanca Margarita. (Photo by Scott Bridges)
Meanwhile, the Alma de Agave ("Soul of the agave") is a monument to mescal. Despite its two shots of the smoky spirit, the cocktail is so well-balanced with passion fruit as to remove some of the smoky flavor of the spirit. And the Cuba Libre -- with sugar cane-rich Mexican Coke and sliced Key limes -- is a perfect beverage for this summer heat.