The old-fashioned notion of a vacation as two weeks of summer spent lying under a beach umbrella after countless hours on the road or at the airport is as outdated as the idea of working 40 years for a single employer and retiring on a pension that was still there at the end.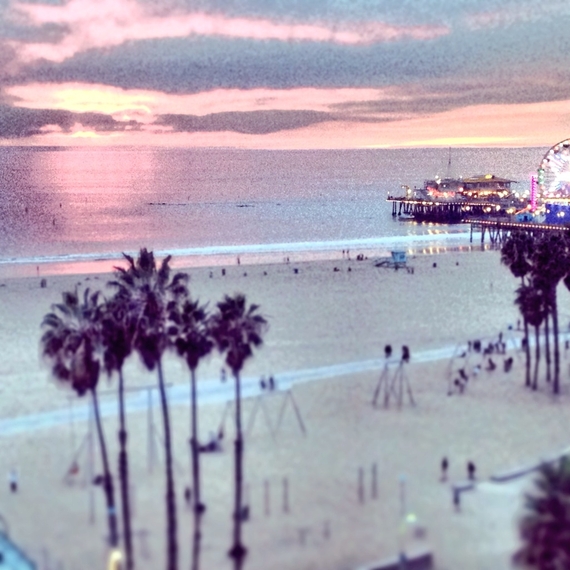 View of the pier from the eighth floor of the Loews Santa Monica. (Photo by Scott Bridges)
Los Angeles is a destination for tourists from around the world, so why not enjoy a mini-vacation in your own back yard and during the off-season, after the crowds have left and the rooms are cheaper?
One of my favorite spots to "staycation" is Santa Monica, where this December, I spent consecutive weekends enjoying a few of my favorite activities and discovering a few new ones.
I began my getaway from L.A. by heading down to the end of Wilshire, to the Fairmont Miramar Hotel & Bungalows. In the Historic Palisades wing, I luxuriated in nearly 800 square feet of a Lynda Murray-designed room overlooking the pool, Palisades Park and the Pacific beyond. The suite featured hardwood flooring and elegant dimming lights, along with enormous bathrooms and a large wet bar. There are also bi-level room in the Bungalows, ideally suited to families, offering separate bedrooms, a kitchen and even a sauna, in the Miramar Gardens.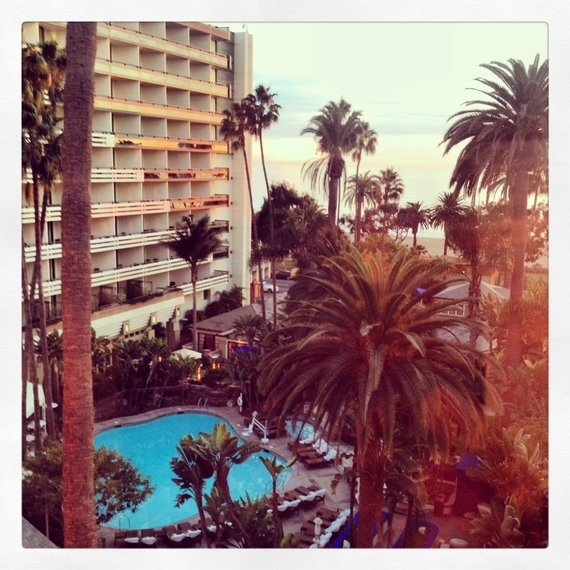 The Fairmont Miramar Hotel & Bungalows. (Photo by Scott Bridges)
One of the highlights of staying at the Fairmont Miramar is dining at FIG, where Chef Ray Garcia showcases his farm-to-table cuisine. The menu changes daily based on the ingredients the chef acquires at the farmers market, literally, across the street.
Not only is FIG one of the best hotel restaurants in L.A., it's one of the best restaurants -- period. After bursting onto the scene in 2009, Garcia (a local product, himself), remains one of the city's most creative chefs. Your best bet: the Feed Me! option, in which the chef chooses off-menu items for the adventurous palate.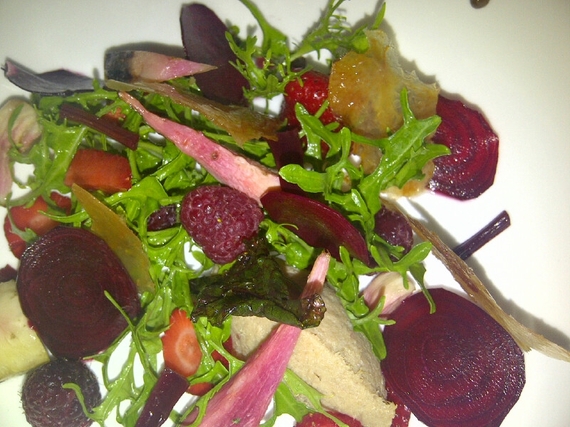 Beets, as prepared by Chef Ray Garcia at FIG. (Photo by Scott Bridges)
Early the following morning, I arrived at Pedal Or Not for an electric bike tour along the beach. These bikes reach speeds upwards of 20 mph, so dress in layers. The tour includes stops along the winding beach path at the pier, the Annenberg House, the Venice Canals and Muscle Beach, among others.
And whether you choose to pedal or not, you're likely to work up an appetite. I satiated mine with lunch at Next Door by Josie. Chef Josie Le Balch is a Santa Monica institution, creating farmers market-driven American cuisine.
Josie's snacks are out of this world. Her beer-and-bacon caramel corn and sweet-and-smoky potato chips will light up your taste buds. The Allen Brothers' grits, with molasses-glazed bacon and spicy shrimp, is one of the best small plates I've had this season. And her crispy fried chicken sandwich with buttermilk slaw and bread-and-butter pickle is like a gourmet version of Chick Fil-A (without the more than 100 ingredients).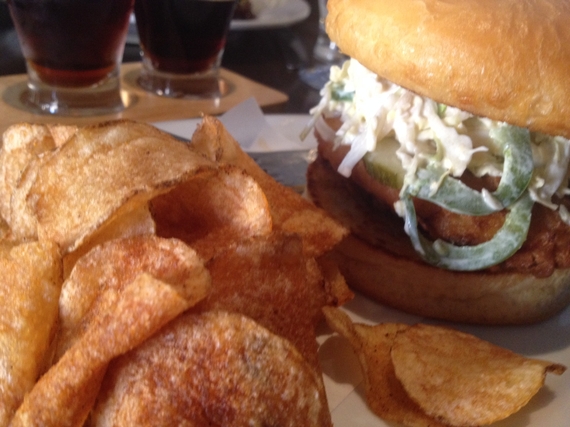 Josie's crispy fried chicken sandwich and sweet-and-smoky chips. (Photo by Scott Bridges)
The following day, I was ready to relax and unplug with some much-needed pampering at Alchemie Spa on Main Street. My always-aching feet were soaked and rubbed as I forgot every care in the world during a reflexology session. Afterward, I enjoyed a soothing facial with a line of nutritious organic products and learned a few tips about preventing my years from showing on my skin.
I made my way down to the pier for dinner at the newest eatery in town, Ristorante al Mare, from the guys behind Third Street's Trastevere. The three-story casual-elegant seafood-driven Italian joint is a welcome departure from the touristy offerings here.
Executive Chef Giacomo Pettinari has traveled the world honing his craft, including the kitchen of Ferran Adrià at Michelin three-star El Bulli. The Italian-born chef makes his own pasta, bread and even butter, and creates authentic dishes as good as anything you'll find on Melrose, Abbot Kinney or Seventh Avenue. His Risotto all'Aragosta, with Italian risotto with lobster meat in a pink sauce is worth a trip from the Eastside in rush hour. But don't miss out on a delicate ravioli dish, either.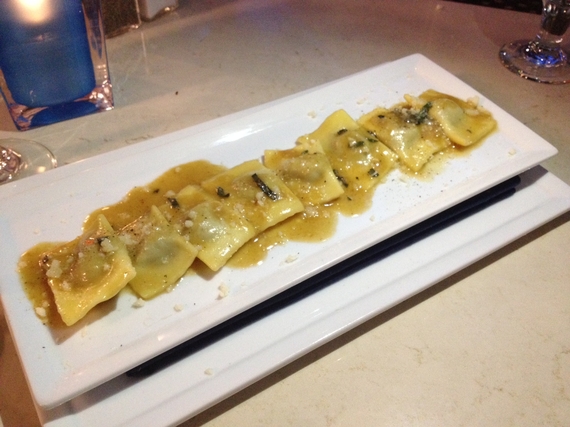 Chef Giacomo Petinnari's handmade pasta at Ristorante al Mare. (Photo by Scott Bridges)
On Monday, I returned home, where I went about my normal routine. But come Saturday, I was back on vacation, checking into the beach-adjacent Loews Hotel on Ocean Avenue.
The room included a balcony with a birds-eye view of the pier and the beach south of it, as well as a luxurious tub in which to unwind after the 15-minute journey. Loews is also the home of Ocean & Vine, a seafood-driven casual-elegant restaurant helmed by Executive Chef Keith Roberts.
This is surf n' turf at its most decadent. Every bite of the signature seafood chili is a revelation. And there's something for every palate and appetite, from sushi and fresh seafood items to brick oven pizza to farmers market salads to a 14-ounce Vintage Prime New York steak in the sauce of your choice.

Burrata and veggies from Chef Keith Roberts at Ocean & Vine. (Photo by Scott Bridges)
An afternoon of Christmas shopping on Third Street Promenade was followed by a drink at Zengo - an Asian-Latin American fusion joint with one of the most exciting cocktail lists on the Westside, including an incredible selection of rum, in addition to tequila.
The Richard Sandoval restaurant offers unrivaled views of the Promenade from atop one of the better rooftop dining hotspots in town.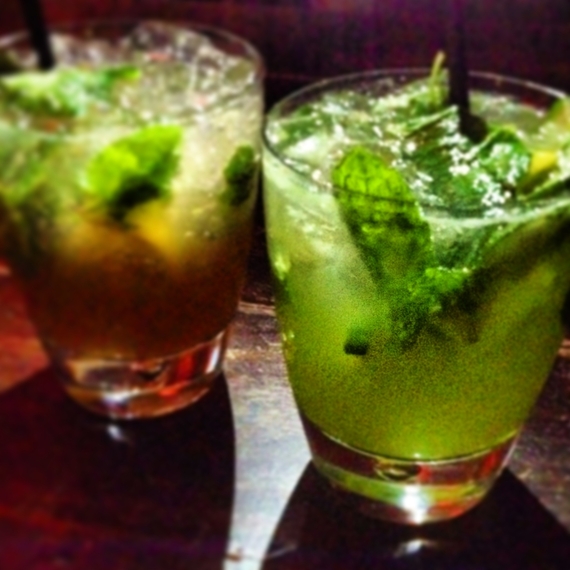 Mojitos in December? At Zengo, it's always rum time. (Photo by Scott Bridges)
At last, it was time for dinner on nearby Fourth Street, at Mercado -- quite possibly the seaside city's best authentic Mexican restaurant. The menu draws extensively from the roots of Executive Chef Jose Acevedos and co-owner Jesse Gomez.
A Mexican joint will always be judged by the first items on the table, and at Mercado, the chile de arbol salsa is spicy and hot; the guacamole thick chunks of Hass avocados, serrano chiles, spicy pepitas and red onions; and the choriqueso -- a blend of Parmesan, Cotija and Oaxacan cheeses atop house-made chorizo, mushrooms and finished with cilantro.
The entrées are equally impressive, including my favorite -- the signature carnitas, showcasing slow-cooked natural pork, guac, salsa and cauliflower with escabeche. Enjoy with a selection of more than 60 tequilas, as well as a variety of mescals, and a dozen cervezas, or a unique house cocktail.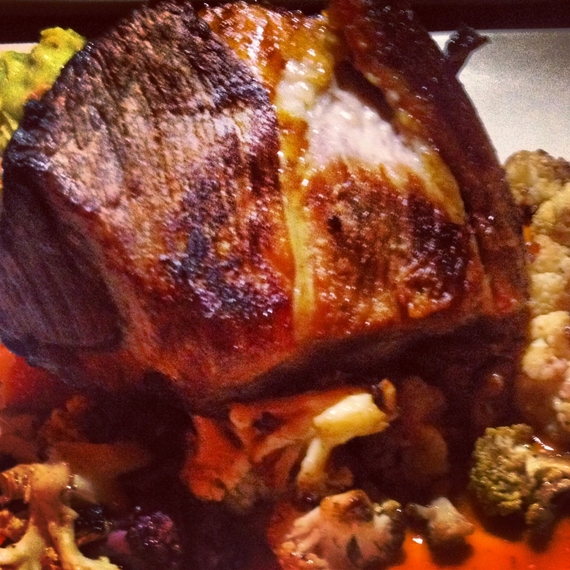 Chef Jose Acevedo's signature carnitas at Mercado. (Photo by Scott Bridges)
Keep your sanity and your bank account intact by taking a Santa Monica staycation for yourself. I'm already planning my next getaway. Stay tuned for details.