PARK CITY, UT -- There is no synergy quite like that created by the combination of food and film (wrote the L.A.-based food writer). And the best of both worlds were on display at this year's 2013 Sundance Film Festival.
As an intrepid journalist bent on unearthing the gritty details of the culinary experience at the annual high-altitude fete, I've come to the resort town resolved to report my findings. What follows is the fruit of my investigations -- a taste of Sundance.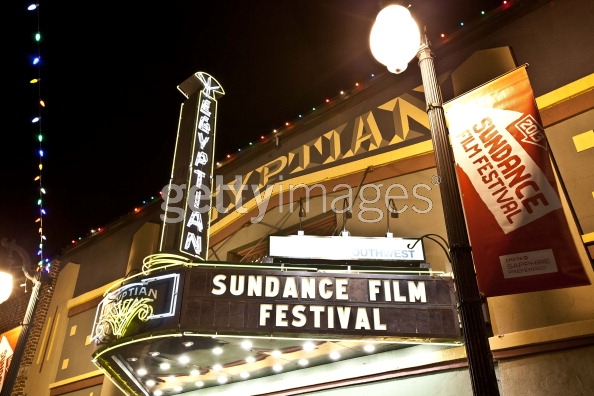 The Egyptian Theater on Main Street, Sundance 2013. (Photo by Ari Perilstein/Getty Images)
A discussion of the festival's food ultimately must begin with the acclaimed dinner series ChefDance, which this year celebrated a decade of dining. The 10th anniversary of the five-night event, presented by MorningStar Farms, continued its tradition of bringing the finest chefs to cook for fest-goers.
Night 1: Chef Whitney Miller, winner of Fox's Master Chef, helped launch this year's event on kick-off Friday by treating guests to a meal that included barbecued shrimp, followed by braised beef roast with whipped turnips, roasted baby carrots and cipollini onions, turnip green pesto and caramelized onion-red wine jus. A vegetarian MorningStar Farms Sausage option was also available (MorningStar Farms products were incorporated into each meal). The cocktail paring of the evening was a "Gimlet Take One," featuring Ketel One vodka, pressed celery, fresh Lime, sassafras and micro radish.

Night 2: Chef Shawn Armstrong of the nearby Deer Valley Montage took charge in the kitchen Saturday night, and prepared his beetroot macaroon, foie gras in a Pedro Ximenez sherry reduction; parsnip cream and crisp, sugar-cured pork belly, mushrooms, Oregon white truffle, micro chive, green onion oil, and MorningStar Farms "Chix" pea powder. The evening's cocktail was the "Femme Fatale," composed of Bulleit bourbon, smoked maple-chicory soda, and dried apple crisp.
Night 3: Javier Plascencia, chef/owner of Tijuana's Misión 19, donned the toque Sunday evening, and delighted diners with a menu that included roasted winter squash, MorningStar Farms meatballs, sous vide black cod. The cocktail pairing of night was the "Stage Kiss," showcasing Tequila Don Julio, pressed blood orange, date-agave preserve, cayenne and dry soda.
Night 4: Monday night, James Beard Award-winner and Iron Chef victor Shawn McClain (whose restaurant credits in Chicago and Las Vegas would require a paragraph of its own) treated the crowd to a salad of roasted winter veggies, chestnut soup and wild-caught sturgeon with pickled apples, juniper, rye and bacon from the event's sponsor. And to drink -- the "Blacklister," made with Zacapa 23 rum, black rice horchata, toasted almond, demerara, pressed lime and toasted coconut.
Night 5: Closing out the event was Top Chef runner-up, Chef Marcel Vigneron, whose resume includes stints with Joel Robuchon, Michel Mina, Ferran Adria and most recently with Jose Andres at The Bazaar. Vigneron's offerings included Hamachi crudo and black kale salad, followed by a main course that incorporated veggie bacon into a dish of braised bison short ribs with Brussels sprouts, apricot and pine nut apple sauce. "Skipped Beets" was the evening's cocktail, bringing together the flavors of Tanqueray gin, beet water, spearmint, pressed lemon, cracked black pepper, with striped beet.
Each night, McDonald's McCafé provided premium roast coffees with dessert. And this year, the event included a live nightly music series as well, thus blending culinary and film stars with those music, lighting up each night like the starlit skies above Park City.
In addition to ChefDance, there was great dining to be had in the city's brick-and-mortars. As part of my diligent research, I checked out some fan-favorites with the most buzz. I've included the best of which below.
Riverhorse on Main: Executive Chef Seth Adams has been serving up his modern take on American cuisine for 10 years. He changes his menu seasonally and strives to source his meat regionally.
Some of the best starters at the Main Street hot spot include foie gras, served torchon style or pan-seared on a slice of toast; buffalo tartare topped with egg yolk and served with toast, goat cheese and greens.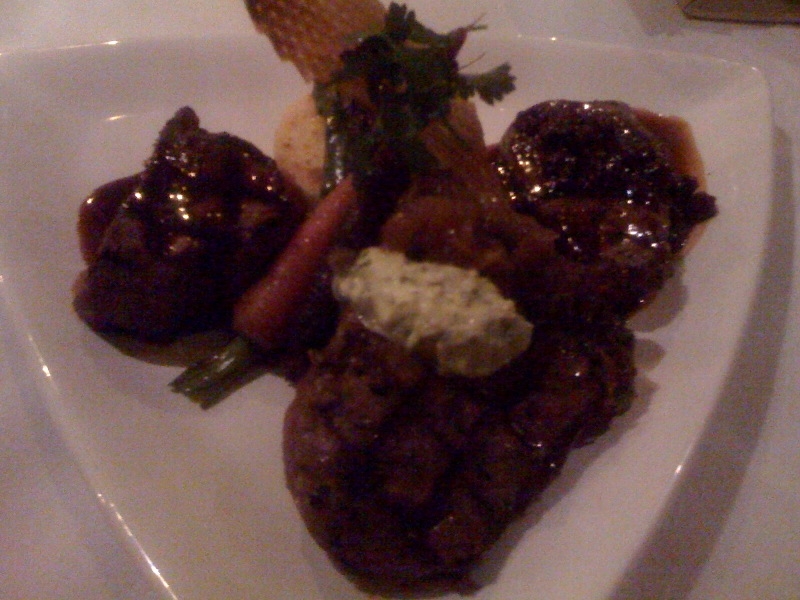 The Wild Game Trio at Riverhorse on Main. (Photo by Scott Bridges)
One of the best entrées I've had since coming to town is the Trio of Wild Game -- thick-cut buffalo, venison chop with herb butter and elk in huckleberry sauce. Another great dish (which was taken off the menu, but brought back by popular demand) is the foie gras-stuffed Mississippi quail with wild mushrooms and kale.
The restaurant is well-designed space, artfully decorated, with a vibrant energy. It's no wonder it has been hosting private parties almost every night.
Talisker on Main: Another downtown hot spot, Talisker on Main embraces locality and sustainability as its ideals, and preparing gastronomical dishes that would not be out of place on La Cienega or Melrose (with the possible exception of the torchon-style foie gras, which has been banned in L.A. for more than six months now).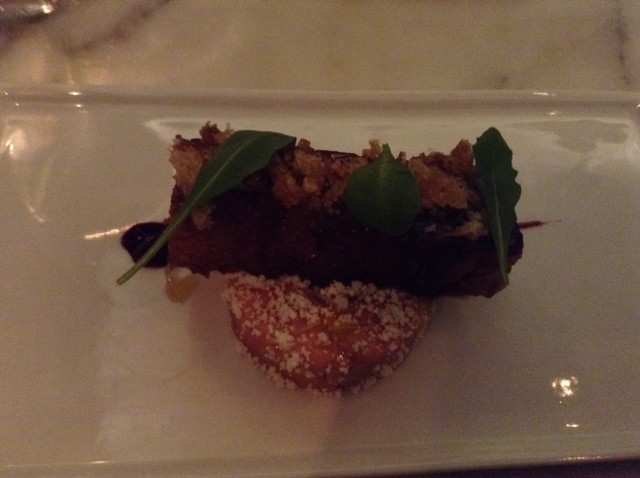 Talisker on Main's foie gras served torchon style. (Photo by Scott Bridges)
Executive Chef Briar Handly is as creative as they come, designing his menu each day around whatever fare that local farmers and ranchers have to offer. A microcosm of Handly's ingenuity is demonstrated in a dish entitled "turnip" at a recent tasting, which featured turnip, with smoked steelhead roe, horseradish, elderberry vinegar, ricotta whey, sunchoke, bacon, coconut, puffed rice, Périgord truffle, smoke and root vegetables -- possibly the best single bite I've tasted in the new year.
The Wine Room at Talisker is luxurious, featuring a pair of tables-for-two with oversized comfy chairs and one large booth. The arched ceiling is of brick and presides over dark wood-and-glass wine racks, displaying dozens of showcase bottles.
The Farm at Canyons Resort: Named the 2012 Best New Restaurant in Utah by Salt Lake magazine, the Farm is modern dining with a casual approach, and aptly set on the resort's ski beach.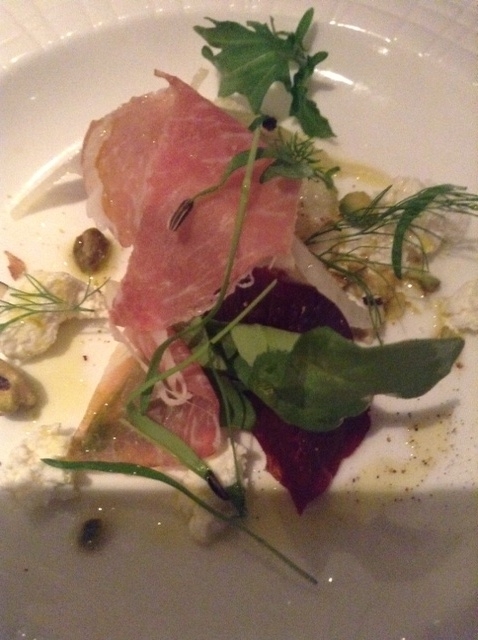 The Farm at Canyons Resort's beet salad. (Photo by Scott Bridges)
Chef de Cuisine Phil Grubisa's passion for artisanal charcuterie is showcased with such items as pork pate, head cheese, chicken rillettes, house-made mustards and pickled onions, among other delicacies.
Other bright spots on the menu include items on the entire menu is the roasted pork belly with Gold Creek parmesan, High Star greens and green apple; salt-roasted beets with pistachios, fennel, farm cheese and aged ham; Rainbow Trout with sweet potato fritter, sunchoke and greens, pumpkin seeds and apple cider; and roast squab stuffed with fennel sausage and served alongside fingerling potatoes, mushroom conserva and parsley.
The wine list includes some hard-to-find gems. The wine program is headed up by Sean Marron (who also handles Talisker on Main's wines), a sommelier who specializes in locating regional wines, as well as "discovery" wines from exotic, foreign vineyards.
Slopes at Waldorf Astoria Park City: Candlelight, white linens, leather chairs, velvet curtains, fireplace - it's as elegant as dining gets, and with Executive Chef Clement Gelas infusing local fare with a French twist, it's no wonder Slopes has been named America's hottest hotel restaurant in 2012 by Travel & Leisure.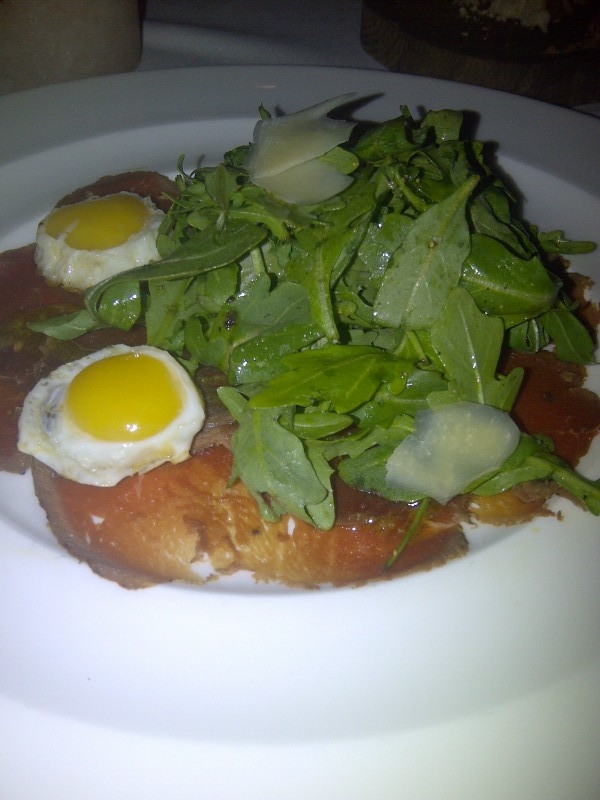 The Elk Carpaccio at Slopes. (Photo by Scott Bridges)
Standouts of Gelas' seasonal menu include the Manti elk carpaccio, which is first seared, then frozen and sliced razor-thin, and ultimately served with parmesan under a quail egg; steelhead tartare and Waldorf salad. And entrée-wise: duck breast with dried apricots, seared carrots, and potatoes in a Cabernet Sauvignon reduction, served with creamy whipped potatoes.
Furthermore, the Waldorf-Astoria's renowned Powder Ice Lounge is the hottest piece of ice in town: A 14-foot bar carved of sculpted ice bar (yep, it's literally made of ice). It's the ideal spot to enjoy the Maple Manhattan (yep, it's literally made with maple syrup).
So there you have it, a firsthand expose of the dining scene at Sundance 2013. There are, of course, many more restaurants worthy of inquiry. But fear not, I've already begun my research for Sundance 2014.
PHOTO GALLERY
Sundance Dining 2013