Beginning in 1876 as a two-story adobe guesthouse, The Mission Inn Hotel & Spa in historic downtown Riverside, approximately 55 miles east of Los Angeles, now occupies an entire city block that encompasses 320,000 square-feet.
I made the short trek out the 60 Freeway to the 91 interchange recently to get my first glimpse of the hotel as it celebrated its 110th anniversary. I had not expected such grandeur. The mission-style structure is the crowning jewel of a charming downtown. It's listed on the National Register of Historic Places, is a State of California Historic Landmark, and is a member of Historic Hotels of America.
Tours of the property are available through the Mission Inn Foundation, which operates the on-property museum. Docents are available to give 75-minute presentations of the history behind the Mission Inn Hotel & Spa. While touring the property, I careened back and forth between being educated and awed.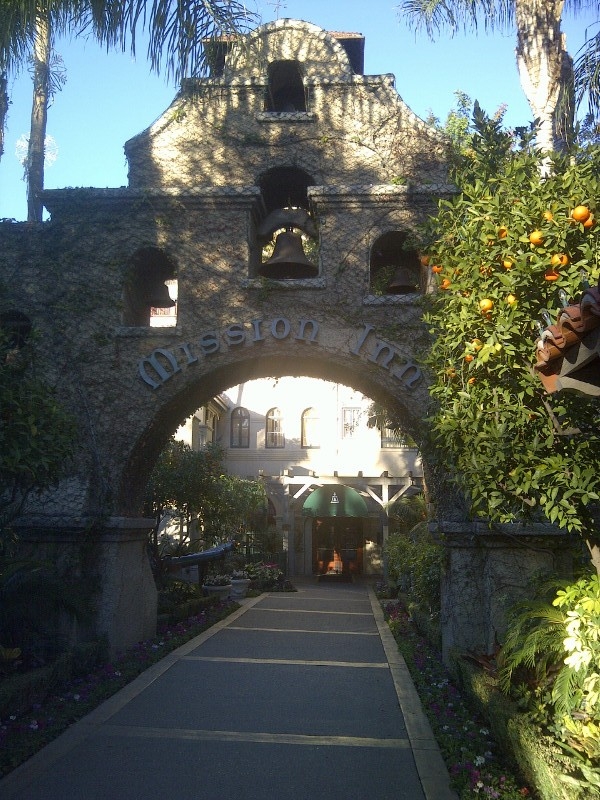 The entrance to the Mission Inn Hotel & Spa. (Photo by Scott Bridges)
More than $7 million of antiques and artifacts adorn the hotel. The museum displays an extensive collection of artifacts from around the world, including Craftsman period furniture, 16th and early 20th century paintings and Far Eastern historical pieces.
In 1903, original owner Frank Miller began to expand the original facilities, a process that took more than three decades to complete, and which incorporates design elements from across the southwestern U.S. and the Mediterranean, with a particular influence from the California missions. It incorporated the work of notable California architects like Arthur Benton, Myron Hunt and G. Stanley Wilson, whose work blended several architectural elements, such as flying buttresses, domes, a bell tower, clock towers, interior courtyards and patios, a five-story open-air rotunda and a circular wrought-iron staircase.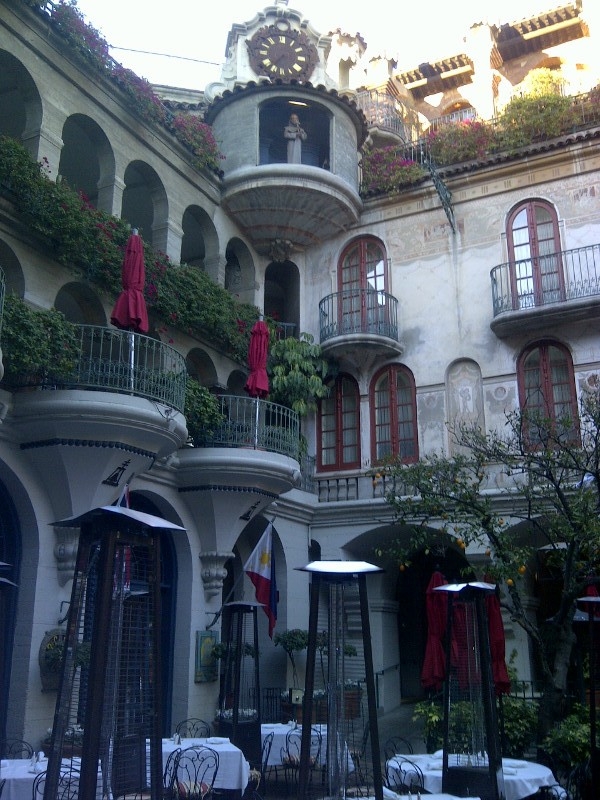 The Spanish Patio offers alfresco dining. (Photo by Scott Bridges)
In December 1992, the hotel reopened after a seven-year, $55 million renovation. Today, under the guidance of owner Duane R. Roberts, the Mission Inn Hotel & Spa includes 238 guest rooms, including 27 suites. The property also contains 20,000 square feet of meeting and banquet space, 5,000 square-feet of outdoor courtyard space, an outdoor swimming pool and two wedding chapels.
Over the years, the Inn has hosted numerous dignitaries, including five acting presidents. It was the site of Ronald and Nancy Reagan's honeymoon, and has been the site of countless weddings, including both Bette Davis' and Richard and Pat Nixon's. On-property staff coordinates weddings large and small at the ornate St. Cecilia Chapel and the breathtaking St. Francis of Assisi Chapel.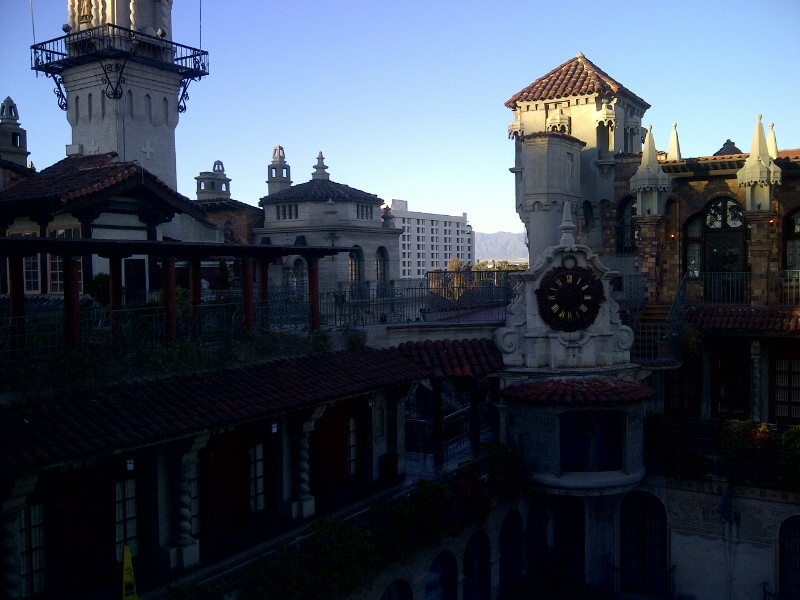 The Inn was originally built in 1903, but has received makeovers over the years. (Photo by Scott Bridges)
With some $17 million in renovations over the last five years, every room has been revamped, and all feature distinct architectural details like domed ceilings, wrought-iron balconies, tile floors, stained glass windows or carved pillars.
The hotel features pampering, restorative and wellness treatments at Kelly's Spa, a luxurious, serene European-style spa. The 7,000 square foot spa has a dozen treatment rooms, a pair of spa villas and a nail salon. It offers a variety of variety of therapeutic massage and revitalizing treatments, as well as soaking tubs, outdoor patio.
There is also an outdoor swimming pool and Jacuzzi, as well as a fitness center. In addition, there are recreational activities nearby including tennis, golf, shopping and wine tasting.
The Inn featuers several dining options, none more impressive than Duane's Prime Steaks and Seafood, the Inland Empire's only AAA Four-Diamond restaurant. It recently earned the Golden Bacus Award for outstanding wine selections. Duane's embraces a farm-to-table philosophy and features a menu that includes many small plates and shareable dishes.
Duane's steaks are a reminder of why human beings took up meat-eating in the first place. The Porterhouse and the Filet Mignon Oscar are worthy of song. And the scallops are the size of hockey pucks and practically melt on the fork. Furthermore, the lobster bisque is so rich and creamy with chunks of lobster meat strewn throughout, it is like liquid love.
And for dessert, nothing beats the chocolate soufflé with Grand Marnier and whipped cream. It's proof of a devil. But for something heavenly, there's Kelly's apple pie -- a small, full pie made with Guinness-soaked Granny Smiths.
54 Degrees at Duane's: This interactive wine bar accompanies Duane's, and offers an eclectic menu of wines and small bites in an upbeat, sophisticated setting. Impressively, there are more than 450 wines on the list and upwards of 7,000 bottles from around the world located in and under the restaurant (the catacombs beneath the Inn are the stuff of legend). There are an incredible 32 wines by the glass, and even by the 1.5-ounce and 3.2-ounce pour.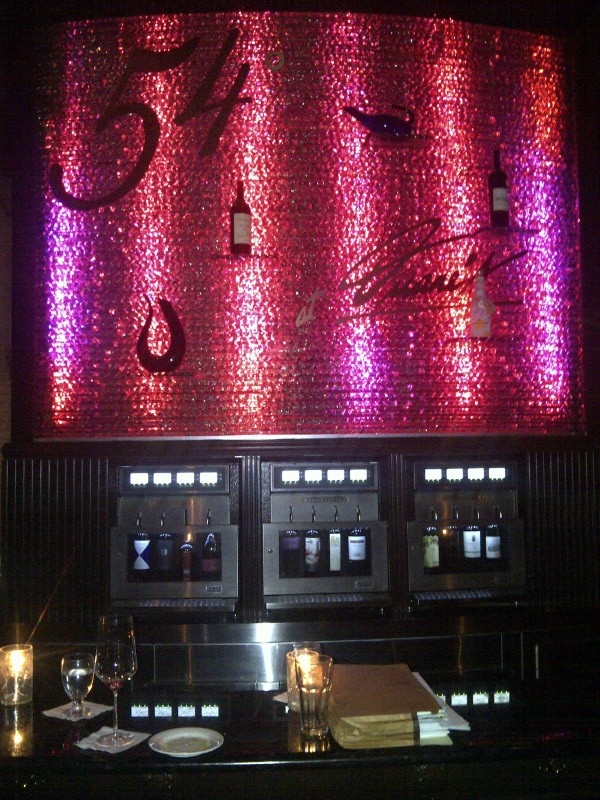 54 Degrees at Duane's has one of Southern California's best selection of wines. (Photo by Scott Bridges)
A handful of other restaurants offer something for every appetite. And for your sweet tooth, there's Casey's Cupcakes, winner of the Food Network's Cupcake Wars. Casey Reinhardt's confection boutique is reminiscent of a Parisian café, and features glass cases full of colorfully decorated cupcakes, each topped with Casey's signature chocolate medallion.
Having lived in Southern California most of my life, I now consider it a travesty that I had never taken the opportunity to visit Riverside until now. I found its downtown to be an oasis of culture in the midst of a suburb-spotted desert. And the Mission Inn Hotel & Spa is the city's finest attraction.
PHOTO GALLERY
The Mission Inn Hotel & Spa