Until now, you'd probably have had more luck catching the Lochness monster on nightcrawlers and 15-lb. test line than finding modern Scottish cuisine in L.A. There are, of course, pubs and a few "British" restaurants with some traditional Scottish fare on the menu, but the grand opening of The Morrison represents something of an island -- like that of the one that Scotland itself occupies.
The gastropub is located in the neighborhood of Atwater Village -- right next door to the apartment where yours truly lived during grad school (it was an Italian restaurant in those heady days, and more recently, Kuma Sushi). The team behind it is the same trio that brought us Stout in Studio City (and soon to open in Santa Monica): Charles Lew, Marc Kreiner and Alex Kagianaris.
Lew grew up in Scotland, a land sparse in terms of flora and fauna. "In Scotland, we have very simple foods; you have to be creative," he says.
He adds that their goal is to take the country's traditions and make them "more sophisticated; more palatable and enjoyable."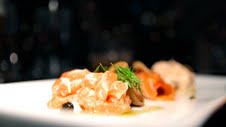 Salmon lover's paradise; creatively served three ways. (Photo by Avital Epstein)
The menu reflects those sentiments, offering a modern take on some classics. The haggis sliders, for instance, takes the country's national dish and serves it up gastropub-style as mini-burgers (haggis, for the uninitiated, is sheep innards and such cooked up and wrapped either in the animal's stomach or sausage casing).
Other dishes, a fair selection of small plates and share items, include a savory baked meat pie with flaky dough crust, which is like a thick stew entirely encased in a crispy bread bowl; a salmon trio (salmon tartare, Scotch-cured salmon and salmon pate served with blini), featuring creative preparations of the Scottish staple; a roasted chicken in Scotch gravy with buttermilk biscuit, which might act as a fallback position for the unadventurous palate; a porker supper composed of a breaded garlic sausage over fries; and a black pudding barotto that stole the show -- a signature dish in the making.
Furthermore, the cocktails are creative and the desserts are off the continent! The Morrison Manhattan is a must-try for any Manhattan aficionado. Three desserts stand out -- the Scottish cheesecake, the ice cream sandwich and the bread pudding -- oh, the bread pudding. I only experienced a single bite of it, as it was so popular as to sell out, but that bite lingers with me still, tormenting me with its absence.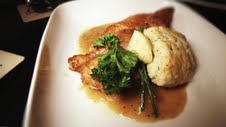 The roasted chicken in Scotch gravy with buttermilk biscuit. (Photo by Avital Epstein)
The L-shaped bar is intimate enough for a date yet large enough for a party. And yes, there are some fine single-malts on the shelf. The lighting is dim, the woods and leather are dark, and the playlist is classic rock. There are several cozy booths, as well as communal tables and plenty of seating.
Parking could be an issue on a busy night, as the lot is small. Meanwhile, there is a charming neighborhood across the street -- but be aware of the signage.
These days, gastropubs spring up as often as the indigestion that accompanies them. It's critical that they distinguish themselves in some manner, and that's exactly what The Morrison does. It's something new. And more than that, it's something good. The Stout team has done it again, and is now helping to reshape the landscape to resemble the Highlands.