There's nothing like discovering a new go-to place. For any meal or part of town, chances are that you have a favorite restaurant. If it's morning and I'm downtown, I know where my spot is: The Parish.
But whether you're in South Bay, the Westside, the Valley or anywhere else in the county, this is one place that's worth the trip. The gastropub is making a name for itself with three-time James Beard Award nominee Casey Lane (The Tasting Kitchen) showing off the creativity he has become famous for, and the bar is quickly becoming a downtown hot spot with John Coltharp (Seven Grand, Copa D'Oro, The Tasting Kitchen) designing the mixology program.
But credit Pastry Chef Brooke Mosley (Whist, The Tasting Kitchen) with an incredible selection of breakfast pastries and biscuits unlike anything else around. Mosley, who studied Culinary Arts at The Institute of California, San Diego, describes her pastry style as "playful and whimsical, but balanced in flavor and texture."
Let's start with the biscuits. I grew up eating my Kentucky grandmother's homemade biscuits, and I doubt I'll ever any encounter any on par, but Mosley's give them a run for the money. But then she surpasses my grandma by turning those biscuits into culinary achievements with the addition of sage, egg, cheese and sausage, for instance. Or trout -- yes, trout -- with pickle and jalapeno slaw or, my favorite, fried chicken with maple and pickles. There are also a few other varieties or you can have your biscuit plain or with jam.
Next, the pastries. Madeleines, snickerdoodles, biscotti and blueberry muffins are just the beginning. The danishes are unforgettable -- the Marcona almond and cheese danish; the lemon-huckleberry pinwheel; and the bacon cheddar danish. And FYI, the bacon cheddar danish is every bit as good as it sounds. And while I'm not normally a scone eater, the bacon date scone is the best scone I've ever tasted.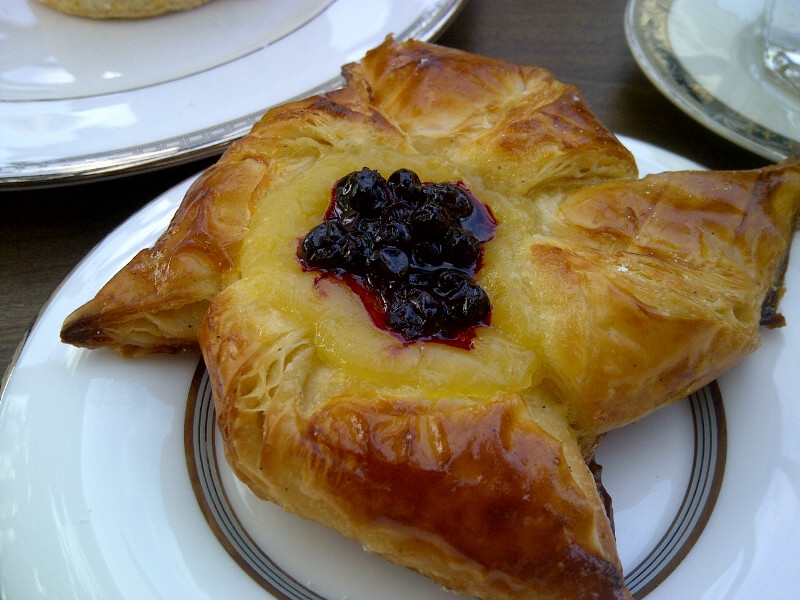 The lemon-huckleberry pinwheel. (Photo by Scott Bridges)
The restaurant also offers a daily selection of beignets and a daily quiche. It also features your standard variety of well-made specialty coffees and a fairly impressive tea selection. And whereas many breakfast menus are two-feet tall laminated sheets that take 20 minutes to peruse, full of a myriad combinations of traditional fare, this menu is simple and clean, and expresses confidence in the dishes being served.
With such craftsmanship, quality ingredients and attention to detail, I reasonably expected prices commensurate with other popular L.A. breakfast haunts. Not even close. The biscuit sandwiches are $4! Pastries are even more inexpensive, for the most part, with the most expensive item being the quiche, at a mere $6.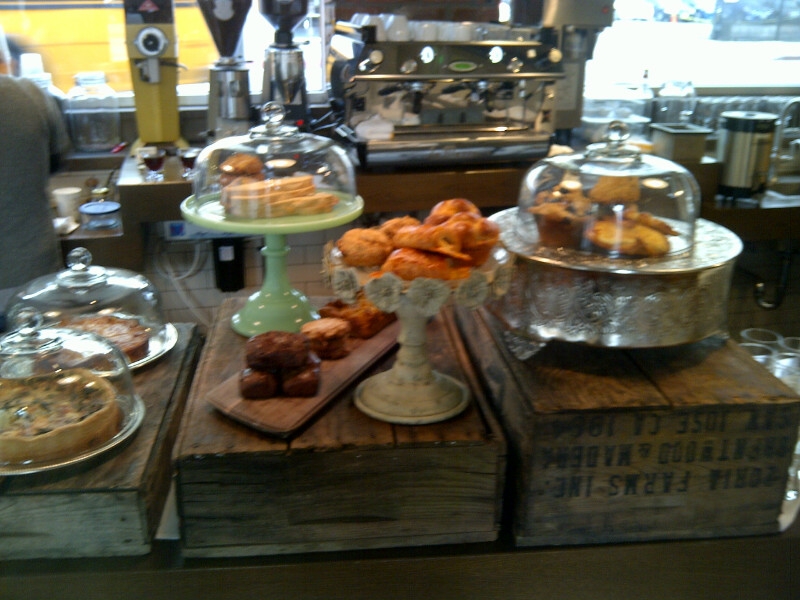 Pastry Chef Brooke Mosley's creations on display. (Photo by Scott Bridges)
The two-story structure is itself a work of art, set as a peninsula in the 800 block of South Spring Street amidst the skyscrapers in a gentrified section of downtown. Downstairs, natural light streams into a cozy dining area, but for maximum effect, have a seat on the patio and get a view of the bustling city as it begins its day.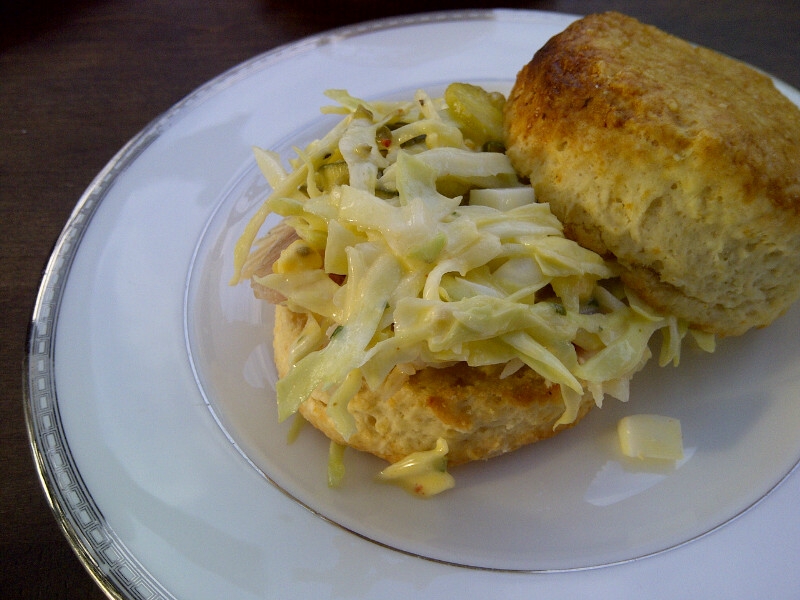 The trout biscuit sandwich with pickle and jalapeno slaw. (Photo by Scott Bridges)
Upstairs, the bar and dining room are exquisite and embody everything the restaurant is about -- attention to detail. I can't wait to come back for dinner.
BEFORE YOU GO
PHOTO GALLERY
10 Hottest New Restaurants