Eighteen stories above Second and Wilshire, you'll find one of the best dining experiences in Santa Monica. The Penthouse at The Huntley Hotel not only offers panoramic coastline and city views, but great food and drinks, as well.
The 360-degree bar is packed nightly with attractive Westsiders. Uptempo background music contributes to the elegance. There's a feeling of exclusivity amid the light of the candles, with sheer curtains separating cabana-style booths with white leather chairs in the dining room/lounge. Adding to the VIP treatment is the quality of the service, led by Director of Restaurant Ronnie Correa and Restaurant Manager Frankie Allison, who create a first-class experience.
The bar at the Penthouse is as classy as it gets in Santa Monica. (Photo by Lynne Tucker)
"Small details make all the difference," says Correa.
Those small details are noticeable not only in the décor and the service, but in the quality of the food, as well.
Executive Chef Seth Greenburg's menu includes house-cured meats and pate, which make the charcuterie plate a must-try. It comes with selection of three or five cheeses.
First courses you'll want to try are the steak tartare of filet and chuck, with lemon, capers, sea salt and served under quail egg with grilled bread; and for the vegetarian: organic beet salad with avocado and coriander vinaigrette.
For main courses, consider the Crispy Skin Salmon with piquillo confit, fingerling potato, saffron aioli and Vadouvan spice; and the Pan-seared Diver Scallops with Hen of the Woods and Shimeji, along with black garlic puree.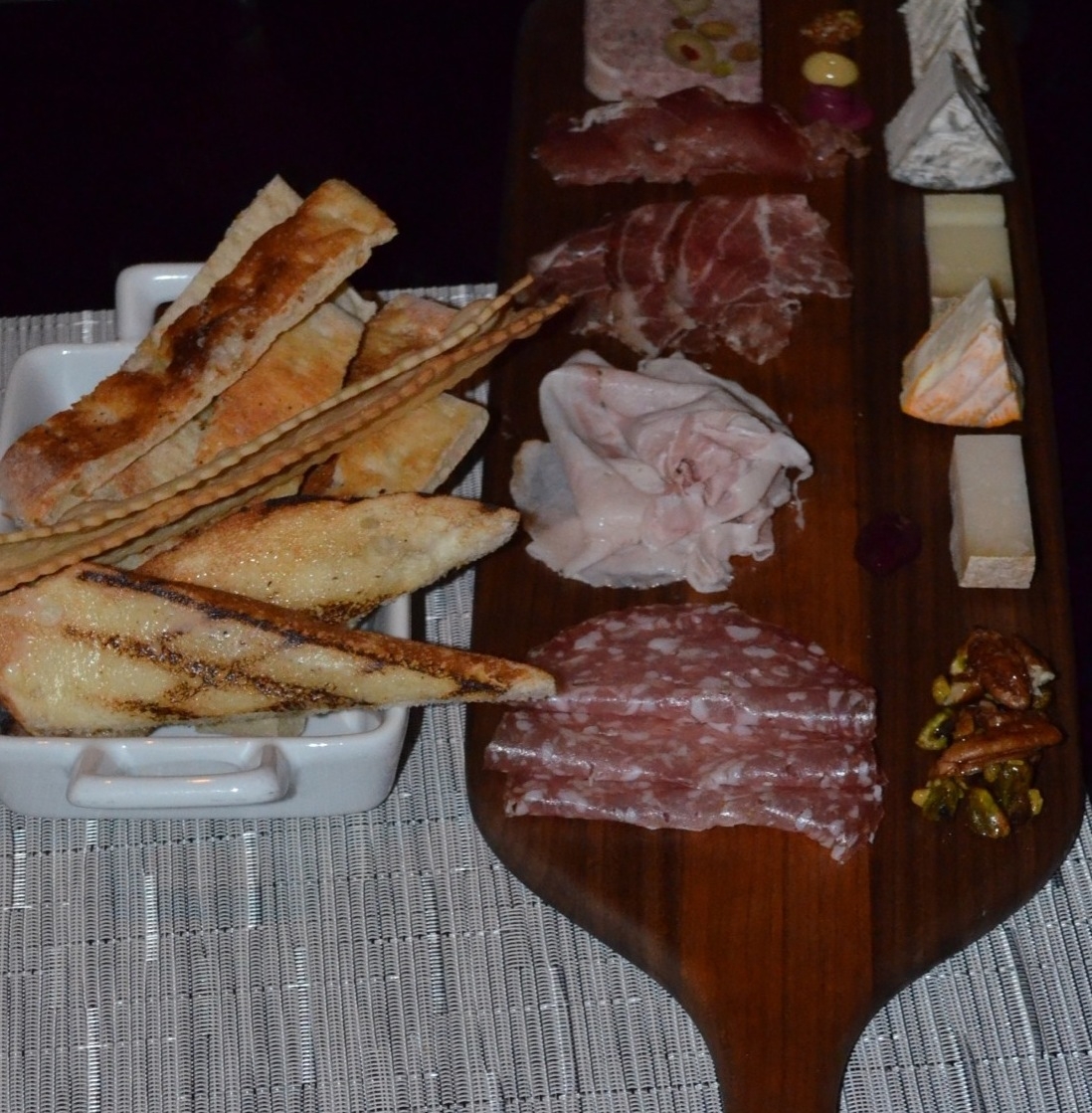 The charcuterie is made in-house. (Photo by Lynne Tucker)
The restaurant recently brought in mixologist Ryan Magarian, and is now creating unique cocktails, 15 specialty cocktails, to be precise, which are designed to pair with the cuisine. In addition, there are more than two dozen wines available by the glass and about a dozen beers.
"The art of mixology is creating a cocktail that goes with food," says Correa.

Ice wine makes an ideal after-dinner drink. (Photo by Lynne Tucker)
The bar is as classy as you'll find in Santa Monica, and worth the journey regardless of whether you stay for dinner or not.
And when you come, plan to valet park, as the street parking in the neighborhood is unlikely at best. The Penthouse itself may be something of a hidden gem, being so far above street level, but this area is anything but, and teeming with life.