Pop-up restaurants have been, well, popping up on the radar more frequently in recent days. And with good reason: Brick-and-mortar restaurants are -- literally -- a monumental endeavor.
But somewhere between the ethereality of the pop-up and the seeming permanence of the traditional restaurant, there exists a void that is beginning to be filled. Food trucks are one example of a foray or transition into the realm of entrepreneurialism, but without the prohibitive barriers associated with the restaurant business.
Another example is the model being employed by This is Not a Pop Up, the brainchild of Helena Brown and Helen Springut.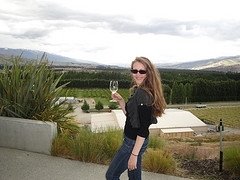 Helen Springut. (Courtesy photo)
"We want to help build the careers of chefs," says Springut. She describes her operation as a "culinary incubator," much like the dot-com start-up labs in Silicon Valley.
Their goal is to bring "the structure or technology companies where both of us have backgrounds and business structure to an industry that doesn't always use that," she says.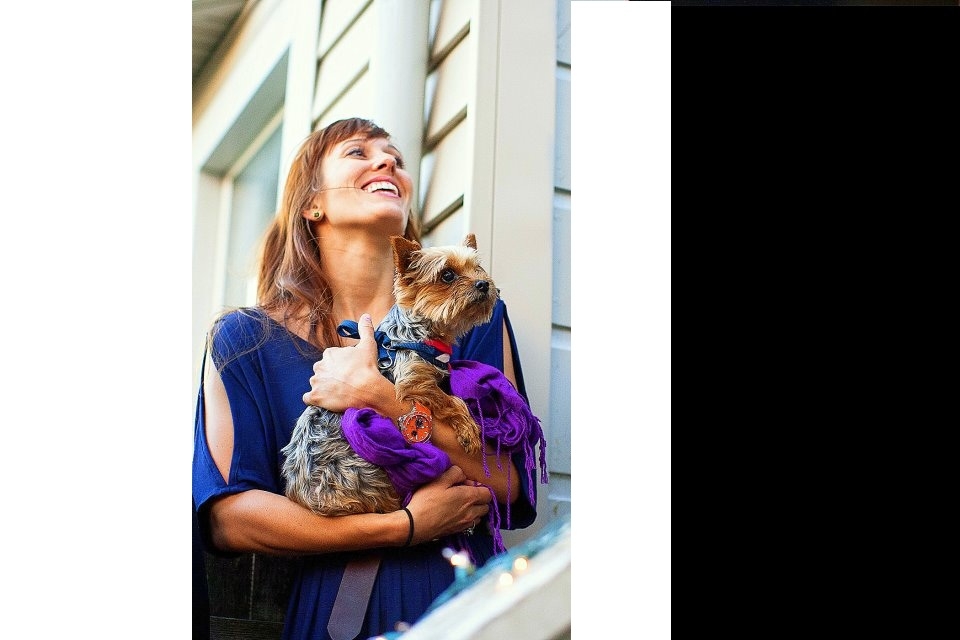 Helena Brown. (Courtesy photo)
Her point is a fair one. Culinary school is seemingly about as far from an MBA program as one can get.
Two creative people they've brought into the fold are chefs Jeremy Fox and Brooke Mosley, to form the Old Soul Cooking Co., which recently popped up in Square One in Hollywood.
Brown points out that their company seeks to free up chefs to do their magic in the kitchen without worrying about the business side of things.
"We just want them to focus their energy on their creativity," Brown says.
"I think when you start to run a business, you have to leave the kitchen," says Mosley. "A lot of friends have done that and that's what they lament. I've always been reticent to start my own thing that I wouldn't be able to cook anymore. The great thing about working with the girls is I get to cook and don't have to worry about the bullshit... Not dealing with paperwork."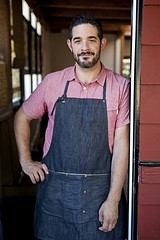 Jeremy Fox. (Courtesy Photo)
"I don't know if it's necessarily the businessman aspect that is challenging; rather the role of politician that can go with the job," says Fox.
And he should know -- he's paid his dues.
Fox rose to the rank of Chef de Cuisine during his five years at Manresa, which received two Michelin Stars and four stars from the San Francisco Chronicle under his tenure. Then, in 2007, he opened Ubuntu, where he was named a Food & Wine Best New Chef 2008, Bon Appetit's 2009 Best Chef, and received James Beard Best Chef Pacific Award nominations in both 2009 and 2010. In 2009, Ubuntu became the first modern vegetarian restaurant to receive a Michelin Star.
Since then, Fox has been working on a vegetable cookbook for Phaidon Press and has consulted for restaurants including Plum, Tyler Florence's Rotisserie & Wine, Freddy Smalls and Paper or Plastik Cafe.
"I know moving forward that there will most likely be some compromises I'll need to make, it's just that in the past I had not been willing to do so. Like any business, it's a balancing act for which some are just naturally better suited. Through some humbling experiences, I've learned a lot. I don't know how to be singularly focused on being a chef. Is it even possible?"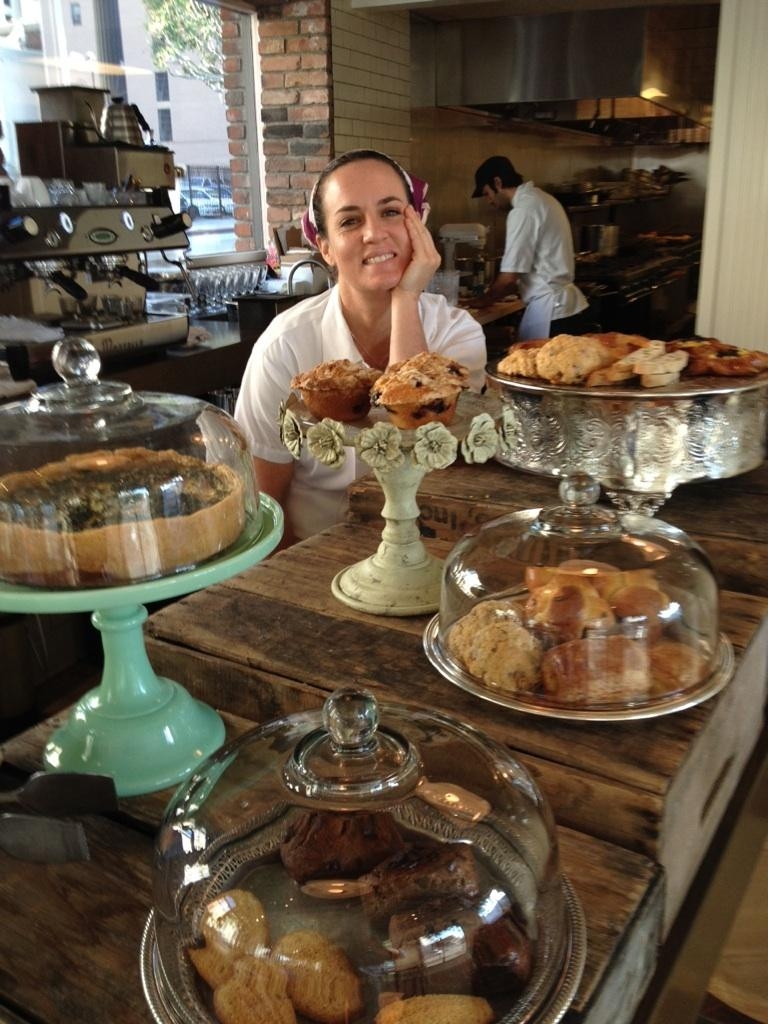 Brooke Mosley. (Courtesy photo)
And that's where Springut and Brown come in.
Springut, the co-founder of the L.A. Fried Chicken Fest and Brew Something L.A. (the Los Angeles craft beer professionals' society), consults for food festivals and national F&B brands, including the LA Times The Taste; and is marketing chair for Share Our Strength's Taste of the Nation LA. She also runs LA Gastronauts, and has produced events including the Foie Gras Festival at Wilshire Restaurant, the pop-up Weed and Herb Dinner with Starry Kitchen and Laurent Quenioux, and the Top Chef Pig Roast.
She was hired by investors to find a chef for their restaurant, Barnyard. She felt Fox would be a good fit and brought him in.
Brown, who says she fell in love with food while living in Paris but refined her palate to include non-Western cuisine while working in Senegal, was opening restaurants and working in San Francisco with Daniel Patterson, chef/owner of the critically Michelin two-star restaurant Coi.
Fox recognized her talents and asked her to come down to help out with the operation. That was on a Thursday. On Sunday, she moved to Los Angeles.
But "happily ever after" is for fairy tales. Things didn't work out, Brown says, and they chose to leave together. They wanted to be in a place where they had more control.
"This is Not a Pop Up was born out of what we wanted to do," says Springut. "We have very similar goals and a vision of what we want to do professionally: Providing services so that people who really want to cook can make a livelihood."
Fox and Mosley experimented with a few dishes at first, before solidifying the menu during their last week of work, prior to the holidays.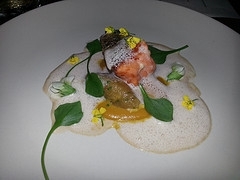 Salmon with pumpkin, brown butter and sage. (Photo by James T. Hayashi)
"The menus... represent me getting back to basics; the reason I started cooking in the first place: To make people happy, to nurture, to maybe give a guest a memory that they'll keep close to them, as I do about some meals from my childhood," says Fox. "I have no desire to be the most innovative chef, but if people say that I cook from the heart and soul, that is all I want."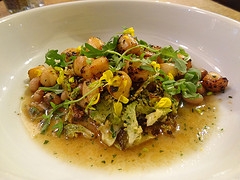 Nantucket Bay Scallops with yellow eye bean, romanesca, brown butter (Photo by James T. Hayashi)
Fox says he had a "soft spot" for the dishes on the menu, and that there are stories behind each.
"The gumbo is one of my favorite dishes to prepare. It's the opposite of modernist cuisine, based on tradition and culinary instinct. My mentor, Chef David Kinch, taught me to make gumbo over the course of many family meals at Manresa."
Heartbreads with Texas Toast. Apple, sour gherkin, radish- horse & breakfast. (Photo by James T. Hayashi)
"You see, while I was at Manresa, the newest cook in the kitchen was responsible for family meal. So I would tell chef that the new cook wanted to make gumbo, knowing full well that he'd say something along the lines of 'They don't know how to make gumbo... I'll make it.' Music to my ears, can you blame me? After probably the sixth time of pulling this trick, he just looks at me, smiles and says, 'Are you fucking with me?' 'Yes Chef,' I said."'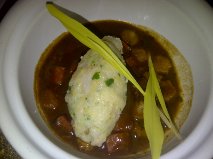 Black Roux Gumbo. (Photo by Scott Bridges)
But, Fox adds, "The fact that one of the greatest chefs in the world received so much satisfaction in preparing something so 'simple,' however deceivingly so, was eye-opening. Perhaps I can pass along this preparation to another curious young chef someday."
Another highlight of the menu has been Mosley's cinnamon-sugared crispy chicken skin -- a whimsical use of meat in a dessert, which Mosley chose to contrast the vegetarian cooking Fox has become known for.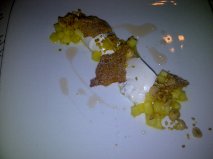 Cinammon-Sugared Crispy Chicken Skin. (Photo by Scott Bridges)
"You always want a texture, and nothing crisps like chicken skin," she says. "I've always wanted to use chicken skin in a dessert, but most chefs are like 'No.'"
Mosley says the reaction has been surprise not by the fact that they're eating chicken skin, but the fact that it's gluten-free.
"I don't think like a pastry chef, I don't cook like a pastry chef," Mosley says. "I'm not interested in sweets at all. I like savory cooking. In general, I'll come up with someone based on three or four flavors that I know will work well together."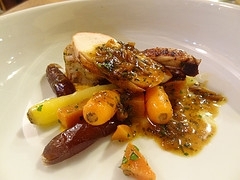 Chicken and Sweetbreads, with carrot, persimmon, date and curry. (Photo by James T. Hayashi)
"This is the hospitality industry -- I have really seen this working in my own restaurant for the first time," says Springut. "You have to have a burning, overwhelming desire to make people happy. Not only are we trying to make the people we serve happy, but also the chefs we're working with. If you're not taking in more money that you're spending, you're not gonna stay in business."
Their grand vision is to open their own space and try out concepts, eventually taking in an equity stake in companies that get off the ground, becoming "invested financially and emotionally in the company," and creating a "long term relationship between creative and business."
"I think [all chefs] wants to be in business for themselves," says Mosley. "Ultimately... I hope [Fox] opens a restaurant... I'm not sure what's going to happen. At the very least, it's a way to showcase what we're doing off the cuff."
Adds Fox, "The end goal is a permanent home for Old Soul Cooking Co. When or where that will be, I just can't say at this point. "But," he says, "I want it, so badly I can taste it."
For more information, call (323) 451-1767 or go to thisisnotapopup.com.
[NOTE: Chef Mosely has since undertaken another project and will not be participating in the aforementioned events.]
EDITOR'S NOTE: This post has been updated since its original publication.